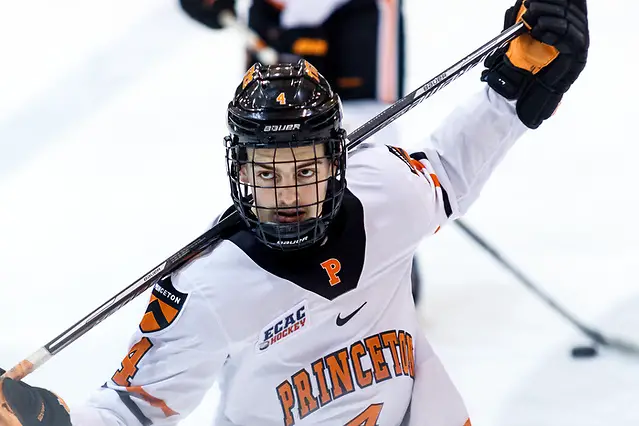 Both kings of the mountain are returning major firepower for the 2018-19 ECAC Hockey season.
Princeton, the conference tournament champions from a season ago who entered the league playoffs as the No. 7 seed, return Max Véronneau and Ryan Kuffner, the top two returning scorers in all of college hockey who were both named to the media and coaches all league teams. The Tigers also return Josh Teves, the top offensive-producing defenseman in the ECAC who was also named to both all-league teams.
For Tigers coach Ron Fogarty, it's nice to have three solid components – offense, defense and goaltending – heading into the season.
"We definitely have pieces of the puzzle and getting the heck out of the way," Fogarty said. "You start to have some depth and a lot of talent up front along with the defensive side. Teves is poised to repeat what he did in the second half of the season. That's our style, just letting the guys play."
Teves had 21 of his 33 points once the calendar turned to 2018.
Teams will be seeing more of Véronneau and Kuffner this season as the team looks to rectify their penalty killing deficiencies from a year ago as they were hovering around 80 percent.
Cornell, the regular-season champion and one of the most consistent teams in the nation, also returns a majority of their roster to offset Trevor Yates and Alex Rauter graduating up front. More importantly, the Big Red returns Matthew Galajda, the nation's leader in GAA a year ago (1.51) and third in the nation in save percentage at .939.
He led the Big Red to 21 victories as well.
What does a coach tell his goalie who only let in 42 goals heading into the new season? Find what makes you tick.
"The first thing is mentally, for him to stay the course as far as mentally, having something to prove, having a chip on his shoulder," Cornell coach Mike Schafer said. "Matt has always been the type of kid that has risen to the occasion whether it's been prep school, junior hockey or here at Cornell. So he has something to prove going into the season within our team and, obviously, nationally."
Schafer also told Galajda to control what you can control and not try to duplicate the extreme low numbers from a season ago, Physically, Schafer said, Galajda has trimmed down.
With all the pieces coming back for the two league champions, there are plenty of challengers heading into the season.
Clarkson started the 2017-18 season red-hot but cooled off in the second half of the season. The Golden Knights' play early on, especially during their nonconference play where they racked up wins over nationally-ranked teams like Providence twice and Penn State, helped them pick up an at-large bid for the NCAA tournament where they faced the Friars a third time as Clarkson's season ended in the first round.
This offseason, Clarkson was hit with some early departures up front with Sheldon Rempel leaving after his sophomore season to sign with the Los Angeles Kings and freshman Josh Dickinson bolting for the Colorado Avalanche.
Clarkson also lost two key defensemen due to graduation in Kelly Summers and Terrance Amorosa, but return goaltender Jake Kielly, who has been solid in first two years.
Another team that was hit with an unexpected early signing was Colgate as the Raiders lost starting goalie in Colton Point to the Dallas Stars. All signs pointed in June that Point would return to the Raiders for his junior season, but when the Stars couldn't sign Boston University goalie Jake Oettinger, their focus turned to Point, who signed on July 1.
Colgate brings in three freshmen to fill the void in Mitch Benson, Will Friend and Andrew Farrier.
Looking ahead to the 2018-19 season, the junior class will be key for the Raiders if they want to be in the top third of the conference
"That's a great group when you have Bobby McMann and Jared Cockrill, John Snodgrass – it's a big group, too," Raiders coach Don Vaughan said. "So as they have gone, so have we as a group. We are expecting great leadership from that class, but also some offensive numbers."
Union finished second in the conference but was upset by Princeton in the second round of the playoffs. It was a season where they dug themselves into a hole early on by starting 0-5, which were all nonconference games, but went 16-5-1 in conference games.
Union coach Rick Bennett expects the sophomore class to be some of the key contributors this season for the Dutchmen.
"I am expecting Liam Morgan who was thrown into that second line role halfway through the year – he did a really nice job and he was really good 5-on-5 and I believe he played on the second power-play unit," said Bennett. "Liam did a nice job coming in when he was put into that role."
Harvard, who has been at the top of the conference the past few years, looks to take a step back this year with Ryan Donato forgoing his senior year, while Jake Horton, Wiley Sherman and Merrick Madsen all graduated. They could be without junior Ty Pelton-Byce as the Providence Journal has reported Pelton-Byce has been ruled academically ineligible for the upcoming season.
Crimson coach Ted Donato said he could not comment on Pelton-Byce's situation.
Quinnipiac looks for a bounce-back season after finishing under.500 for the first time in 20-plus seasons. The Bobcats have solid defense but will be looking to find some scoring depth under sophomore Odeen Tufto, who had 41 points as a freshman.
Rival Yale is also looking to bounce back after finishing .500 a year ago. Joe Snively has been productive in his first three seasons with Bulldogs. Defensively, they only lose one senior while Graham Lillibridge and Jack St. Ivany were top-five in USHL defensive scoring last year.
Dartmouth is a team on an upward trend with nine of their 10 leading scorers returning. The Big Green will have to replace goalie Devin Buffalo, who kept the Big Green in games. Coach Bob Gaudet likes how Aiden Clark has played in spot starts in his first two seasons and also likes potential of freshman Justin Ferguson who was the USPHL's NCDC top goalie during the 2017-18 season.
Rounding out the conference is Brown, Rensselaer Polytechnic Institute and St. Lawrence.
The Bears lose Tyler Bird, Sam Lafferty and Max Willman, who were all NHL picks. Coach Brendan Whittet hopes his young goalies Luke Kania and Gavin Nieto continue to develop.
Dave Smith is in the second year as RPI's coach. The team took a step back as the team only recorded six wins a season ago after having eight in the final season under the Seth Appert regime. They will be looking to find consistent goal scoring as they were one of two teams in the nation to average under two goals a game.
St. Lawrence hopes to get out of the basement, and coach Mark Morris hopes freshmen like Kaden Pickering and Ted McGeen who both made it to the RBC Cup – Canada's Junior A championship tournament – with their respective junior teams will be bring that winning pedigree to Canton during their time at St. Lawrence.
BROWN
HEAD COACH: Brendan Whittet, entering his 10th season at Brown.
2017-18 OVERALL RECORD: 8-19-4 (7-14-1 ECAC Hockey, 10th)
KEY RETURNING PLAYERS: Senior forward Tommy Marchin (12-6-18), junior defenseman Zach Giuttari (5-11-16), senior defenseman Max Gottlieb (3-12-15), sophomore goalie Luke Kania (4-12-4, 3.08 GAA, .902 SV %).
KEY LOSSES: Forward Sam Lafferty, forward Tyler Bird, forward Max Willman.
KEY ADDITIONS: Forward Tristan Crozier, forward Jake Harris.
NOTABLE QUOTABLE: "They think the game really well and they came in a little bit older and a little bit stronger than some of the other classes." – Whittet, on his incoming freshman class.
2018-19 PREDICTION: The Bears graduated several important forwards, but return some intriguing defensemen. If either Kania or junior Gavin Nieto can emerge in goal, Brown could push for a home playoff series.
CLARKSON
HEAD COACH: Casey Jones, entering his seventh season at Clarkson.
2017-18 OVERALL RECORD: 23-11-6 (12-5-5 ECAC Hockey, 3rd)
KEY RETURNING PLAYERS: Junior forward Nico Sturm (14-23-37), junior forward Devin Brosseau (11-22-33), sophomore forward Jack Jacome (8-21-29), junior goalie Jake Kielly (22-11-6, 1.82 GAA, .929 SV %).
KEY LOSSES: Forward Sheldon Rempal, forward Josh Dickinson, defenseman Kelly Summers, defenseman Terrance Amorosa.
KEY ADDITIONS: Forward Nick Campoli, defenseman Brian Hurley.
NOTABLE QUOTABLE: "We're bringing a little bit younger of a team along this year than we expected to have this year, but that's part of the process in college hockey." – Jones, on his outlook for his team entering this season.
2018-19 PREDICTION: Despite getting stung by the early departures of Repmal and Dickinson, who both signed professional contracts in the offseason, the Golden Knights should be one of the top teams in ECAC Hockey once again this year. Clarkson has a good group of returning players, lead by Kielly in net. The Golden Knights will need to lean on the junior goalie early, as they graduated three defensemen from last year's team.
COLGATE
HEAD COACH: Don Vaughan, entering his 26th season at Colgate.
2017-18 OVERALL RECORD: 17-17-6, (10-9-3 ECAC Hockey, t-5th).
KEY RETURNING PLAYERS: Junior forward Bobby McMann (14-16-30), senior forward Adam Dauda (10-9-19), sophomore defenseman Nick Austin (6-12-18), sophomore defenseman Trevor Cosgrove (5-12-17).
KEY LOSSES: Goalie Colton Point, forward Mike Panowyk.
KEY ADDITIONS: Goalie Mitch Benson, forward Jeff Stuart, forward Griffin Lunn.
NOTABLE QUOTABLE: "The 800-pound gorilla in the room is the fact that we don't have our goalie back. We weren't expecting it, quite frankly. We had to scramble a little bit. We had two freshmen coming in and they were going to be the future. The difference is the future is now." – Vaughan, on the early departure of sophomore goalie Colton Point, who signed a professional contract with Dallas last summer.
2018-19 PREDICTION: Point's departure leaves a gaping hole in net, as the Raiders enter the year without a single goalie on their roster who has seen NCAA action. The good news is that Colgate has a solid group of defenseman returning as well as several forwards who could post higher point totals this season. If any of the newcomers can play well in net, the Raiders could finish in the top half of the league again.
CORNELL
HEAD COACH: Mike Schafer, entering his 24th season at Cornell.
2017-18 OVERALL RECORD: 25-6-2 (17-3-2 ECAC Hockey, 1st)
KEY RETURNING PLAYERS: Sophomore goalie Matthew Galajda, (21-5-2, 1.51 GAA, .939 SV %) senior forward Mitch Vanderlaan, (7-13-20), junior defenseman Yanni Kaldis (4-15), sophomore forward Morgan Barron (5-13), senior defenseman Alec McCrea (5-7-12).
KEY LOSSES: Forward Trevor Yates, forward Anthony Angello, forward Alex Rauter.
KEY ADDITIONS: Defenseman Misha Song, forward Michael Regush, forward Chase Brakel.
NOTABLE QUOTABLE: "Our guys are playing faster. The physicality is important, but we haven't put as much as an emphasis on the hitting as we did five years ago." – Schafer, on how the Big Red have evolved over the last several seasons.
2018-19 PREDICTION: Cornell lost its top three scorers from last season, but returns it defense and goaltending virtually intact. That should keep the Big Red near the top of the conference standings this season, even if the offense drops off from last year, when it posted its highest goals per game mark since the 2009-10 season.
DARTMOUTH
HEAD COACH: Bob Gaudet, entering his entering his 22nd season at Dartmouth.
2017-18 OVERALL RECORD: 16-17-2 (11-10-1 ECAC Hockey, t-5th).
KEY RETURNING PLAYERS: Junior forward Will Graber (9-17-26), junior forward Shane Sellar (11-11-22), sophomore forward Quin Foreman (8-11-19), senior forward Kevin Kilistoff (6-6-12), senior defenseman Connor Yau (0-10-10).
KEY LOSSES: Goalie Devin Buffalo, forward Corey Kalk, defenseman Tim Shoup, defenseman River Rymsha.
KEY ADDITIONS: Goalie Justin Ferguson, forward Jeffrey Losurdo, defenseman Harrisan Markell.
NOTABLE QUOTABLE: "He is one of the more skilled guys that I've coach and one of the more competitive guys that I've been around. He can play center, both wings, and both sides on the blue line as well. He's a very versatile player." – Gaudet, on leading scorer Will Graber, who will begin the year at center.
2018-19 PREDICTION: A young Dartmouth team had a strong second half last year and made a push for a first-round bye down the stretch. The Big Green graduated starting goalie Devin Buffalo, although backup Adrian Clark actually outperformed Buffalo in conference play, and newcomer Justin Ferguson could push for time in net. If Dartmouth can get some offensive production outside of its top-three scorers, the Big Green could be in position to exceed last year's finish.
HARVARD
HEAD COACH: Ted Donato, entering his 15th season at Harvard.
2017-18 OVERALL RECORD: 15-14-4 (11-8-4 ECAC Hockey, 4th).
KEY RETURNING PLAYERS: Senior forward Lewis Zerter-Gossage (10-19-29), junior defenseman Adam Fox (6-22-28), junior defenseman John Marino (3-12-15), sophomore forward Jack Badini (10-7-17), sophomore defenseman Reilly Walsh (7-13-20)
KEY LOSSES: Forward Ryan Donato, goalie Merrick Madsen, defenseman Wiley Sherman.
KEY ADDITIONS: Defenseman Jack Rathbone, defenseman Marshall Rifai, forward Jack Drury.
NOTABLE QUOTABLE: "What others see as an unknown we think could be a real strength for us." – Donato, on the Crimson's goaltending entering the season.
2018-19 PREDICTION: The Crimson didn't lose a lot in terms of quantity of players, but had a pair of big departures with leading scorer Ryan Donato, who accounted for a quarter of Harvard's goals last season, and goalie Merrick Madsen, who played nearly 70 percent of the minutes in net. There were also reports of junior forward Ty Belton-Byce being unable to play due to an academic issue. Donato declined to comment when asked about the situation. Regardless, the Crimson have a group of young players that should give them plenty of depth and the chance to push for another first-round bye.
PRINCETON
HEAD COACH: Ron Fogarty, entering his fifth season at Princeton
2017-18 OVERALL RECORD: 19-13-4 (10-10-2 ECAC Hockey, 7th, won postseason tournament)
KEY RETURNING PLAYERS: Senior forward Max Véronneau (17-38-55), Senior forward Ryan Kuffner (29-23-52), Senior defenseman Josh Teves (7-26-33) Junior forward, Jackson Cressley (13-25-38), Sophomore goalie Ryan Ferland (18-11-4, 2.91 GAA, .912 SV %).
KEY LOSSES: Eric Robinson (17-14-31), David Hallisey (18-20-38)
KEY ADDITIONS: F Finn Evans, F Christian O'Neill
NOTABLE QUOTABLE: "Our focus has been the same since four years ago, just keep worrying about the present day and what we need to work on to do things well to give us an opportunity to win a game. The difference we have a lot of experience now of the bad times and the good times – you need to keep drawing from those reference points and hopefully learning from them in hopes of capturing another championship." – Fogarty
2018-19 PREDICTION: The defending ECAC champions have high expectations this season with the two top returning scorers in college hockey in Max Véronneau and Ryan Kuffner. They also have a solid defense and Ryan Ferland looks to improve on his rookie campaign in goal. They start the year No. 14 in the preseason poll and look for them to finish in the top three in the conference.
QUINNIPIAC
HEAD COACH: Rand Pecknold, entering his 25th season at Quinnpiac
2017-18 OVERALL RECORD: 16-18-4 (9-11-2 ECAC Hockey, 9th)
KEY RETURNING PLAYERS: Senior defenseman Chase Priskie (11-14-25), junior defenseman Kārlis Čukste (3-9-12), junior goalie Andrew Shortridge (11-12-2, 2.36 GAA, .906 SV %), sophomore forward Odeen Tufto (9-32-41)
KEY LOSSES: F Tanner MacMaster (13-20-33), F Bo Pieper (11-7-18)
KEY ADDITIONS: D Peter DiLiberatore, F Wyatt Bongiovanni, F William Fällström
NOTABLE QUOTABLE: "We've had good years in the past when we have been young. Guys will be hungry with new players in there. I think more importantly than the freshmen, we need the returners to kind of step up and elevate their game. If you look at our success over the last five, six, seven years, we usually have guys coming back." – Pecknold
2018-19 PREDICTIONS: The Bobcats have missed the NCAA Tournament for two seasons in a row and they look to be battling for home ice advantage in the first round in the ECAC Tournament in 2018-19. Offensively Odeen Tufto is the team's top returning scorer with 41 points in his freshman campaign. Expect the 12 member freshmen class to contribute to Quinnipiac's success. They have a solid one-two punch in goal in Andrew Shortridge and Keith Petruzzelli.
RENSSELAER
HEAD COACH: Dave Smith, entering his second season at RPI.
2017-18 OVERALL RECORD: 6-27-4 (4-16-2 ECAC Hockey, 11th)
KEY RETURNING PLAYERS: Senior forward Evan Tironese (6-9-15), Junior forward Jacob Hayhurst (12-11-23), Junior defenseman Will Reilly (7-6-13), Sophomore goalie Linden Marshall (5-20-2, 3.17 GAA, .904 SV %)
KEY LOSSES: D Mike Prapavessis (0-19-19), D Jared Wilson (7-7-14), Viktor Liljegren (9-4-13)
KEY ADDITIONS: F Tommy Lee, F Mike Gornall (transfer from North Dakota), F Chase Zieky (transfer from Providence), D Shane Bear (transfer from UMass)
NOTABLE QUOTABLE: "It's pretty simple – we want to get better, show progress, show significant progress in the big picture which is in the standings. I thought we showed progress in how we played last year and we did not see that in the standings. Now we want to continue on getting better as a team and continue to grow as a program." – Smith
2018-19 PREDICTIONS: The Engineers are trending in the right direction under scond year coach Dave Smith, but still have an uphill climb in 2018-19.Expect them to battle for that last home playoff spot in the first round in the ECAC tournament. Linden Marshall appears to be the No. 1 goalie heading into the season as the Engineers won five out of its six games when he was in net.
ST. LAWRENCE
HEAD COACH: Mark Morris, entering his third season at St. Lawrence
2017-18 OVERALL RECORD: 8-27-2 (3-18-1 ECAC Hockey, 12th)
KEY RETURNING PLAYERS: Junior forward Carson Gicewicz (8-10-18), junior forward Alex Gilmour (10-2-12), sophomore defenseman Jake Stevens (2-13-15)
KEY LOSSES: F Mike Marnell (12-10-22), D Nolan Gluchowski (2-18-20), F Joe Sullivan (8-7-15), F Jacob Pritchard (9-11-20, transferred to UMass), D Ben Finkelstein (3-9-12, left the program at midseason to go to the USHL and transferred to Boston College)
KEY ADDITIONS: F David Jankowski, F Kaden Pickering, F Ted McGeen, D Jeff Clarke
NOTABLE QUOTABLE: "We are trying our darndest to bring along quite a few young guys, find a starting goalie and right now, it's going to be scoring by committee. We only have two senior forwards and we have a senior goalie." – Morris
2018-19 PREDICTIONS: The Saints are lookings for a fresh start after a season that didn't go their way, on and off the ice. They will be in that bottom third group of teams where they will be hoping they can squeak into that final high seed for home playoff advantage in the first round.
UNION
HEAD COACH: Rick Bennett, entering his eighth season at Union
2017-18 OVERALL RECORD: 21-15-2 (16-5-1 ECAC Hockey, 2nd)
KEY RETURNING PLAYERS: Senior forward Cole Maier (11-23-34), senior forward Sebastian Vidmar (10-20-30), senior forward Brett Supinski (9-18-28), senior defenseman Greg Campbell (3-14-17), senior goalie Jake Kupsky (11-11-2, 2.42 GAA, .915 SV %), junior forward Anthony Rinaldi (17-11-28), junior defenseman Vas Kolias (3-14-17).
KEY LOSSES: F Ryan Scarfo (20-16-36), D J.C. Brassard (2-19-21).
KEY ADDITIONS: F Sam Morton, D Michael Ryan
NOTABLE QUOTABLE: "Our goal is to have a winning nonconference schedule [as] those are games you can play around with your systems to work on a few things. But for the most part, we feel that's a really good gauge to get into the NCAA tournament. Last year I look in the mirror with that [and] it kind of gave us a tough go early and I don't know how much that helped us. I think it helped us down the road in getting ready for our league, but I don't think it helped us with the overall picture in the NCAAs." – Bennett
2018-19 PREDICTIONS: The Dutchmen look to put together another strong season in 2018-19 after a season that saw them with the second-best record in conference play. Their Achilles heel was their slow start in nonconference play to start the 2017-18 year. With only two key losses in Ryan Scarfo and J.C. Brassard plus a couple sophomores like Jack Adams and Parker Foo ready for breakout campaigns, Union will once again be in the conversation to finish in the top four in the ECAC.
YALE
HEAD COACH: Keith Allain, entering his 13th season at Yale
2017-18 OVERALL RECORD: 15-15-1 (10-11-1 ECAC Hockey, 8th)
KEY RETURNING PLAYERS: Senior forward Joe Snively (19-17-36), Senior forward Ted Hart (8-6-14), Senior defenseman Charlie Curti (3-8-11), Junior forward Evan Smith (10-7), Junior defenseman Billy Sweezey (1-9-10), Sophomore defenseman Phil Kemp (3-5-8)
KEY LOSSES: F Ryan Hitchcock (7-13-20), D Adam Larkin (1-6-7).
KEY ADDITIONS: D Jack St. Ivany, D Graham Lillibridge, F Curtis Hall
NOTABLE QUOTABLE: "I think Joe (Snively) is getting a lot of press and he deserves a lot of press. He has been an elite player for us almost since the day he walked in the door. But I think the strength of our team will be our depth. We will have a number of forwards that will do well for us." – Allain
2018-19 PREDICTIONS: The Bulldogs look to build off a .500 season in 2017-18. They have the pieces in place in the forward and defensive positions to lead the middle of the pack group in the conference. The Bulldogs look to get better goaltending all year if they want to pull away from that pack and maybe get a first-round bye.
NATE OWEN'S PREDICTED ORDER OF FINISH
Cornell
Princeton
Union
Clarkson
Harvard
Dartmouth
Yale
QU
RPI
Colgate
St. Lawrence
Brown
NATHAN FOURNIER'S PREDICTED ORDER OF FINISH
Cornell
Princeton
Union
Clarkson
Harvard
Dartmouth
Yale
QU
RPI
Colgate
St. Lawrence
Brown