With three conference teams in attendance, the Frozen Four was set to be a Big Ten party last season.
The party was ruined, however, when the one nonconference team in St. Paul walked away with the title. Minnesota Duluth's championship means that Ohio State, Michigan and Notre Dame come into the new season confident from last year's success, but hungry to seal the deal this time around.
"Last year was one of those years for our conference with three teams making the Frozen Four, four making the tournament, and a fifth being really close to the tournament," Wisconsin coach Tony Granato said. "It just shows that our conference is only going to continue to get better."
Positivity concerning the state of the Big Ten was a theme throughout the league's annual conference call last week.
"The Big Ten is starting to become the league I think everyone was hoping that it would," Michigan coach Mel Pearson said. "You're starting to see that now. We were just talking the other day that it doesn't matter what building you're going into, you look at that schedule and it's going to be a grind."
Despite making it to the Frozen Four, Pearson was quick to point out that the Wolverines didn't actually capture any hardware last season.
"We didn't win anything last year," he said. "We didn't win the Big Ten, we didn't win the playoffs and we didn't win the national championship. We didn't win the (Great Lakes Invitational) tournament. We had a good year, but we're not satisfied."
Last season was Pearson's first in Ann Arbor after his stint at Michigan Tech, and he said he likes where the team is at going into this season compared to last year.
"I feel much more at ease going into this year than I was my first year last year," he said. "Just knowing the players so much better and, obviously, knowing the Big Ten. I had never been to some places in the Big Ten and I think I got my eyes opened as a coach."
Michigan was picked to finish second in the Big Ten coaches poll behind Ohio State, who also lost a Frozen Four semifinal game last season. The Buckeyes welcome back a stable of key players from last year's squad including Tanner Laczynski and Mason Jobst. Both players were unanimous selections on this year's Big Ten Preseason Watch List.
"Expectations are good, that's what you want in a program, but to me you've got to prove yourself every day when you're on the ice," Ohio State coach Steve Rohlik said. "I think our guys understand, we really haven't accomplished what you always hope to do. As soon as you think you've reached the top of the mountain you're going to get knocked down."
Notre Dame, the team that ran away with last year's regular-season title, won the conference postseason tournament and fell to Duluth in the championship game, was picked to finish third this year. The Irish will have to replace multiple key players that departed but retain star goaltender Cale Morris.
The Irish, Ohio State and Michigan were ranked second, third and fourth consecutively in the first USCHO.com Division I Men's Poll of the season. Minnesota was ranked 13th and Penn State came in at No. 16.
"It's September — I'd much rather see that (ranking) in March or April," Rohlik said of his team's preseason hype. "To me, our Big Ten conference top to bottom, sitting down and looking at the teams, you could put everybody in a bowl and pick them. That's how competitive it is."
New coaches have been a trend for the Big Ten the past couple of seasons and this year is no different as Bob Motzko takes over for Don Lucia at Minnesota. The Gophers, who are picked to finish fourth, return the top scorer from last year and have two goaltenders that made more than 10 starts.
Motzko's team will be tested early when they play a home-and-home with Minnesota Duluth the first weekend of the season. The Gophers will then spend the next two weekends playing exhibition games before facing North Dakota in Las Vegas at the end of October.
Penn State, Wisconsin and Michigan State were picked to finish fifth, sixth and seventh, respectively, but considering the Buckeyes and Wolverines were picked fifth and sixth last season, shouldn't be counted out.
"I don't know if everybody has improved equally, but I think that everybody has improved," Michigan State coach Danton Cole said. "It'll be a tough season for everyone and it'll be similar to last year where every game is contested from top to bottom."
Pearson said that sometimes a low ranking can lead to more motivation.
"Sometimes it's easier when you're chasing someone instead of being chased," he said. "They're just polls. It's flattering, but at the same time, we know we still have a lot to prove."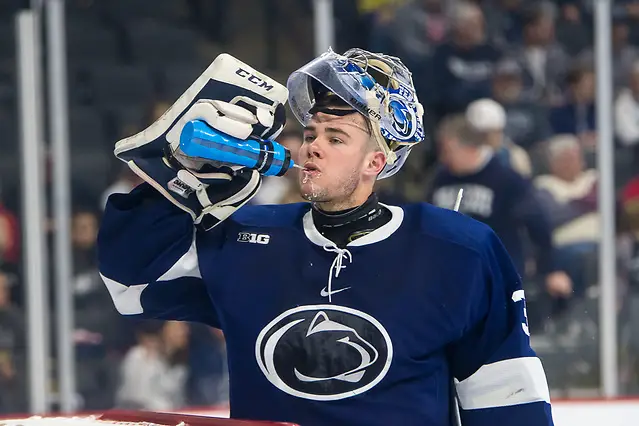 MICHIGAN
HEAD COACH: Mel Pearson, entering second second season at Michigan
2017-18 OVERALL RECORD: 22-15-3 (11-10-3-2 Big Ten, 3rd)
KEY RETURNING PLAYERS: Junior forward Jake Slaker (15-12—27), junior forward Will Lockwood (4-7—11), sophomore defenseman Quinn Hughes (5-24—29), junior goaltender Hayden Lavigne (2.80 GAA, .908 SV %)
KEY LOSSES: F Tony Calderone (25-20—45), F Dexter Dancs (12-16—28), F Cooper Marody (16-35—51)
KEY ADDITIONS: F Jimmy Lambert, F Jack Olmstead, D Jack Summers
2018-19 PREDICTION: The Wolverines are looking as though they may be reloading and not rebuilding, and last year's trip to the Frozen Four is the kind of experience that gives a program focus. Add to that the chemistry of this club and the maturity of Lavigne in net – pushed by two solid freshmen – and Michigan has the ingredients to challenge for first place.
MICHIGAN STATE
HEAD COACH: Danton Cole, entering his second season at Michigan State
2017-18 OVERALL RECORD: 12-22-2 (6-16-2-1 Big Ten, 7th)
KEY RETURNING PLAYERS: Junior forward Taro Hirose (12-30—42), junior forward Patrick Khodorenko (13-19—32), sophomore forward Mitchell Lewandowski (19-15—34), junior goaltender John Lethemon (2.88 GAA, .903 SV %)
KEY LOSSES: None
KEY ADDITIONS: G Drew Deridder, F Adam Goodsir, F Mitchell Mattson, F Wojciech Stachowiak
2018-19 PREDICTION: The Spartans were improved under first-year head coach Danton Cole last season and showed signs of solidifying in the second half, but Michigan State still has significant rebuilding to do. The Spartans showed promising offense in streaks and improved special teams, but overall team defense was a downfall. Still, the entire core of the team returns and is on board with what Cole and his staff want to accomplish. They'll be competitive but have a way to go.
MINNESOTA
HEAD COACH: Bob Motzko, entering his first season at Minnesota
2017-18 OVERALL RECORD: 20-17-2 (10-12-2 Big Ten, 5th)
KEY RETURNING PLAYERS: Junior forward Rem Pitlick (12-19-31), senior forward Brent Gates Jr. (12-14-26), senior forward Tommy Novak (3-23-26), senior forward Tyler Sheehy (12-13-25)
KEY LOSSES: F Casey Mittelstadt (11-19-30), F Mike Szmatula (9-6-15)
KEY ADDITIONS: F Sampo Ranta, F Sammy Walker
NOTABLE QUOTEABLE: "We're doing two things, trying to get used to each other but we want to get a strong foundation in. We're pushing our systems right now a little bit faster than I want to because we've got to play those two games." – Motzko
2018-19 PREDICTION: Success for the Gophers will depend on how quickly the team is able to adjust to their new head coach after Don Lucia's long tenure. Minnesota's relatively young and inexperienced blue line will be baptized by fire when it opens the season with a home-and-home series against Minnesota Duluth.
NOTRE DAME
HEAD COACH: Jeff Jackson, entering his 14th season at Notre Dame
2017-18 OVERALL RECORD: 28-10-2 (17-6-1 Big Ten, 1st)
KEY RETURNING PLAYERS: Junior Cal Burke (14-12-26), defenseman Bobby Nardella (5-19-24), junior forward Cam Morrison (8-15-23), junior goaltender Cale Morris (27-8-1, 1.94 GAA, .944 SV %)
KEY LOSSES: F Jake Evans (13-33-46), F Andrew Oglevie (15-24-39), D Jordan Gross (10-20-30)
KEY ADDITIONS: D Spencer Stastney, D Nate Clurman, D Nick Leivermann
NOTABLE QUOTEABLE: "We'll be a younger team this year. I am excited about our young guys, I think we're going to actually be more mobile on the blue line (and) obviously Cale Morris gives us a real solid foundation to build from." – Jackson
2018-19 PREDICTION: Notre Dame was the class of the Big Ten during its first season. The Irish ran away with the regular-season and tournament crown and made it to the NCAA championship game. Problem is the Irish were joined at the Frozen Four by two fellow conference teams and those two lost less scoring over the summer. Cale Morris gives Notre Dame a chance in every game and if some younger players can step up and handle the scoring, the Irish should be OK.
OHIO STATE
HEAD COACH: Steve Rohlik, entering his sixth season at Ohio State
2017-18 OVERALL RECORD: 26-10-5 (14-8-2-1 Big Ten, 2nd)
KEY RETURNING PLAYERS: Senior forward Dakota Joshua (15-11—26), junior forward Tanner Laczynski (17-30—47), senior forward Mason Jobst (21-22—43), senior defenseman Sasha Larocque (2-7—9), senior goaltender Sean Romeo (2.06 GAA, .927 SV %)
KEY LOSSES: F Christian Lampasso, F Matthew Weis
KEY ADDITIONS: F Quinn Preston, F Gustaf Westlund, D Ryan O'Connell
2018-19 PREDICTION: The Buckeyes are a veteran, talented team that benefits from last year's Frozen Four experience. The core of the Ohio State defense that was third in the nation last year returns, and the whole team plays a defense-first strategy in front of senior goaltender Sean Romeo – a solid strategy that led to offense. This could be another year that helps solidify the Buckeyes among the top teams in the country.
PENN STATE
HEAD COACH: Guy Gadowsky, entering his seventh season at Penn State
2017-18 OVERALL RECORD: 18-15-5 (9-10-5-2 Big Ten, 4th)
KEY RETURNING PLAYERS: Senior forward Chase Berger (11-16—27), junior forward Denis Smirnov (15-12—27), junior forward Nate Sucese (14-15—29), junior goaltender Peyton Jones (3.03 GAA, .905 SV %)
KEY LOSSES: F Andrew Sturtz
KEY ADDITIONS: F Ludvig Larsson, F Aarne Talvitie, G Oskar Autio
2018-19 PREDICTION: Penn State returns a veteran team that scored a lot of goals last season but played mediocre overall team defense, resulting in a lack of consistency that mired the Nittany Lions in the middle of B1G Hockey. The top teams in the conference took a step forward last season and Penn State did not. If this still-young program finds a balanced defense to combine with its torrid offense, PSU has a chance to advance – but that's a big "if."
WISCONSIN
HEAD COACH: Tony Granato, entering his third season at Wisconsin
2017-18 OVERALL RECORD: 14-19-4 (8-13-3 Big Ten, 6th)
KEY RETURNING PLAYERS: Sophomore forward Linus Weissbach (10-16-26), sophomore defenseman Wyatt Kalynuk (3-22-25), senior forward Seamus Malone (10-13-23)
KEY LOSSES: F Trent Frederic (17-15-32), F Ryan Wagner (15-18-33), F Cameron Hughes (8-14-22)
KEY ADDITIONS: D K'Andre Miller, D Ty Emberson, G Daniel Lebedeff
NOTABLE QUOTEABLE: "We're going to be really young, but I think we're going to be a fun team. I know we're a fun team to coach, I think we're going to be a fun team to watch and we're going to compete and hopefully make strides and be able to compete in our conference and have a great year." – Granato
2018-19 PREDICTION: After a sophomore slump during Granato's season at the helm Wisconsin will look for a rebound season this year. A tough schedule that features Boston College, a trip out east, Michigan Tech and North Dakota to start could hamper Wisconsin out of the gates. The lack of experience at the goaltending position could also hamper the Badgers this year.
DREW'S PREDICTED ORDER OF FINISH
Michigan
Ohio State
Notre Dame
Minnesota
Penn State
Michigan State
Wisconsin
PAULA'S PREDICTED ORDER OF FINISH
Ohio State
Michigan
Notre Dame
Minnesota
Penn State
Michigan State
Wisconsin
Drew Claussen wrote the preview and contributed to the capsules; Paula C. Weston contributed to the capsules.