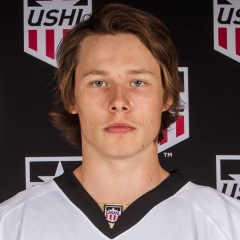 Providence freshman forward Mikael Hakkarainen has left the program to return to the USHL's Muskegon Lumberjacks.
"I'm disappointed in Mikael's decision to leave the program," Friars coach Nate Leaman said in a statement. "Mikael informed us that managing classes while playing hockey was not enjoyable for him. College hockey is academics and athletics and there is no bending to that.
"It is a new challenge to all first-year student-athletes and with each new challenge, these students-athletes continue to grow. I feel that is a large reason why college hockey players continue to move on to the NHL in record-numbers. We wish Mikael the best of luck in his future endeavors."
Hakkarainen, who played one game for the Friars, was selected by the Chicago Blackhawks in the fifth round (139th overall) of the 2018 NHL Draft.