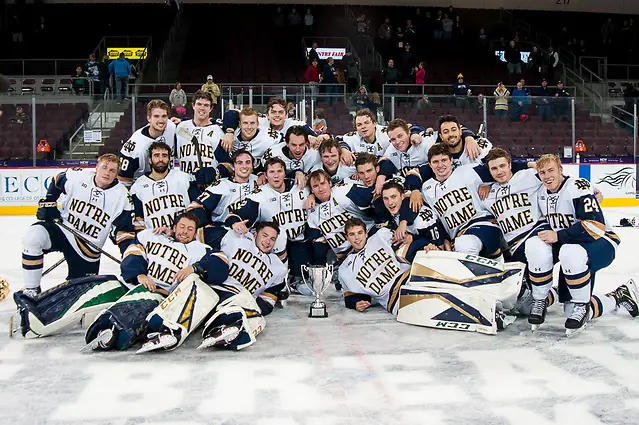 ERIE, Pa. – Lucky for the Irish, they still had some goals left in them.
Second-ranked Notre Dame bounced back from defensive disaster the previous night and defeated fourth-ranked Providence, 3-0, on Saturday to win the annual Ice Breaker Tournament at Erie Insurance Arena.
Joe Wegwerth, Colin Theisen and Bobby Nardella scored for Notre Dame – ranked second in the latest USCHO poll. Goaltender Cale Morris, who led the nation in victories last season, recorded 22 saves to get the shutout.
Photo Gallery: Notre Dame wins Ice Breaker
"It is a good start to our season, especially after last night, we thought we could be a lot better," said Wegwerth, whose team tied host Mercyhurst, 6-6, on Friday before advancing in a shootout. "Obviously, Providence [had] kind of become our rival in Hockey East. We executed, our freshmen stepped up and played well. Just everybody seemed to be clicking and pulling in the right direction."
Providence coach Nate Leaman admitted his young club has some growing to do.
"It was a good game," he said. "There were some momentum swings. I thought overall, they did a better job on their power play than we did. I thought they executed a little bit better. I thought they won the net fronts. We had a lot of shot opportunities that got blocked. That is a credit to them.
"I like our team because there is a lot of room for growth right now. We have to get our top guys going, and I think we have to get guys around the net."
Wegwerth gave Notre Dame a 1-0 lead at 17:36 of the second when he tipped Andrew Peeke's shot past Providence goaltender Hawkey Hayden.
The Fighting Irish took a 2-0 lead when Colin Theisen cruised to the right corner of the slot and redirected Jack Jenkin's slick pass from deep in the left corner past Hawkey at 3:59.
Seven minutes later, Notre Dame iced the victory when Peeke's shot from the point was stopped by Hawkey. But the puck squirted loose and lay inches in front of the goal line before defenseman Bobby Nardella, whose shootout goal on Friday placed Notre Dame in the final, pounced in and banged it home.
In the end, Notre Dame took the championship trophy home, a good way to start a long season.
"Early in the season, you are always trying to work on your game and get better, especially with the young group we have," said Notre Dame coach Jeff Jackson. "I was excited to see how we played tonight. Last night…that is not how we play the game. We played much smarter tonight, and did a much better job with the puck.
"We got timely goals and good goaltending. That's how we win. For us to get our act together in time to beat a very good team, is important."
Bottom line – an Ontario Hockey League city, certainly not your typical college hockey town – placed another feather in its cap this weekend.
"It's been fantastic," said Mark Jeanneret, Executive Director of the Erie Sports Commission on the tourney. "We were fortunate to get No. 2 Notre Dame and No. 4 Providence. We started planning this three years ago, and had teams in place 18 months ago, so we were fortunate. And the fact that Mercyhurst gave Notre Dame everything they could handle last night, is fantastic."
Jeanneret talked about Erie possibly hosting a NCAA Regional Tournament down the road.
"We are looking at everything," he said. "We had the women's Frozen Four here in 2011 and will host it in 2021. We look at all of those opportunities. And as we get more comfortable working with the staff here at the arena, and obviously Mercyhurst would have to be a big player as well. When those opportunities come along, we will do our due diligence, take a look at what the opportunities are, and see what the requirements are."
Notre Dame – Icebreaker Champions! pic.twitter.com/tn7FxqFq9c

— NCAA Ice Hockey (@NCAAIceHockey) October 14, 2018
Full scoreboard | Writer's picks | GOTW podcast
Around the nation
No. 1 Ohio State 3, Arizona State 0
For the second straight night, the current top team in the nation handled all they could from Arizona State, this time staking to a 3-0 victory.
A night after a 3-2 victory in the desert, Ohio State got a late second period goal from Ronnie Hein to break the scoreless tie. A penalty shot goal by Mason Jobst extended the lead with 6:34 remaining. Hein added his second goal into an empty net in the final minute.
This was the first time Arizona State ever faced a nationally-ranked No. 1 team.
No. 3 Minnesota Duluth 5, No. 19 Michigan Tech 2
Minnesota Duluth used a five-goal second period to take control against Michigan Tech and complete the weekend sweep in a battle of nationally-ranked team.
Tanner Laderoute potted two goals on the night, while defenseman Scott Perunovich set up two tallies as the Bulldogs rebound from last weekend's tie-loss to Minnesota with two victories.
.@UMDMensHockey explodes for five goals in the second period and leads Michigan Tech in shots 32-10 heading into the final 20 minutes of regulation. pic.twitter.com/Fw3MyfClJq

— UMD Athletics (@UMDBulldogs) October 14, 2018
No. 11 Minnesota State 5, No. 8 Boston University 3
Minnesota State's Charlie Gerard scored with 0.6 seconds remaining in the second period to shift momentum and lead the Mavericks to a 5-3 win over Boston University, completing the weekend sweep.
Minnesota State jumped out to a 3-0 first period lead only to watch BU score three times in the middle stanza, capped off by Shane Bowers tying goal in the final minute of the period.
But Gerard did BU one better, scoring the final second for what became the game-winner. Marc Michaelis potted a late empty-netter to secure the win.