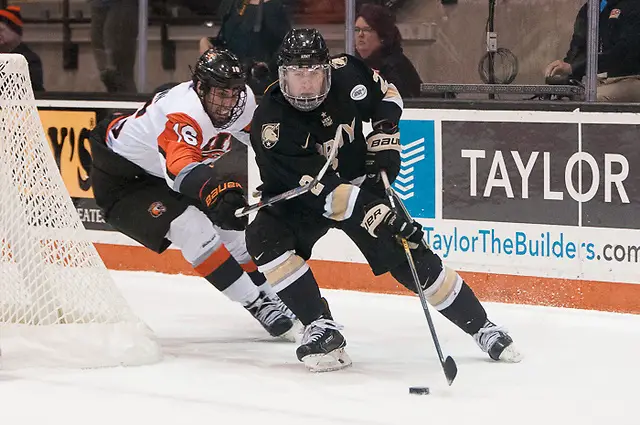 Each week, USCHO.com columnists will pick the winners of the upcoming games in their respective conferences.
Atlantic Hockey
Friday, Oct. 12
Merrimack at Bentley – There's going to be tons of storylines going into this game. Merrimack is moving all programs to join hockey at Division I next year, leaving D2's Northeast-10, where it currently plays Bentley. The Warriors have a new head coach and were swept last week but have never lost to Bentley, including a 3-0 record in Division I games. Last year, Merrimack won, 5-2, in the second straight year playing each other. It's also the first non-conference game and season opener for the Bentley Arena, which grand opened at the end of last year. Merrimack wins.
UConn at Army West Point – It's been a while since the Huskies were in Atlantic Hockey, but I still think of this as a game between former conference rivals, especially given Army's 30-29-8 advantage in the series. Jared Dempsey could use a bounce back game, but I don't think it happens tonight. UConn wins.
Notre Dame at Mercyhurst – Shamrocks aplenty! The IceBreaker comes to Atlantic Hockey in a big way with the No. 2 team in the nation, which could be bad news for a Laker team that struggled last week. Notre Dame wins.
Denver at Air Force – I always like to casually point out that Denver is the "Mile High City" but still has to climb about 2,000 feet of altitude to play at Air Force. The Falcons lost 6-0 to the Pioneers on the road last year, but the two years prior to that were overtime thrillers. I think they could shock the world, so I look forward to being wrong. Denver wins.
Saturday, Oct. 13
Merrimack at Army West Point – Merrimack has to board a bus and drive four hours in the wrong direction away from campus after playing Bentley. That's a tall order, let alone to play an Army team that I think will be chomping at the bit to avenge a 4-1 game they wanted back at Lawler Rink last year. Army West Point wins.
Air Force at Colorado College – The Falcons have taken a win in their intercity rivalry every year for the past five seasons. Why go against history? Air Force wins.
Miami/Providence vs. Mercyhurst – The IceBreaker is a great honor to host, but I just worry that this is too steep for a team putting together virtually a new roster. Both Miami and Providence beat Mercyhurst, regardless of opponent.
Friday, October 12 & Saturday, October 13
Canisius at Holy Cross – Nothing like starting your season with a series between Atlantic Hockey bluebloods, amirite? These will wind up being huge points down the road. Given what Holy Cross had to replace, I think the Griffs are the more ready team right now. Canisius sweeps.
AIC at Niagara – Everyone seems to be jumping onto the AIC bandwagon, and Niagara is surprisingly only 4-10-2 at home against eastern teams. Given where I predicted each team to fall, I think I have to go with the Yellow Jackets to get out to a fast start. AIC sweeps.
Northeastern at Sacred Heart – The Huskies swept Sacred Heart last year at Matthews Arena, but they also have failed to win three straight games in Atlantic Hockey buildings (all were against Bentley). The Pioneers are playing more home non-conference games than any other time in program history, and I think that's going to juice them up a little bit. Chris and I used to call splits based on day, but since we changed up our format, can I change up the way I predict it? Northeastern and Sacred Heart split.
RIT at UMass Lowell – I like UMass-Lowell this year to make a run back to the top of Hockey East. They get off on the right foot at the expense of RIT. UMass-Lowell sweeps.
Friday, October 12 & Sunday, October 14
Bowling Green vs. Robert Morris – The series starts in Pittsburgh on Friday before shifting to Ohio on Saturday. Somehow, I like the Colonials to pick off one game, but I'm going to predict it happens Sunday on the road. Robert Morris and Bowling Green split.
Tuesday, October 16 & Thursday, October 18
Bentley at AIC – AIC famously clinched home ice in the postseason at the Bentley Arena on the last day of the regular season last year. Nothing like picking up exactly where they left off, right? Two games at the MassMutual Center gives the Falcons an opportunity to make a statement. Bentley and AIC split.
— Dan Rubin
Big Ten
Clarkson at Penn State (Thursday, Friday) — Given the relative parity (at least on paper) between these two teams, I'll pick a split with the Nittany Lions taking their home opener Thursday and the Golden Knights winning Friday.
NOTE: Penn State defeated Clarkson 4-3 Thursday night.
Boston College at Wisconsin — It'll take a little bit for me to be convinced that the Badgers will be competitive against a team like Boston College this season. Boston College sweep.
Northern Michigan at Michigan State — This is one of those series where anything can happen, from a split to sweeps by either team. Friday's game is the first of the season for the Wildcats while the Spartans had a warm-up exhibition game last weekend. Michigan State Friday, Northern Michigan Saturday.
Ohio State at Arizona — Here's a chance for the Buckeyes to prove everyone right. Ohio State sweep.
Notre Dame vs. Mercyhurst and Miami/Providence — I see Notre Dame handling Mercyhurst in the first game but having trouble in the second against either Miami or Providence, but I'm calling an Ice Breaker crown for the Fighting Irish with two wins in Erie this weekend.
— Paula C. Weston
ECAC Hockey
Clarkson at Penn State (Thursday-Friday)
It will be a good test the Clarkson Golden Knights to open the season up. They will face a high-powered offense in Penn State. Jake Kielly should bring stability in net for Clarkson. Penn State wins Thursday while Clarkson earns the split Friday.
NOTE: Penn State defeated Clarkson 4-3 Thursday night.
New Hampshire at Colgate (Friday-Saturday)
The Raiders will take their bumps early in the season with three freshmen goalies. They are going up a UNH team that's looking to get back to the top half of the Hockey East standings. I think Colgate can keep the games close, but the Wildcats sweep Colgate.
St. Lawrence at Maine (Friday-Saturday)
The Saints are making the long trip up to Orono to open up the regular season. They will be facing a Black Bears team that may surprise people this year. I don't think St. Lawrence has the depth as the Black Bears. It's a sweep for Maine.
Omaha at Union (Friday-Saturday)
This should be a good series. Union looks to continue their success from last weekend while Omaha is starting their regular season. Union opens the series with a win on Friday, but Omaha adjusts on Saturday to capture the second game.
UMass at Rensselaer (Friday-Saturday)
UMass is another team in Hockey East that has high hopes this season. They definitely have the clear edge on defense. Expect their blue line to produce some offense over the weekend. I think Linden Marshall can steal a game and I think it will be the opener Friday night while UMass takes Saturday.
Quinnipiac at Vermont (Saturday)
Vermont is coming off a high defeating Michigan last week. I think it will take another stellar performance from Stefanos Lekkas. I think the Bobcats has enough offense to get by the Catmounts. Quinnipiac wins.
UConn at Quinnipiac (Tuesday)
A rivalry game and it should be a defensive battle. I think neither team has a clear advantage on offense, defense or in goal. This should be a one – or two-goal game. I think UConn pulls this one out.
— Nathan Fournier
Hockey East
Friday, October 12
UConn at Army West Point: In cases like this where the two teams' records were comparable last year, I'll go with the Hockey East team every time. UConn wins.
Merrimack at Bentley: This is a tougher test of my Hockey East homerism since the Warriors dropped two last weekend, but I'm sticking with them. Merrimack wins.
Friday/Saturday, October 12-13
IceBreaker Tournament: Miami vs Providence; Notre Dame/Mercyhurst vs Providence: Notre Dame might be the slight favorite, but I'll take the Friars in a slight upset. Providence wins two to take the IceBreaker.
New Hampshire at Colgate: First-year UNH coach Mike Souza will need time to rebuild the Wildcats, so this looks like too tough an opponent and an oh-fer road trip. Colgate sweeps.
St. Lawrence at Maine: St. Lawrence is looking to rebound from a last-place season, but Alfond isn't the place to start that process. Maine sweeps.
RIT at UMass Lowell: I expect the River Hawks to bounce back from last season's mediocrity. Lowell sweeps.
Boston College at Wisconsin: The Eagles paid dearly last year for their nonconference failures, missing out on the NCAAs, so I expect a lot of focus on tough series like these. Even on the road, BC sweeps.
Boston University at Minnesota State: I'm a BU believer this year, but this is such a tough road trip I just can't see a sweep. BU splits, losing on Friday, winning on Saturday.
Northeastern at Sacred Heart: Sacred Heart finished last in the Atlantic last year, so this looks like no contest. Northeastern sweeps.
Rensselaer vs. Massachusetts: Rensselaer is coming off a tough season and I see UMass as a team on the rise, so I see the Minutemen taking both ends of this home-and-home. UMass sweeps.
Saturday, October 13
Quinnipiac at Vermont: If Stefanos Lekkas has to make 48 saves like he did in the upset over Michigan, I don't like Vermont's chances. But Quinnipiac ain't Michigan. Vermont wins.
Merrimack at Army West Point: Home ice decides this one, but it will be close. Army wins.
Tuesday, October 16
UConn at Quinnipiac: Home ice makes Quinnipiac the favorite, but I'll take the Huskies in a small upset. UConn wins.
— David H. Hendrickson
NCHC
Friday-Saturday
No. 18 Western Michigan vs Ferris State (home-and-home): Western has had a short week after falling 6-2 at Tuesday against Bowling Green in a game where, up 2-1 after two periods, BGSU scored in the first minute of the third and beat the Broncos 6-2. I wonder how different WMU might look at Ferris State on Friday with Austin Rueschhoff (10 goals last year as a freshman) suspended, but I'm more confident about taking the Broncos for the rematch at home. Ferris State 3-2, Western Michigan 3-1
No. 3 Minnesota Duluth at No. 19 Michigan Tech: Duluth was outshot by a 2-1 margin last time out in a 7-4 loss at Minnesota, and there's positives and negatives to take from that. Tech could be another formidable test, especially if the Huskies can use last year's postseason success (second consecutive WCHA playoff title and a first-round NCAA tournament loss to Notre Dame in overtime). UMD's defense should be solid this year, though, and that seven-goal outing ought to be a blip, but I can see a split here. Minnesota Duluth 3-1, Michigan Tech 2-1
No. 5 St. Cloud State at Alaska: St. Cloud State should still be very good this season despite having a new head coach and a couple key pieces from last season out of the picture, and the Huskies are logging the miles this weekend but will face an Alaska team that was shut out twice last weekend at Arizona State. Give me SCSU twice here. St. Cloud State 4-1, 4-2
Omaha at Union: Omaha did a lot of good things in its exhibition rout of Manitoba last weekend, and the Mavericks put 10 goals past Union in two games over the holidays last year. This time could be different as UNO visits a Union team that opened with a nice home win over Army. The Dutchmen started slowly in nonconference play last year and is trying to rectify that, but three wins from three could be a tall order. Union 4-2, Omaha 3-1
No. 13 North Dakota vs Bemidji State (home-and-home): Bemidji usually puts up a pretty good fight against UND in a relatively local non-conference series, but the Beavers have only beaten UND three times in a series that dates back to 1970. UND is coming off an exhibition win where the Fighting Hawks outshot Manitoba 55-9 but needed overtime to win. UND will get rolling eventually, perhaps this weekend, but don't be too surprised if Bemidji takes a game from this series. Bemidji State 4-2, North Dakota 5-2
Friday
No. 10 Denver at Air Force: This could be a much different Denver team than what we've become used to, but I think they'll threaten once they establish what they have. This game and Huntsville at home on Saturday ought to give the Pioneers a good idea of where they're at two counter games into the season. Denver 4-2
Alabama Huntsville at Colorado College: My conference writing partner Candace Horgan and I are both higher on CC this season than a lot of people are, and while the Tigers split last weekend at Alaska Anchorage, you'll happily take 13 goals scored in a weekend. Now, they're at home against a UAH team that struggled last weekend at Miami. I'm taking the Tigers. Colorado College 4-1
Miami vs No. 4 Providence (IceBreaker): Miami came out hot last weekend at home against Alabama Huntsville, but Providence is a different animal. I'll take the Friars and what ought to be a good defense this year to get past the RedHawks. Providence 3-2
Saturday
Alabama Huntsville at No. 10 Denver: See above. For all the questions Denver faces, this ought to be a Pioneer win. Denver 4-2
Air Force at Colorado College: Air Force is going to be very competitive in its league this season and I wouldn't be stunned if they get a win somewhere this weekend, but I'm sticking with CC here. Colorado College 4-2
Miami vs Mercyhurst (IceBreaker): Mercyhurst surprised many as last season's Atlantic Hockey regular season champion, but I don't see the Lakers beating Notre Dame and I think Miami will have too much for them too. Miami 4-2
— Matthew Semisch
WCHA
Northern Michigan at Michigan State
Former CCHA rivals renew their instate series this week in East Lansing. The Wildcats have just about everybody back, while the Spartans are still in rebuilding mode. I think NMU will be energized enough to get a road sweep for state pride.
Bowling Green at /vs Robert Morris (Friday/Sunday)
The Falcons have scored 14 goals in two games so far. They crushed Mercyhurst 8-2 in their first game. I think they'll have similar success against another Atlantic Hockey foe in this home-and-home. Bowling Green gets the sweep, winning in both Pittsburgh and Ohio.
Ferris State vs/at Western Michigan
I like these early season nonconference rivalry series — they're always unpredictable and both teams have a legitimate chance because there are (usually) few expectations. This one's no different. I think the Bulldogs and Broncos get the split. Ferris wins in Big Rapids Friday while WMU takes it in Kalamazoo Saturday.
Minnesota Duluth at Michigan Tech
The defending national champs travel to the other side of Lake Superior. Tech upset the Bulldogs in Duluth in last year's Ice Breaker tournament. I think they'll do it again this season on their own home ice. The Huskies win Friday before the Bulldogs get the split Saturday.
Bemidji State vs/at North Dakota
Yet another fun rivalry home-and-home. The Beavers still have a big question mark in goal, but I'm going to pick a split just because I think they'll be able to tough out a gritty win in their home opener. UND gets a big win in the finale, though.
Boston U at Minnesota State
Last season, the Mavericks stormed into Boston and made a statement with two big road wins. I think they're going to do the same at home with a big home sweep in Mankato.
Alabama Huntsville at Colorado College/Denver
The Chargers only managed one goal in two weekends against Miami last week. It doesn't get any easier this weekend, with a trip to both Colorado College and Denver. I think they're going to have troubles again. CC and Denver win, but I think it'll be close (at least against CC).
St. Cloud State at Alaska
The Nanooks had a rough time on the road at Arizona State — they didn't manage to score a goal. Despite being at home, they will surely find things even tougher against St. Cloud State. I think the Huskies sweep, but maybe the Nanooks can finally find the back of the net and make things interesting.
— Jack Hittinger