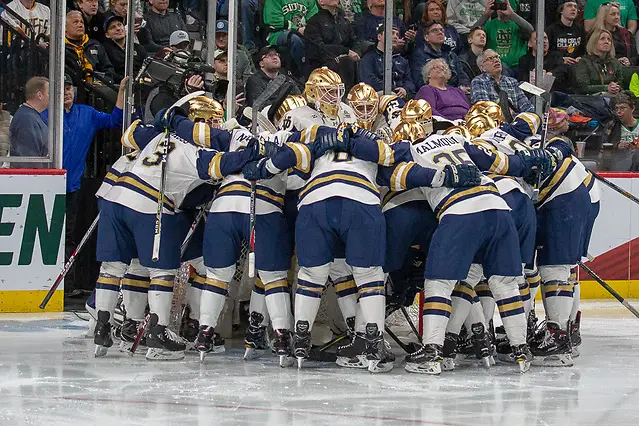 ERIE, Pa. – Probably not many think Erie is a great collegiate hockey market.
But that might be changing. And soon.
The annual Ice Breaker Tournament is scheduled for downtown Erie this Friday and Saturday. And to make things more interesting, two of the nation's top-ranked teams will be skating in this city at the Erie Insurance Arena.
"I think we are very excited with the opportunity, obvious there is a bidding process," said Mark Jeanneret, Executive Director of the Erie Sports Commission. "We worked closely with Mercyhurst University to put in a good bid.  It is a resume builder for us, and a chance for us to prove we can host a major college hockey tournament.  We looked at it as a reputation maker for us."
The tourney opens on Friday with a 4:05 pm start when fourth-ranked Providence plays Miami before the host Lakers face off against No. 2 Notre Dame in the second game at 7:05 pm.
On Saturday, the consolation game starts at 4:00 and the championship game at 7:30.
Mercyhurst coach Rick Gotkin, who has been coaching here since seemingly the end of World War II (in reality, he is in his 31st season), loves the buzz this tournament is generating.
"The excitement here is unbelievable, not only on campus, but in the whole city," he said. "We are the first Atlantic team to host the Ice Breaker, so that is a really cool thing in itself. It is going to be great, and it is going to be really exciting."
No question, the tournament gains credence with two of the nation's top four teams participating.
"Absolutely, we thought it really special to have the tourney awarded to Mercyhurst and Atlantic Hockey," said Tournament Director Craig Barnett. "Then we watched Notre Dame's run in NCAA Tournament last year. And obviously having Providence and Miami coming in, is special.
"Without getting into it too much, we had two of the teams in the books already and were waiting on the third. That is something that Gotkin was orchestrating.   Rick really did a great job. He hit a grand slam."
This is the first time an Atlantic Hockey team will host the tournament.
"It is a bid process," said Atlantic Hockey Commissioner Bob DeGregorio. "I am hoping Mercyhurst won't be the last. I hope Atlantic teams look at the Ice Breaker and consider bidding on it in the future. I think it is a great feather in the cap for us."
Host Mercyhurst actually opened the season at home against Bowling Green on Oct. 6, an 8-2 loss Gotkin hopes his team puts behind them.  The Lakers – picked forth in the Atlantic Hockey poll – return senior forward Derek Barach (15-23-38), junior defenseman Joseph Duszak (9-22-31), senior forward Taylor Best (11-14-25).
Miami returns seven of its top eight scorers from last season, but was picked to finish last of eight teams in the National Collegiate Hockey Conference poll.
Providence was ranked second in the Hockey East poll behind Boston College, and lost last year to Notre Dame in the NCAA Regional Final.
The Fighting Irish advanced all the way to the NCAA title game before falling to eventual champion Minnesota-Duluth.
"Certainly, the preseason poll is a poll," Gotkin said regarding what appears to be a strong field. "Notre Dame is the second ranked team in the country and Providence is [fourth]. And Miami, I think, is due for a resurgence.  At the end of the day, it feels like a NCAA Regional almost."
A regional, in fact, could be the next goal of Erie. Gotten says this event will be run just like an NCAA regional with hopes of catching the eyes of the NCAA next time the bids process occurs.
The Erie Sports Commission also announced earlier that Erie had won the right to host the 2021 Women's Frozen Four.