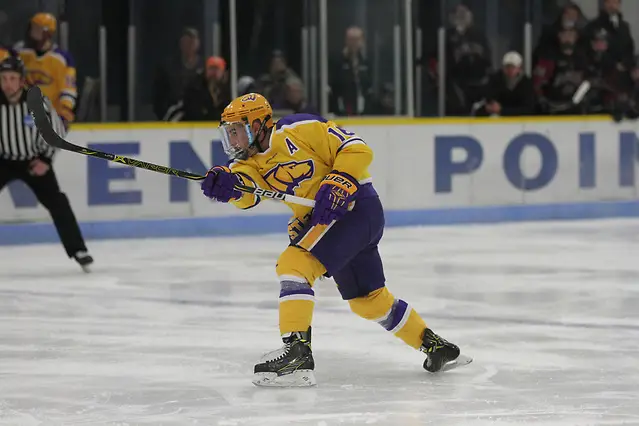 Wisconsin-Stevens Point made it to the Frozen Four a year ago. The Pointers always seem to reload and have to be the team to beat once again in the WIAC, but that doesn't mean they won't get everyone's best shot in a league that should be competitive throughout the year.
In the end, look for Wis.-Stevens Point and Wisconsin-Eau Claire, last year's league tournament champ, to duke it out for conference supremacy.
The Favorites
The Pointers are the team to beat until proven otherwise. They return the league's best player in Tanner Karty, along with four other all-conference picks, including first-team selection Stephan Beauvais. Karty led the league in scoring with 22 goals and 26 assists. Beauvais finished with 10 goals and 12 assists as one of the best defensemen in the WIAC.
The Pointers have added three transfers as well in Chris Allemon from Ferris State, Danny Kiraly out of Alaska Fairbanks, and T.J. Roo from Bemidji State. Another 20-win season should be in store for the Pointers.
The Blugolds have a shot to win the league crown behind a cast of key returnees. Among them is Adam Parsells, who was the league's best newcomer a season ago. He earned first-team all-conference honors and finished the year with three goals and 10 assists. Honorable mention pick Jake Bresser is also back after scoring nine goals and dishing out seven assists.
Zach Dyment and Johnny Mueller will play key roles for Wis.-Eau Claire as well, and with league co-coach of the year Matt Leon on the bench, you can't count out the Blugolds.
The Dark Horses
Wisconsin-River Falls has had its share of success in past years. With 16 returnees, including All-WIAC selections Eddie Matsushima, Joe Drapluk, and Zach Quinn, the Falcons have a team capable of contending. Matsushima led the team in goals and assists, tallying 14 apiece in both categories, and Drapluk was third in goals with 10. Quinn started all 27 games in goal and fashioned a 2.83 goals-against average.
The Falcons won only eight games a year ago. Don't expect them to repeat those struggles this season as they take aim at winning the title.
Don't count out Wisconsin-Superior either. The Yellowjackets have several key players back, including Daniel Litchke, who scored 12 goals and dished out 12 assists a year ago. Bruno Birzitis came through with four goals and 21 assists for a team hoping to put together a winning season.
USCHO Predicted Order of Finish
1) Wis.-Stevens Point
2) Wis.-Eau Claire
3) Wis.-River Falls
4) Wis.-Superior
5) Wisconsin-Stout
Players to Watch
Wis.-Eau Claire: Adam Parsells — defenseman; Zach Dyment — goalie
Wis.-River Falls: Eddie Matsushima — forward; Zach Quinn — goalie
Wis.-Stevens Point: Tanner Karty — forward; Stephan Beauvais
Wis.-Stout: Joe Kleven — defenseman; Tommi Ahlgren — goalie;
Wis.-Superior: Daniel Litchke — forward; Bruno Birzitis — forward
There is very little room for error week to week in the conference, and while the Pointers and Blugolds are head and shoulders above the rest, anything can happen below them.
The Blue Devils, Yellowjackets, and Falcons were separated by a total of four points, and an upset or two here or there by one of those teams could lead to a shot at being a surprise contender for the title.