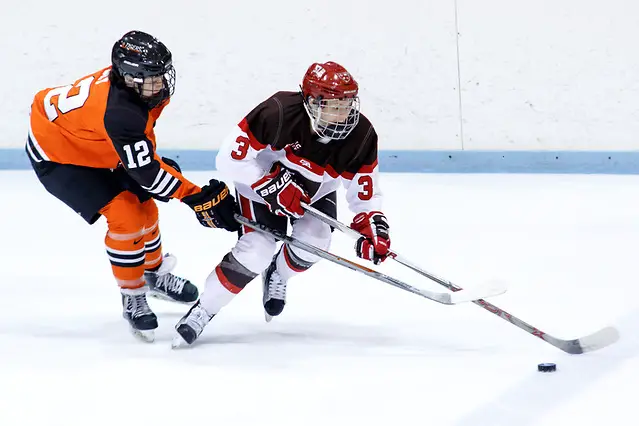 No. 1 Clarkson vs. St. Lawrence
St. Lawrence played its sixth straight overtime game and came away victorious, handing the defending national champs their first loss thanks to Nadine Edney's goal in the extra frame. Justine Reyes opened the scoring for St. Lawrence midway through the first period, but Morgan Helgeson answered for Clarkson just 18 seconds later. Elizabeth Giguère put Clarkson up with a goal early in the second, but Natalie Wozny answered to knot the score at two. Loren Gabel put the Golden Knights up once again just seconds before the period break, but it was Wozny's power-play goal that forced overtime. Edney scored less than a minute in to give St. Lawrence the 4-3 win. Clarkson responded with a resounding 4-0 win on Saturday to earn the split. Giguère had two goals and an assist, while Gabel added a goal and two assists in the win.
Princeton at No. 2 Wisconsin
The Tigers struck first, with Karlie Lund scoring on a power play to give Princeton the lead, but the Badgers responded with three first-period goals. Sophie Shirley, Abby Roque, and Alexis Mauermann had Wisconsin up 3-1 after one. Carly Bullock cut the lead in the third, but the Badgers responded with another goal from Shirley, who also had an assist in the game. Annie McDonald made it 4-3 with a few minutes to go, but the Tigers couldn't mount a comeback as the Badgers won. On Sunday, Shirley, Annie Pankowski, and Presley Norby all scored for Wisconsin en route to a 3-0 win, extending the Badgers' home unbeaten streak to 35 games.
No. 4 Ohio State at No. 3 Minnesota
The scoring came late on Friday as the Gophers got two from Taylor Williamson and one from Catie Skaja after the midway point to win, 3-0. Minnesota outshot the Buckeyes, 47-16, and Ohio State rookie goalie Andrea Brändli was stellar in the losing effort. She followed that up with a 40-save effort on Saturday to lead the Buckeyes to a 3-2 win. Sophie Jacques scored an unassisted goal just five minutes in to give Ohio State the early lead. Nicole Schammel answered for Minnesota, but Emma Maltais and Maddy Field put the Buckeyes ahead for good. Williamson scored her third of the weekend late in the third period, but it was not enough as Ohio State earned a 3-2 win and a weekend series split.
Bemidji State at No. 5 Minnesota Duluth
Naomi Rogge led the Bulldogs with two goals and an assist en route to a 6-1 win in game one. Six UMD players tallied multiple points in the win. Paige Beebe was the lone goal-scorer for Bemidji State in the loss. On Saturday, it was all Rogge, as she scored both goals, assisted by Ashton Bell each time, to lead Minnesota Duluth to the 2-0 win and the weekend sweep.
Merrimack at No. 6 Boston College
Lindsey Agnew put BC up with just 0.4 seconds left in the first period. Merrimack tied it up halfway through the second on a power-play goal by Megan Fergusson. Megan Keller scored an extra-attacker goal of her own, and Daryl Watts iced it with a third-period goal to earn Boston College the 3-1 win.
Vermont at No. 6 Boston College
Each team had 25 shots, but this one was all Boston College as Watts, Makenna Newkirk, and Caitrin Lonergan all scored for the Eagles to earn a 3-0 win.
No. 10 Maine at No. 9 Northeastern
Aerin Frankel tallied her second shutout in three games and Brooke Hobson, Tori Sullivan, and Kasidy Anderson all scored to lead the Huskies to a 3-0 win. Veronika Pettey added two assists in the win.
No. 10 Maine at Boston University
The Black Bears struck quickly in the first, with goals exactly two minutes apart from Vendula Pribylova and Daria Tereshkina. That lead would hold up as Maine won 2-1. Abby Cook scored with 1:28 left in the game to cut the lead for Boston University, but it was too little too late.