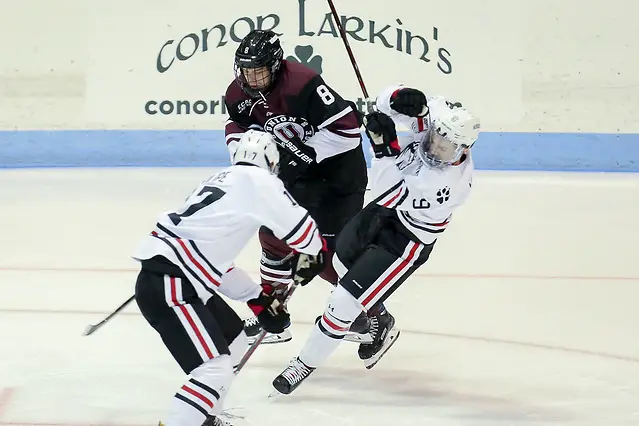 BOSTON — If you're going to be playing Union at any point this season, be prepared to find a way to penetrate a solid defense.
The No. 20 Dutchmen smothered No. 12 Northeastern for much of Saturday night's contest and used the ability to capitalize on mistakes to earn a 3-1 victory and a weekend road sweep to improve to 4-0-1 on the young season.
"Their defense is very explosive and we were just trying to get in the shot lanes," said Union coach Rick Bennett, whose team a year ago began the season 0-5-0. "We just had to be tough around their net front, box out, get their sticks and limit the chances from the point."
Mission accomplished for this Union squad, which continuously improved as the game went on. It allowed six grade 'A' chance in the first, three in the second and none in the third.
"The first two periods, I thought we had a lot of shots," said Northeastern coach Jim Madigan. "A lot of them were from the outside because that's how they play. They box it up in tight. They give you the low-to-high [pass] and the shot from the point. We were trying to spread it out a little bit."
While the Union defense was sound on Saturday, its last line might have been the best. Netminder Darion Hanson finished the night with 31 saves including a number of point blank chances in the first and a solid, off-angle save on Brandon Hawkins during a Northeastern power play that helped maintain a 2-1 lead with less than 13 minutes left.
It was Hanson's second straight start and win, that after senior Jake Kupsky started the first three games of the season, posting a 2-0-1 mark.
It's a perfect luxury for Bennett, who admits he might like to have a number one goaltender but also noting that a tandem situation isn't all that bad if it works.
"It's the old proverbial situation of taking the ball and running with it," said Bennett. "In this case it's the puck.
"Goaltenders work the hardest and [neither of them complain]. They just work hard and have a good attitude. I think they're rewarded for it.
"I think you need a number one when you're going into the playoffs, but we're not even thinking about the playoffs, we're thinking about the next weekend coming up."
On the other side of the puck, Union found ways to score all weekend. On Friday, the Dutchmen rallied from two goals down to earn a 5-4 overtime win. Saturday, they got an early power-play goal from Sebastian Vidmar and followed that less than five minutes later when Jack Adams buried a goal alone in the low slot.
Vidmar's goal with 5:41 left, after Grant Josefek brought Northeastern within a goal in the second, became the nail in the coffin.
Quick win on the offensive-zone face off and 27🇸🇪 puts it in the back of the net. Lone 🍎 goes to 17👦🏻 on the draw. pic.twitter.com/emWqTwm53o

— Union Hockey (@Unionmhockey) October 21, 2018

Still, Bennett is well aware that his offense was not the dominant force in this game.
"I think I would use the word 'opportunistic,'" Bennett said describing his offense. "We gave them plenty of chances, too. I just think we were fortunate enough to put a couple in the back of the net."
The 4-0-1 start is the best for Union since beginning the year 5-0 in 2014-15. That year, though, Union followed those five wins with a six-game winless streak, something Bennett hopes the leadership in his locker room can help avert this year.
"The leadership group, they've done a nice job and our seniors have done an excellent job," said Bennett. "Tonight, we (the coaching staff) didn't even have to go in the locker room. They've been told before, 'This is your team,' and I think they've done a nice job."
Around the nation
No. 1 Ohio State 3, Massachusetts 1
The top-ranked Buckeyes broke a 1-1 tie late in regulation on a Tanner Laczynski goal and added an empty-netter from Mason Jobst to earn a 3-1 victory.
The win came a day after the nation's top team fell at home to the Minutemen, 6-3.
UMass grabbed the early lead 6:00 into the game when Mitchell Chaffee scored his fourth of the year. Laczynski answered, though, just 13 seconds later.
The game remained scoreless until Laczynski's shot redirect from the slot bounced off the crossbar and in to earn the much-needed victory.
GAMEWINNER!

Laczynski with the GWG with just 1:22 left in the game.

Buckeyes beat UMass, 3-1.#GoBucks pic.twitter.com/5eKN4dBRGq

— Ohio State Men's Hockey (@OhioStateMHKY) October 20, 2018
No. 9 Denver 3, Alaska 3 (OT)
Denver scored two goals with an extra attacker in the final 1:52 of regulation to complete a comeback from three goals down and earn a 3-3 tie with Alaska.
Goals by Kylar Hope, Ryker Leer and Colton Leiter gave the Nanooks a 3-0 lead in the first 26 minutes of play.
Somebody call the bomb squad 💣💣💣 #PioneerTogether pic.twitter.com/ue1an30hUI

— Denver Hockey (@DU_Hockey) October 21, 2018

But a second period tally by Jarid Lukosevicius set up the late game rally. Cole Guttman sacred with 1:52 remaining and Lester Lancaster got the equalizer with 35 second left to avoid the upset.
Denver posted a 28-23 advantage in shots, including 3-1 in overtime.
Merrimack 4, No. 13 Boston University 0
Power play goal by Michael Babcock and Jonathan Kovacevic sandwiched around an even-strength tally by Logan Coomes sported the host Warriors a 3-0 lead and they skated to a 4-0 victory over No. 13 Boston University in the opening game of the Hockey East slate for both teams.
BU started Jake Oettinger was chase from the game less than four minutes in the second period, giving way to Max Parwdzik.
Laine McKay's empty-net goal late sealed the victory for Merrimack. Craig Pantano made 34 saves to earn the shutout.
No. 19 Western Michigan 5, No. 11 Michigan 4
Colt Conrad and Josh Passolt each scored third-period goals to overcome a 4-3 deficit through two and pull out a 5-4 victory.
The Broncos held leads of 1-0 and 3-1 before the Wolverines rallied with three goals in less than 11 minutes to close the third.
But the two tallies for Western Michigan in the final 20 combined with a 24 save effort for Austin Cain helped seal the victory.
Scoreboard | Writer's picks | USCHO Game of the Week preview