Northeastern's 2017-18 season was certainly one for the record books.
The third-most wins in program history and second-lowest loss total, the Huskies added both the Beanpot and a Hobey Baker Award winner, Adam Gaudette, to its season-long resume.
There probably felt like there was unfinished business when Northeastern lost in the Hockey East semifinals and then that feeling again in its next game, a loss in the first-round of the NCAA tournament, but few fans would trade last year's accomplishments.
The usual coaches' cliché that "each year is a new year" might go a little further, though, for Northeastern.
The Huskies not only lost Gaudette a year early, but also graduated Gaudette's linemates and two very successful forwards in their own right in Dylan Sikura and Nolan Stevens. The trio combined for 76 goals and 156 total points. No other player on the team reached the double-digit mark in goals.
So without the tremendous trio, you'd have to think of the 2018-19 season as a rebuilding year for coach Jim Madigan's squad.
Don't tell that to Madigan.
"I don't see it as a rebuilding year. I guess I don't see [Gaudette] on our roster. We're missing him when we're practicing," said Madigan.
But as much as you can talk about the lost players, two returning players – goaltender Cayden Primeau and defenseman Jeremy Davies – give Madigan and his squad plenty of reason for positivity.
"It's always nice when you have a quality goaltender and a first-team all-Hockey East goaltender [in Primeau]," said Madigan. "Then you look towards our defense and you have a first-team all-American (Davies) who is returning as a junior.
"You have Ryan Shea who is reliable and beginning his [sophomore] year. And you have Eric Williams as a captain is a senior. So I like what we have on our back end as a foundation.
"Then you look towards our forwards and everyone will look towards a drop off, where you lose Gaudette, Sikura and Stevens, that represents 75-plus goals. [You'd think] you're replacing 75-plus goals, but we're not trying to replace 75-plus goals.
"We're going to grind it out a little bit more. We got 10 goals [last weekend] from nine different players; that didn't happen last year once. So our scoring is going to be spread out. And the team knows that. It's more about a balanced mentality."
One player at the forward position to keep an eye on is sophomore Zach Solow.
During the first weekend of last season, Solow potted three goals in two games and opened a lot of eyes. He then posted just two goals the rest of the campaign.
Can he make an impact this season? Madigan says yes.
"Zach is probably more of a playmaker and distributor," said Madigan. "Saying that, he's got a little bit of Dylan Sikura in his first year. [Sikura] had five goals, then his second year he had 10 goals, then his third and fourth years, he led the league in shots.
"Zach's got to get a little bit more selfish in those [scoring] areas. He came back in tremendous shape. He knows that he's going to be counted on to be one of our top players.
"He wants to assume more of an offensive responsibility, and that's a good thing."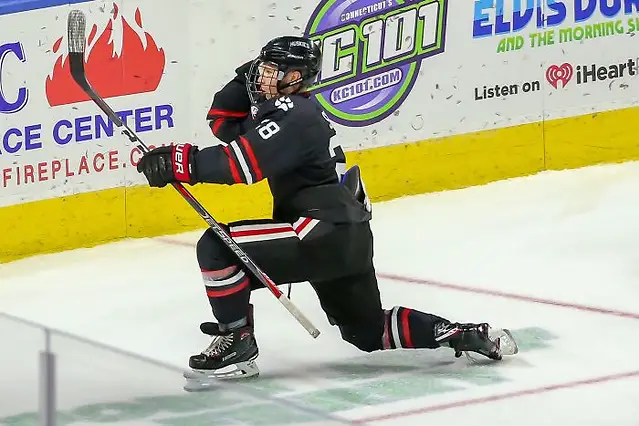 And then there is Davies.
After the power trio of forwards, last season, Davies was the top scorer for the Huskies with six goals and 29 assists. Earning first-team All-America was a much-deserved recognition, but Madigan believes that this is hardly the cap of what this talented blueliner can accomplish.
"[Davies] has that leadership personality and more," Madigan said. "He's that guy when he's on the ice, he's 'that' player. He's got confidence. He's got swagger.
"As much as you can from the back end, he wants the puck to go through him. He's ready to take on that added responsibility, while not being a risky player in that he's being a defenseman and taking care of his own end."
Hockey sense is also a big attraction to Davies' game. A late-round draft pick of the New Jersey Devils in 2016, Madigan feels that his ability to recognize the plays a step or two in advance is what differentiates him.
"He's a young man who has on-ice awareness and that keen sense to know that we expect him to provide some offense for us," Madigan said. "He knows that as we go through that transition in making all four lines effective, he can also contribute from the backend.
"He scored a big goal for us [against Sacred Heart]."
That Sacred Heart series last weekend was an interesting one. Northeastern traveled to Bridgeport for the two games and fell behind 2-1 through two periods of the opener before rallying for four third-period goals for a 5-2 win. The next day, the Huskies were strong from the start in a 5-0 win.
Madigan said that with last year's team, maybe both games are different ("Last year it might have been 5-0 after two periods [on Friday]," Madigan said). But that is what will differentiate this Huskies team from a year ago.
"Each year, there are new players and it's a learning period, so to go into Sacred Heart and be our first test for these kids, I like the way we responded," Madigan said.
This weekend, Madigan's 12th-ranked Huskies match up with No. 20 Union in the USCHO.com Game of the Week.
Union made its debut this season in Monday's USCHO.com Division I Men's Poll. Madigan said that he expects a series that mimics the way the Dutchmen's head coach, Rick Bennett, played – strong, hard-nosed and tough.
But he also recognizes this is yet another critical non-league series that can help both the Huskies and their Hockey East brethren come NCAA tournament selection time.
"Because of the PairWise, it's important getting as many teams [as a league] as you can into the tournament, [and] it depends on all of our schools to do well outside of the conference," said Madigan. "We have the responsibility to attract the best teams as we can on our schedule and then win those games."