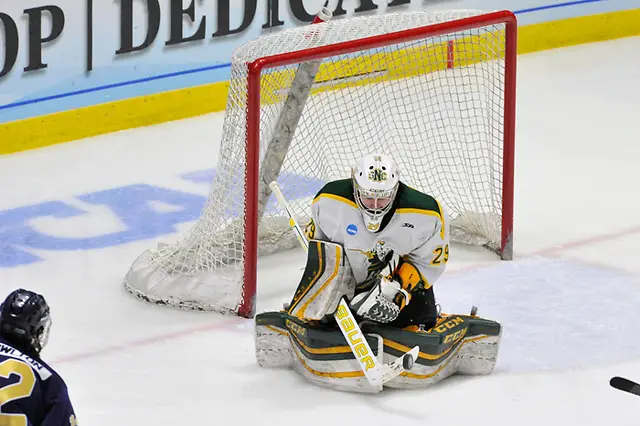 St. Norbert is coming off a national championship season and hopes for a repeat, but first the Green Knights have their sights set on winning the conference. They will raise their banner before their game against Milwaukee School of Engineering and then begin a quest for a repeat.
T.J. Black will lead the way for St. Norbert as one of the top goalies in the nation. Adrian has a top-notch goalie of its own in Kevin Entmaa. Both will make goals tough to come by for opponents and put their teams in position to contend for conference supremacy.
The rest of the conference is competitive, with six teams winning 15 or more games a season ago, and that should make things interesting throughout the season.
The Favorites
As usual, St. Norbert and Adrian will go into the year as the favorites to win the conference. The two teams won their respective divisions a year ago and played for the NCHA tournament title.
The Green Knights closed the year with 12 consecutive wins and return two of their top four goal scorers from last season in Peter Bates and Keegan Milligan. Bates tallied 11 goals and 17 assists last season. Milligan struck for 12 goals and 13 assists.
Combine that with the return of Black, who won 27 games, and the Green Knights are poised to be the top team in the league.
Adrian has one of the best offensive threats in the nation in Cory Dunn, who racked up 27 assists last season and is three points shy of 100 for his career. Connor Armour is hoping to move past the injuries he battled last season and return to the form that saw him earn USCHO Rookie of the Year honors in 2016. Trevor Boyd led the team in goals with 17. Entmaa won 16 games.
The Dark Horses
Marian played in the NCAA tournament for the first time in program history last season. The Sabres also tied a program record with 20 wins. They hope to repeat that success and go a step further by winning the conference. Nick Monfils will help their cause. He is coming off a year where he scored five goals and dished out 18 assists. Goalie Hunter Vorva is back, having won 20 games to set a single-season record.
St. Scholastica has a new head coach in Tim Madsen. He's never been a head coach at the college level, but is a former assistant at Niagara. The Saints return several key players, including Kyle Star, who scored six goals and handed out 17 assists. The Saints added Zach Satalino from Lawrence as well. He recorded 14 points in 26 games a year ago.
USCHO Predicted Order of Finish
1) St. Norbert
2) Adrian
3) Marian
4) St. Scholastica
5) Concordia
6) Lake Forest
7) Aurora
8) Milwaukee School of Engineering
9) Lawrence
10) Northland
11) Finlandia
12) Trine
Players to Watch
Adrian: Cory Dunn — defenseman; Kevin Entmaa — goalie
Aurora: Drew Doyon — forward; Tim Faulkner — defenseman
Concordia: Braydon Barker — forward; Nick Guerra — forward
Finlandia: Connor Hannon — forward; Marcus Gloss — goalie
Lake Forest: Cody Guidorzi — forward; Bron Loiselle — forward
Lawrence: Josh Koepplinger — forward; Evan Cline — goalie
Marian: Nick Monfils — forward; Hunter Vorva — goalie
Milwaukee School of Engineering: Garrett Gintoli — forward; Will Gauthier — forward
Northland: Luke Benedet — forward; Gus Ford — forward
St. Norbert: Peter Bates — forward; T.J. Black — goalie
St. Scholastica: Kyle Star — forward; David Ross — defenseman
Trine: Corey Robertson — forward; Brett Young — goalie
It's hard to imagine anyone but St. Norbert or Adrian winning the league championship, but this is a strong league, and it won't be a surprise if at least three teams make the NCAA tournament.
Marian and St. Scholastica will both make a serious push for the league title, but of course anything can happen on any given night in this league.
Look for the bottom half of the league to be improved as well, especially a team like Northland, which has eight seniors on its roster.