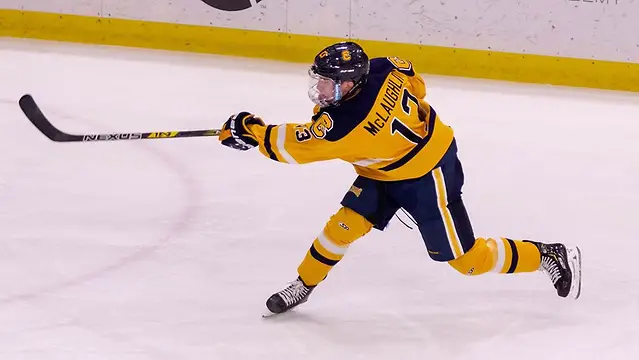 Uniforms are a way for a sports program to create a marketing buzz.
A special edition game all but requires a special edition look, and it generates a uniqueness. Teams across both the professional and collegiate sports landscape are jumping on the bandwagon together, and a particular look is now an intricate part of selling an event.
But at Canisius, something altogether different took shape this offseason. The Golden Griffins opted for a more radical change when they designed their new home jersey, debuting gold primaries last weekend when they hosted Air Force in Buffalo.
"We had our previous jerseys for a few years, so we were ready (for new ones)," Canisius coach Trevor Large said. "I'm in Year 2 as a head coach, and I wanted them to be very different. I would love for us to become the 'Oregon of college hockey' where we are as bold as possible. It's part of recruiting. I wanted our alumni to see it and think that they're different, sharp and bold. Some people will love them. Some people will hate them. But people will talk about what we're wearing."
It's part of a uniform revolution of bold colors across college hockey.
Canisius is most identifiable with teams like Quinnipiac and Merrimack, both of whom wore gold as the primary home uniform (though Merrimack switched to white this year). Minnesota State introduced gold as its primary home color this season but wore a white alternative against Boston University.
The jersey itself is the product of a long creative process that included resources like Canisius videographer Aidan DeTine, who as a member of the audio-video program had been designing on his own for years. The process dove into detailed aspects of the jersey, such as the team's circular crest, which then became reality after Canisius Giving Day raised over $47,000 in a 24-hour period.
"The next day, we ordered the jerseys," Large said. "We had the concept ready, but I wanted to see what came out of that day. When we saw what happened, we said, 'We're going to get the best jerseys in college hockey. So let's do it right.'
"We had looked at a bunch of templates. This one is based off the Dallas Stars template. We tweaked it and added some symbols in some different spots. I particularly love the white and blue stripes (at the bottom) because it's untraditional."
It made the Golden Griffins the first Atlantic Hockey team to wear a colored primary shade since Bentley wore gold in the early 2010s, but it's the latest step in the league's ability to push its own marketing to the forefront. Atlantic Hockey doesn't dictate restrictions other than an in-game contrast, so teams have the ability to create what works best for them.
"The guys love them," Large said. "When they got to campus, we set up the locker room, but we asked that they kept everything off social media. They all wanted to take pictures, but we told them not to blast anything out because we wanted to do a release. That was probably the most difficult thing, but they were blown away. We had known we were going to use SP for the jersey, and that's kind of school-driven through the contract. But there were no restrictions on design from the school or from SP. They let us do what we wanted. When we decided on ours, we knew it would be the sharpest."
Around the league, teams are pushing that creative envelope.
Robert Morris and Army West Point, for example, embraced tertiary colors in recent seasons for red and gold jerseys, respectively. RIT, which historically wore white, black and orange shirts, wore a one-time orange throwback against Colgate this past weekend and introduced "blackout" uniforms against AIC last season.
Air Force wore a number of thirds through the years and wore gray against Colorado College. Holy Cross' recent uniforms pushed the envelope with its diagonal lettering, which Niagara also utilized, and black piping, and the Crusaders added a third gray jersey for good measure.
It's creating a new market where teams are required to both embrace tradition while creatively staying ahead of a growing curve. Teams like Boston College, Clarkson and Michigan Tech have gold options but have a shade of white. Others, like Brown, incorporated off-white or tan shades to the traditional primary and secondary looks.
"I love the challenge," Large said. "Hockey tradition tells me not to push the limit. Traditionalists with classic jerseys create that challenge to get to older alumni. You wonder if they're going to love it or hate it. But ultimately the guys who we want to be the most happy are the guys who are wearing (the sweater). They need to feel energized and proud when they put it on.
"But we also have to pay attention to the market in recruiting," he said. "We wanted guys to see Canisius and see a presence. We want people to talk about (the jerseys). They want to know what we're wearing. You have to have more than one wow factor, and a jersey is something you can attract someone to your program with. I want the next version to continue a tradition of being bold."
I've always been a sucker for a good uniform. Tradition is important, in my opinion, because it links history. I probably couldn't pick five hockey players out of their teams' lineup, but I can turn on a game and immediately know who is playing based on logos and uniform schemes. There's a beautiful history woven by things like Montreal's ability to wear the same uniform for 100 years or the New York Yankees' pinstripes. When people say "Notre Dame," for example, I immediately think, "gold helmet."
I understand that there's also a way to create tradition by being radical. People watch Oregon football because they don't know what the Ducks will wear. The Winter Classic introduced some of my favorite hockey jerseys, and MLB's Players' Weekend joined the NFL's Color Rush and NBA's Christmas uniforms in recent forays with varying degrees of success. That said, going too radical can wind up in the same category as the New York Islanders' 1990s fisherman uniform.
Blending the two schools of thought isn't easy. A number of college hockey teams introduced off-white or cream jerseys in recent years, and I'll never fault anyone for taking the plunge. It's a way to move forward, and in an emerging league like Atlantic Hockey, it's a way to put a team on the map. There is tradition, but the AHA is the ultimate "new school" league. To me, that's good reason to load in newer, bolder looks for a newer, bolder era.