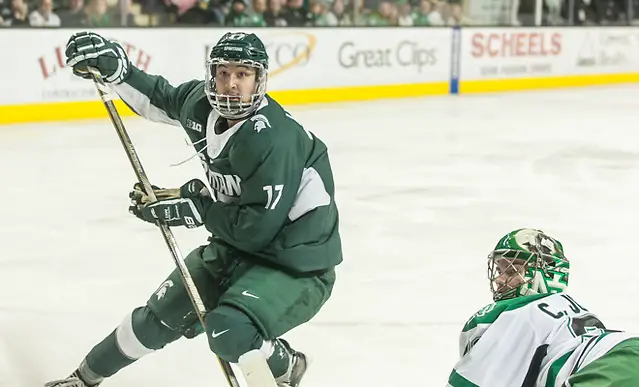 Six of the Big Ten's seven teams are ranked in this week's USCHO.com Division I Men's Poll, from Notre Dame at No. 1 to Wisconsin at No. 14.
Michigan State is the only currently unranked B1G team, but it's not something that worries the Spartans one bit.
"You can look at it a couple of different ways, but I look at it as the strength of the Big Ten being a huge plus," said Michigan State coach Danton Cole. "Once we get into the Big Ten season, every game we play is going to be impactful on the national scene, regardless of where we're at. After the nonconference schedule is over, if we're playing top-15 teams every weekend, that's a good thing.
"If we're good enough and we can beat enough of those teams and you kind of pick up where we left off the second half of last year, we'll be in the mix for some good stuff."
In the mix for some good stuff is a good way to describe the progress of the Spartans under Cole, now in his second season behind the Spartans' bench. Last year, Michigan State may have finished in last place in the Big Ten, but the Spartans' 12-22-2 record was five wins better than the previous season, and Michigan State registered six conference wins in Cole's first season, three better than the year before.
Two weeks ago against Northern Michigan, the Spartans won their season opener for the first time since 2014-15, beating the Wildcats 4-2 on Oct. 12 before a 4-3 loss the following night. And while that's a sample of exactly two games, seven goals in a season-opening weekend is a good sign for a team that averaged 2.53 in 2017-18.
In that series against Northern Michigan, Cole said that it "seemed like we had a little more offense coming from our other lines, not just Khodorenko's line."
Khodorenko's line is the impressive trio of Patrick Khodorenko, Taro Hirose and Mitchell Lewandowski, the combination that accounted for 44 of Michigan State's 91 goals last season. The three were also the only players who scored 10 or more goals each last year. While the Spartans' top line did score four against the Wildcats, three other players tallied their first goals of the season as well.
"The other guys had lots of chances," said Cole "The chances were there, and they were a little more spread out than they would have been last year.
"We were able to keep Khodorenko's line's ice time down a little bit. It's a long season, and if we have to go with one line, forwards especially, they start getting into that 24-plus minutes, that's an awful lot. We were able to keep them to 20 both nights, so that was good. We were able to give some other guys some looks, and I think that'll make us a better team."
There were other things of note in that first weekend of play, said Cole, things that seem significant even though it's early.
"A base of competency, I guess," said Cole. "A lot of the things we wanted to work on to get smarter, the guys were able to carry over [from last season] and the returning guys were able to help teach some of the younger guys.
"It was good. It was nice to see the progression. Also, some of the things that we were able to work on in the spring and in the fall, we were able to notice in the games. That's encouraging."
Even though their record was better in the first half of the 2017-18 season, the Spartans played better, more competitive hockey as the Big Ten season progressed and were playing their best hockey of the season at the end. In the second half, they lost five one-goal games and a two-goal game with an empty netter, and they went 3-6-1 from the start of February through the end of the Big Ten playoffs.
Cole is reasonably certain that his team has held onto the lessons it learned last winter and looks forward to the nonconference play leading up to the mid-November opening of B1G hockey, starting with this weekend's road series against No. 8 Cornell. Cole said that six games remaining before Michigan State hosts Notre Dame Nov. 16 will help him "find out things" about the team.
"We want to use these games to getting better and have a good assessment from the weekend and move on from there, but it's still pretty early," said Cole.
Cole and the Michigan State coaching staff aren't the only ones with confidence that the Spartans are moving in the right direction. The university's board of directors just greenlighted an addition to Munn Ice Arena that will result in upgrades to the home team's locker room, weight room, medical room and coaches offices.
"So, it's about a $16 million project," said Cole. "Once we got over halfway, which was in August, we met with the board of trustees and it was kind of a two-phase thing and we got permission to go ahead. We've got an architect and we're kind of going through that process and getting that going, and our next goal that they want us to get to is $12 million by June 1 (2019) and we'll get there, I think, before Christmas. We're in real good shape. Next summer, at some point, we'll start adding onto Munn."
He added, "It's time."
The arena's interior got a bit of a facelift in 2014 with renovated lighting and a new scoreboard. This addition will take place on what's now the visitor's side of the arena but as it's an expansion and not a renovation, it shouldn't disrupt anything during the 2019-20 season. The addition will move the coaches' offices out of the basement and the addition of the weight room will mean that hockey players won't have to travel to the football stadium to work out.
"We'll redo our whole space," said Cole. "And eventually, we'll redo the home side as well and probably put several locker rooms in over here."
Progress is measured in more ways than one and being the odd team out when everyone else in your league is ranked is just a talking point when your team has earned an opening weekend split, seems to have retained some knowledge from the previous season and is looking at an overdue and very welcome renovation of its very revered little barn.
Cole has been around long enough to have earned the right to be a little philosophical at the start of any given season, and he is.
"It's important to be realistic about where you're at," said Cole. "Keep the guys moving in the right direction. If you set goals that are too low and easy to attain, it's not very worthwhile. If you set things way beyond the realm of what you can accomplish, it's equally as useless. You have to kind of keep things real but keep challenging the guys to keep pushing.
"But it's always fun regardless of where you're at this time of year. You know, hope springs eternal."