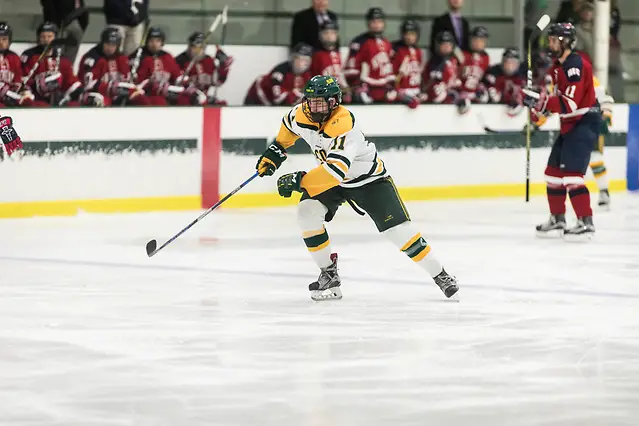 After several years where the conference championship had been decided between Plymouth State and Salem State, a new contender emerged last year to win the title and trip to the NCAA tournament. Coach Dean Fuller and his Fitchburg State Falcons went unbeaten from February 1 on to win the conference title before bowing out to Nichols in the first round of the NCAA tournament.
The league has great balance overall, so a number of contenders look to challenge the defending champs for this year's crown.
The Favorites
The defending champions have a solid nucleus of players returning, including forward Nick DiNicola, last year's conference rookie of the year, and Sascha Figi and Tyler Warila, who were the top three point-getters for Fitchburg State last season. Sophomore Brian McGrath returns in goal and looks to build on his outstanding freshman season that included 10 wins and two shutouts.
Plymouth State will be right there challenging Fitchburg State, as the Panthers return a veteran squad that was won before. The seniors will be looking to repeat that feeling in their last go-round this season. Ryan Stevens and Matt Volonnino lead an experienced forward group, while senior Evan Morelli will likely be a workhorse in the crease for coach Craig Russell.
The Dark Horse
Last year saw Worcester State emerge as a contender under coach Shayne Toporowski. Led by forward Mike Moran and goaltender Josh Reinstein, the Lancers will need to stay healthy if they want a strong second half and challenge at the top of the standings.
USCHO Predicted Finish
1) Fitchburg State
2) Plymouth State
3) UMass-Dartmouth
4) Worcester State
5) Salem State
6) Westfield State
7) Framingham State
Players to Watch
Fitchburg State: Nick DiNicola -– forward; Brian McGrath — goaltender
Framingham State: Mike Bailey — coach; Walker Hamilton — defenseman
UMass–Dartmouth: Jonathan Ruiz -– forward; Brendan McDonough — forward
Plymouth State: Ryan Stevens -– forward; Tim Perron — defense
Salem State: Callum Hofford –- defense; Parker Wood — forward
Westfield State: Therry Messervier -– goaltender; Francis-Xavier Girard — forward
Worcester State: Mike Moran -– forward; Josh Reinstein — goaltender
The balance in this league has improved immensely over the past several seasons, and there are no nights off in league play. Some young rosters like Bill O'Neill's at Salem State could find themselves right in the mix if they mature quickly. Look for the MASCAC battle to go right to the end of the season.