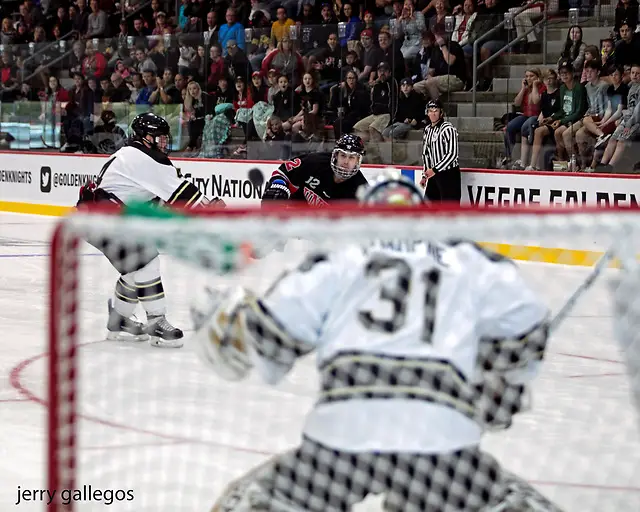 LAS VEGAS — Minnesota and North Dakota will renew one of college hockey's best rivalries this Saturday night when the two face off in the U.S. Hockey Hall of Fame Game.
Unlike many of the past 295 times this pair has played, this game will be about as far away from their respective homes as possible.
The Orleans Arena at the Orleans Casino and Hotel in Las Vegas will be the venue, bringing a very different feel to the annual U.S. Hockey Hall of Fame Game while also capitalizing on a trendy hockey market.
Of course, last year's Vegas Golden Knights team took the greater Las Vegas area by storm, winning the NHL's Western Conference finals before ultimately losing to the Washington Capitals in the Stanley Cup final.
Overnight, Vegas turned from a city that might not know icing from offsides to becoming one of the most instantaneous hockey markets in the U.S.
When the Gophers and Fighting Hawks faceoff on Saturday, it will be the first of five Division I college hockey games to be played in Las Vegas this season. For the second straight year, the Ice Vegas Invitational will take place in January bringing Connecticut, Air Force, Western Michigan and St. Lawrence to Sin City for a four-game tournament.
But the question in a lot of people's mind is whether Las Vegas might become an even more permanent market for college hockey.
Certainly, Vegas will a likely candidate for the next round of bidding for college hockey's Frozen Four. The next open bid isn't until 2023, though.
But the one major division I school in the city – the University of Nevada, Las Vegas, or UNLV – might be on track to follow the path of Arizona State and further expend college hockey south and west in the United States.
The Rebels are an upstart club hockey program, having played just four seasons at the ACHA level. The program, though, was formed with higher hopes than club hockey, that according to Zee Khan, a former player at Arizona State and the general manager of the UNLV club team, which currently plays at the ACHA Division I level.
Khan was brought in by a group of passionate hockey fans in the Vegas desert who watched Arizona State create the blueprint for moving from club hockey to NCAA Division I.
The school began ACHA play in Division II, qualified for the national tournament at that level, moved to ACHA Division I last season and is now considered a perennial contender in that tournament.
Khan says while the vision has always been to someday play NCAA Division I, the success of the Vegas Golden Knights in season one has lit a fire under many in the city, particularly the fan base.
"We were coming up before that," said Khan of the Golden Knights success. "We were kind of establishing a brand. Our vision was to always end up like [Arizona State].
"Obviously me playing at ASU, my two younger brothers went to ASU and my youngest won [an ACHA] national championship there when they were a club. We've been attached to that program for a long time so our natural model is to say, 'Hey, let's do what they did.'"
Khan says that a lot of the infrastructure is getting into place. Currently recruiting is mostly relationship-based and 90 percent of their players played Junior A hockey prior to arriving in Las Vegas. Additionally, more than 70 percent of the roster hails from Western Canada.
"We're getting a lot of those kids who are left out because there just aren't enough jobs at [NCAA] Division I college hockey," Khan said. "We have a lot of those players from western Canada who didn't grow up in New England or go to a NESCAC school and they want to play at that small school. They come here and they get a very good college hockey experience. It's the same thing they're selling in Tempe right now: you get the sun, you get the sandals, in January you get to golf, and then you get to play college hockey in front of a packed building every night."
The packed building might be the most eye-opening concept for UNLV. They play their games at the City National Arena, which is about a 20-minute drive from the Las Vegas Strip and 30 minutes from campus. The building is also the Golden Knights practice facility and was newly built just two years ago.
Khan says most games sell out with ticket prices ranging between $16 and $40. On nights when the Golden Knights are playing on the road, the stands are bubbling over with fans who want to watch UNLV play and then catch the Golden Knights on TV at the large sports bar that sits at the top of the arena.
"[The Golden Knights] is a hard ticket to get now, so we've become an alternative to people who love watching hockey or want to learn the game," said Khan. "They're coming to our games now."
As any fan who has followed NCAA hockey in recent years understands, one of the greatest barriers for schools to move from club hockey to NCAA Division I is the cost. If you don't have a Terry Pegula like Penn State did, you need to find numerous donors who can create the seed money to get the program off the ground.
A recent feasibility study conducted by the University of Illinois through grants from USA Hockey and the National Hockey League concluded that the annual budget for a full-scale NCAA Division I program would exceed $5 million. That doesn't include startup costs that could include the construction of an arena (or renovation to an existing area building).
Currently UNLV's annual operating budget is about a tenth of that – or about $500,000, still a very admirable budget for a club team.
Right now, the program is funded from each of the player paying a set fee to be part of the team along with corporate and individual donations.
The team's largest donor is the Englestad Family Foundation, the same foundation that helped fund Englestad Arena at North Dakota. According to the Foundation's website, education is the largest category funded by the Foundation.
"When you think of youth hockey these days, they used to call them non-traditional markets – California, Arizona, Illinois, which doesn't have a D1 college hockey team – those are areas that rightfully need to expand [to NCAA Division I hockey]," said North Dakota coach Brad Berry. "For us to go out and play Minnesota out in Vegas, hopefully it brings exposure to the D1 college game.
"Even on the west coast in the Pac-12 country, you'd like to hope that hockey catches on on the Division I side of it."
Speaking of the Pac-12, that could have an interesting connection to UNLV and college hockey. Within the next two years, the NFL's Oakland Raiders will move to Las Vegas into a brand new stadium that will be shared with UNLV. Outgoing UNLV president Len Jessup told the Las Vegas Sun in late June that a move to an NCAA Power 5 conference, either the Pac-12 or the Big 12, seemed inevitable. If the Pac-12 became a landing spot for UNLV in all sports, hockey would be a quick way to grab some national attention and opponents and help align the school with nearby neighbor Arizona State.
"Geographically, [UNLV's] in an unbelievable spot within the Pac-12 footprint. They could easily grow to that if they grow big enough and with that football stadium, that's something they can look at," said Khan. "College hockey is the quickest way to establish the education side of [Power 5 athletics] with APR scores, it builds our resume with grades. Then you're playing schools that bring big names in. You're able to play anyone."
Of course, one of the largest obstacles to adding hockey is a venue that can attract top-tier athletes. Arizona State took an interesting approach whereas it transitioned to Division I without a high-end venue but has since received funding for an arena that could open in the next two years.
UNLV, believe it or not, has more options that one would think. Obviously, remaining at the small City National Arena for a few years is a good option during transition. But when the team is ready to leave, UNLV's current basketball facility the Thomas & Mack Center, which once hosted International Hockey League games during the Las Vegas Thunders existence in the mid-to-late 90's, would need just a $2 million upgrade to be suitable.
The Orleans Arena, host of this weekend's North Dakota-Minnesota game, is a perfect size with a capacity of less than 8,000. T-Mobile Arena, home if the Golden Knights, is probably the least desirable location because of the enormous size of the venue.
Should the school add NCAA Division I hockey, it seems likely it would at the men's level only. As an offset for Title IX, Khan says women's lacrosse has long been talked about as a possibility for the school.
To date, conversations with College Hockey Inc., which was lockstep with both Penn State and Arizona State through their transitions, have existed, but there has been no formal application to conduct a feasibility study similar to the one Illinois engaged in over the last year.
College Hockey Inc.'s deputy director Nate Ewell said that there are still funds available to conduct such studies but still would require an actual go-ahead from the athletic department at UNLV.
For now, Khan and head coach Anthony Vignieri Greener have a focus: be as strong of a team as possible at the ACHA Division I level hoping that a step forward to an NCAA program remains a vision.
"We want to get to that next level," said Khan. "Right now, we want to win where we're at and we have a team that can do that right now.
"Our end goal is to try to grow, raise the money. It really comes down to financials. The athletic department loves what we're doing. We've built the brand.
"Our long-term, five-year plan is to continue to raise the money and see where we're at. All of the eyes are on the fact that we know we can do it."