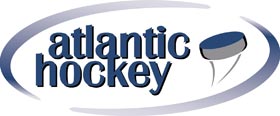 Atlantic Hockey announced Saturday that Holy Cross forward Anthony Vincent and Air Force forward Marshall Bowery have been suspended one game each for supplemental discipline.
Vincent's suspension stems from a review of the contact to the head major and game misconduct he was whistled for Friday night against Bentley. After replaying the penalty, it was determined that the hit warranted an additional game of discipline. He will be unavailable for the Crusaders' next contest on Saturday, Nov. 3 when they play Providence.
Bowery was not penalized for the hit during last night's series finale against Niagara. The hit was submitted for review following the conclusion of the contest, and the review was done Saturday morning.
Upon review, it was determined that Bowery made contact with his elbow to a Niagara player's head which should have resulted in a penalty on the ice. Therefore, Bowery will be suspended when Air Force travels to take on Army on Friday, Nov. 2.