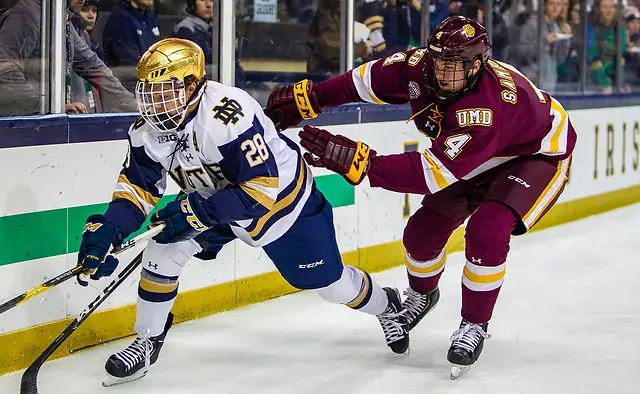 It will likely be a short-lived stay at the top of the USCHO.com poll for Notre Dame as the Irish fell to No. 3 Minnesota Duluth, 3-1, completing the weekend sweep of the two-game series for the Bulldogs.
Minnesota Duluth jumped out to a 2-0 lead on a first-period tally by Kobe Roth and a Noah Cates goal early in the second.
After Bobby Nardella drew the Irish within a goal with 15:17 remaining, it was another Cates, this time brother Jackson, who added the insurance goal for Minnesota Duluth.
Both Jackson and Noah Cates finished the game with a goal and an assist each for the Bulldogs.
Hunter Shepard stopped 27 shots to earn the win while Cale Morris saved 20 in defeat for the Irish.
Around the nation
No. 18 Northeastern 3, No. 2 St. Cloud State 2
Trailing 2-0 late in the second, Northeastern scored the game's final three goals to upset second-ranked St. Cloud State, 3-2, handing them their first loss of the season.
St. Cloud grabbed a lead on a first period goal by Blake Lizotte and a tally by Jack Ahcan with 4:49 left in the second.
But an Eric Williams goal with 1:38 left in the second gave host Northeastern life.
Early in the third, Biagio Lerario knotted things on the power play and Grant Jozefek's fourth of the season with 6:25 remaining was the game-winner.
Long pass from Willy up to Jozefek, who has a little give-and-go with Solow for the 3-2 lead! | #HowlinHuskies pic.twitter.com/WhwXGyn5Hp

— Northeastern MHKY (@GoNUmhockey) October 28, 2018
Cayden Prime stopped 25 shots for Northeastern.