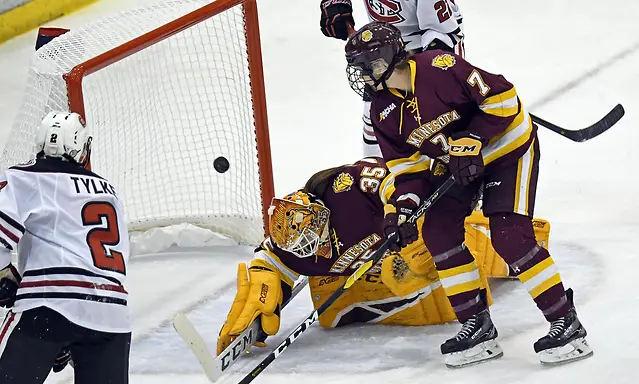 No. 3 Minnesota at No. 1 Wisconsin
Emily Brown's third-period power-play goal was the only score in game one as the Gophers upset the Badgers and ended a 35-game home unbeaten streak for Wisconsin. On Sunday, Wisconsin struck first with a goal from Sophie Shirley. The Gophers answered quickly with a goal from Emily Oden. The Badgers took the lead again late in the second as Natalie Buchbinder sniped a top shelf goal. Wisconsin outshot Minnesota, 14-5, in the second but the Gophers responded with 18 shots on goal in the third. Britta Curl scored with just more than five minutes to go and Annie Pankowski potted an empty-netter to give the Badgers the 4-1 win.
No. 2 Clarkson vs Syracuse
Syracuse kept game one close in the first period, but three second-period goals for the Golden Knights helped them close out a 6-2 win. Michaela Pejzlová led Clarkson with three goals and an assist, while Loren Gabel added a goal and four assists. Brooke Avery and Emma Polaski were the goal-scorers for the Orange. On Saturday, senior defender Allie Munroe scored twice in the final two minutes of regulation to force overtime, but T.T. Cianfarano's second of the game earned the 4-3 overtime victory for Clarkson. Lauren Bellefontaine had a goal and an assist for Syracuse, while Lauren Gabel had a goal and two assists for Clarkson.
No. 4 Ohio State at No. 10 St. Lawrence
On Friday, St. Lawrence was up 2-0 after one thanks to power-play goals from Skylar Podvey and Steph Keryluk. Ohio State clawed back to tie it early in the third thanks to goals from Jincy Dunne and Tatum Skaggs. It was Natalie Wozney's goal midway through the third that proved to be the game-winner for St. Lawrence. On Saturday, the Buckeyes responded with a vengeance, firing off three first-period goals en route to a 6-1 win. Charly Dahlquist had two goals and two assists, and Emma Maltais had a goal and two assists to lead Ohio State. Lydia Grauer scored for St. Lawrence on the power play in the first to cut the Buckeyes' lead to 2-1, but that was as close as this game would get.
No. 5 Minnesota Duluth at St. Cloud State
Anna Klein scored less than a minute into the game and then Anneke Lisker extended Minnesota-Duluth's lead to 2-0 before the end of the first. Julia Tylke scored midway through the third for the Huskies, but they could not come back against the Bulldogs, who won 2-1. On Saturday, UMD outshot St. Cloud, 50-21, but goalie Emma Polusny stopped a career-best 48 shots. Hannah Potrukus scored twice, and Tylke added the game-winner with less than four minutes on the clock to earn the Huskies a 3-2 win. Ryleigh Houston and Naomi Rogge scored for UMD in the loss. Minnesota Duluth outshot St. Cloud State, 90-37, on the weekend, but the Huskies were able to earn a series split.
Holy Cross at No. 6 Boston College
The Eagles were up 1-0 after the first period thanks to Megan Keller's power-play goal, but it was a four-goal second frame that blew this one open for Boston College. Kelly Browne, Caitrin Lonergan, Kali Flanagan, and Lindsey Agnew all scored to put the Eagles up 5-0. Sommer Ross got a late goal for Holy Cross, but this was all BC, who won 5-1.
No. 6 Boston College at Maine
Four different players scored for BC en route to a 4-1 win. BC got power-play goals in the second from Cayla Barnes and Grace Bizal to take a 2-0 lead. Tereza Vanišová notched one early in the third to pull Maine back within one, but BC got its third power-play goal of the game, this time frmo Erin Connolly, with 7:04 to go in the game, and Daryl Watts sealed it with an empty-netter. Maddy McArthur made 24 saves in the win.
Harvard at No. 7 Cornell
Three first-period penalties led to three power-play goals as Cornell had a 2-1 lead heading into the second period. Paige Lewis extended the lead to 3-1 in the second. Anne Bloomer's goal late in the third cut the lead, but the Crimson could not come back and Cornell won 3-2. Grace Graham and Jaime Bourbonnais also scored for the Big Red.
Dartmouth at No. 7 Cornell
Kristin O'Neill's late first-period goal would prove to be the game-winner, but Jaime Bourbonnais, Micah Zandee-Hart, and Pippy Gerace all scored in the second to secure the 4-0 win for Cornell.
Providence at No. 8 Northeastern
Sophomore Aerin Frankel led the Huskies, earning her third shutout in the last four games as Northeastern won, 2-0. Andrea Renner and Alina Mueller were the goal scorers, and Veronika Pettey added two assists.
No. 8 Northeastern at Boston University
Veronika Pettey continued her hot start, extending her point streak to eight games dating back to the start of the season. She opened the scoring with a power-play goal to put Northeastern up 1-0. Maddie Hartman doubled the lead in the second, and that would be enough to give the Huskies the win. Nara Elia scored with :30 left in the game to cut the lead in half, but it was too late for the Terriers as Northeastern won 2-1.
Dartmouth at No. 9 Colgate
Six different Raiders scored to give Colgate a 6-0 win over Dartmouth. Rosalie Demers led the team with a goal and two assists.
Harvard at No. 9 Colgate
Jessie Eldridge scored in the opening minutes of the third period and that's all Colgate would need to earn the 1-0 win. They outshot the Crimson, 50-27, in the win.