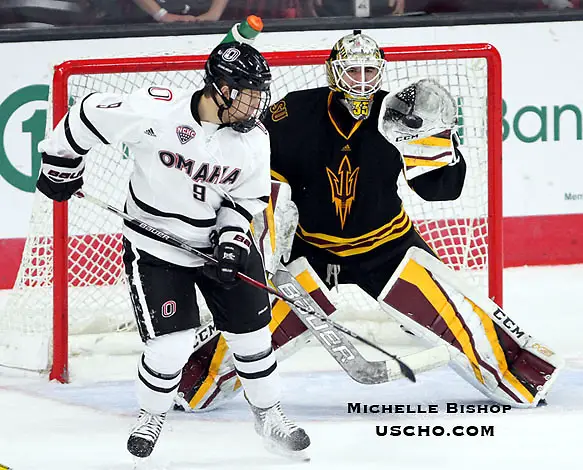 Each week during the season, we look at the big events and big games around Division I men's college hockey in Tuesday Morning Quarterback.
Paula: Oh, Jimmy, after we've spent a few weeks talking about the Big Ten and the NCHC and perhaps how those two leagues were separating themselves from the rest of the other conferences, look at the mixed bag B1G hockey produced this past weekend.
Bowling Green defeated and tied Ohio State. Minnesota Duluth swept Notre Dame. North Dakota beat Minnesota. But Michigan swept St. Lawrence, Penn State is still undefeated after beating Princeton, and Michigan State swept Cornell on the road.
That last one was a big surprise. The Spartans scored four goals within a span of 11 minutes in the third period of Friday's 5-2 win and then withstood a potential Cornell comeback in the third period of Saturday's 4-3 win to take two on the road in one of the hardest arenas for visitors in the nation, all while being significantly outshot in both games. It is the first road sweep for Michigan State since the Spartans beat Wisconsin twice late in the 2016 season. We are cautious about what such things say so early in the season — and it was Cornell's first weekend of play — but Michigan State fans have to be happy the 3-1 start to this campaign.
As for Minnesota Duluth, it appears that the Bulldogs learned a lot from their opening weekend against Minnesota. With the exception of that 7-4 loss in their second game of the season, UMD hasn't allowed more than two goals in any contest. Also, it appears that Minnesota Duluth may just be a team that has Notre Dame's number.
And I'm hugely curious about whether two six-plus goal games against in October is an early season hiccup for the Buckeyes. I also have a really good feeling about this Bowling Green team.
Maybe we've been a little to keen on B1G hockey this season. I'm certain we haven't overestimated the NCHC, and I'm looking forward to seeing Colorado College will fare against Minnesota-Duluth this coming weekend.
Jim: It does feel like the Big Ten came back to Earth a bit this weekend. But that's often what early season hockey is about – trying to develop a consistency from one week to the next.
The two teams that have shown great consistency are the aforementioned Penn State, as well as Quinnipiac, both now at 5-0-0. I'm not too surprised by Penn State but the Bobcats are somewhat of an eye opener. Picked seventh by the ECAC coaches, Quinnipiac has found ways to win games and has done so with a stingy defense, allowing just seven goals in their first five games.
What is interesting to me regarding Quinnipiac is what happens when the full ECAC slate of games kicks in. That league always seems to produce more upsets than the other conferences in league play. I've never figured out if it is because of the travel partners which for the most part preclude back-to-back games against the same opponent or whether it is something else. But for the last-place team to randomly upset the first-place team on Friday only to see said first-place team beat the second-place team the following night is never out of the realm.
Another team that impressed me not this weekend but also last is Army West Point. The Black Knights went on the road in back-to-back weekends and took seven of eight points in Atlantic Hockey play, beating and tying Robert Morris and sweeping Mercyhurst. Pretty impressive start to the league season.
Paula: I was impressed with Army for a lot of last season as well, and Atlantic Hockey as a whole was really interesting last year.
The top teams in that conference became more competitive and although the Black Knights finished with a .500 record overall and had some consistency issues, they had a decent defense, a great penalty kill and some good (if not spotty) combined special teams. It's nice to see their fast start in conference play.
Undefeated Quinnipiac has caught my eye as well, but I confess I find the ECAC confusing in some ways, too. Like you, some of the conference play in the ECAC doesn't make a lot of sense to me, and I don't know if that's because of the travel partners, the subset of the Ivies, or a parity from top to bottom that I'm just not seeing clearly enough.
Look at Union. The Dutchmen had an impressive October until last weekend, when they were swept in a home-and-home by Rensselaer, who earned their first wins of the season in the series. And nearly every year, a team or two from the ECAC emerges as a real national threat, regardless of the conference's record in nonleague play.
On the flip side of that, what about the teams that are looking for their first wins? In general, I'm impressed with some of the play I've seen from the WCHA, but it's tough to see Alabama Huntsville and Alaska play eight and seven games, respectively, without a win. There are other snake-bitten teams, including Alaska Anchorage, that are struggling to get anything going so far, but I am genuinely surprised that we're heading into November and Boston College, Boston University and Omaha are winless. On paper, it looks like a lack of offense. Is there anything else going on, do you think, with BC and BU?
Jim: Alaska and Alabama Huntsville are both really in slumps. The Chargers are most worrying as they hadn't even held a lead all season until Saturday night against Lake Superior and that 1-0 lead disappeared in the third, falling 2-1.
Omaha I worry could be the cellar-dweller among the NCHC teams. The Mavericks' defense is allowing more than five goals per game. No team will win with a number like that. And things are getting worse instead of better having allowed eight, six and seven goals in their last three games.
Boston College and Boston University still have plenty of hope in my eyes. There's no reason BC should have a down year given the amount of talent they return. BU, though again with a talented lineup, doesn't necessarily deserve time. They do have a new head coach in Albie O'Connell, so I believe that there may be a little bit of an adjustment needed. Both teams will be fine by season's end, I believe.
A team we probably don't talk about enough, Arizona State, is off to a nice 6-2-0 start, with its only two losses coming to nationally-ranked Ohio State. Now the Sun Devils have a tough stretch coming up, playing eight of their next 10 on the road. But a team in its fourth year still homeless and searching for a conference are opening some eyes, garnering 20 voting points in this week's poll.
Paula: Arizona State's start is really impressive, and their road series this weekend against Penn State will be telling for both teams.
Sophomore Johnny Walker (also an Arizona native) has eight goals in eight games for the Sun Devils, and junior goaltender Joey Daccord's numbers (1.50 GAA, .949 SV%) would be good in any context. Even more impressive is that six different Sun Devils have scored their six game-winning goals, and Arizona State is averaging 3.75 goals per game.
As you said, their schedule for the rest of the first half of the season is going to be challenging, but the Sun Devils have already proven how competitive they are. You have to wonder how long it will be before a conference picks them up — or before there is serious talk about conference realignment, which of course would include affiliating the Sun Devils with a league.
I can't imagine they'll be on their own for much longer. They are an exciting addition to D-I hockey and a prolonged independent status would be reckless and unfair.
Jim: I think that the new arena that is being built in Tempe will be a huge step forward in finding Arizona State a home. I will still go out on a limb and say that I hope the Big Ten gives serious consideration, though the travel might be the downfall for a league where currently a lot of travel is by bus. The NCHC with all of its travel makes some sense but in reality, an eight-team league that currently has teams paired somewhat well geographically, would be a better home for ASU if they had someone (Arizona? UNLV?) to take that plunge together.
Or, as you alluded to, we might be in a position for another large-scale realignment sooner rather than later.
All a topic for another day.