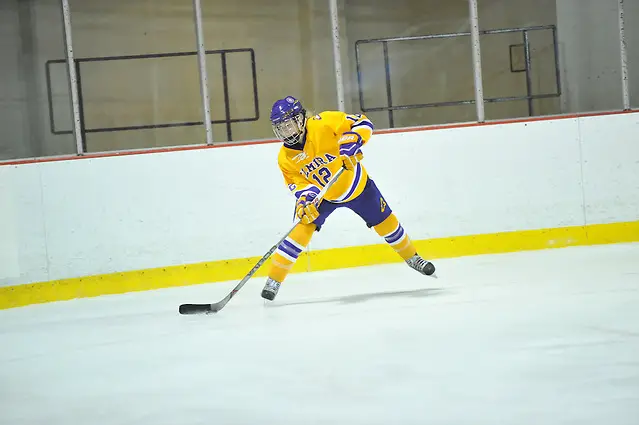 The UCHC is entering its second season after being established in 2016. This conference doesn't have an automatic bid to the NCAA championship tournament, but is expected to receive one for the 2019-20 season. With an automatic bid looming in the near future and the strength of the programs, this conference has a lot of potential, so expect it to become a contender league. For now, Elmira has the crown of this conference on lockdown.
The Favorite
Elmira is not only the UCHC favorite but a national championship contender favorite as well. The Soaring Eagles have added 10 new players to their team. Usually such a large incoming class would give cause for concern for a program, but not for Elmira. Elmira has nothing to be worried about as their big-time players from last season return to continue to push for the league title and perhaps more. Katie Granato and Shannon Strawinski are both strong forwards that look to pick their team up where they left off last season. The only concern for this team will be deciding on a starting goalie.
Elmira's sophomore goalie, Elizabeth Hanson, played four games last year and ended with a .930 save percentage. The team also recruited two freshmen goalies who could potentially be named a starter for the upcoming year. Whoever the coaching staff decides to go with in net, the defense will need to be stronger and more cautious in the defensive zone while the young goalies gain confidence playing against top tier teams.
Dark Horse
William Smith had an impressive season last year with a 16-6-4 record and a close couple of games with ranked opponent Elmira. UCHC 2017-18 coach of the year Jamie Totten has been with the program since its inaugural season of 2014-15 and has helped the team become a notable name in the league. William Smith has great potential to upset the reigning champion.
USCHO Predicted Order to Finish
1) Elmira
2) William Smith
3) Stevenson
4) Utica
5) Neumann
6) Chatham
7) Manhattanville
8) Nazareth
9) King's
10) Lebanon Valley
11) Wilkes
Players to Watch
Elmira: Katie Granato -– forward; Kristin Chivers — defense
William Smith: Gina Scibetta –- forward; Stephanie Hampton — forward