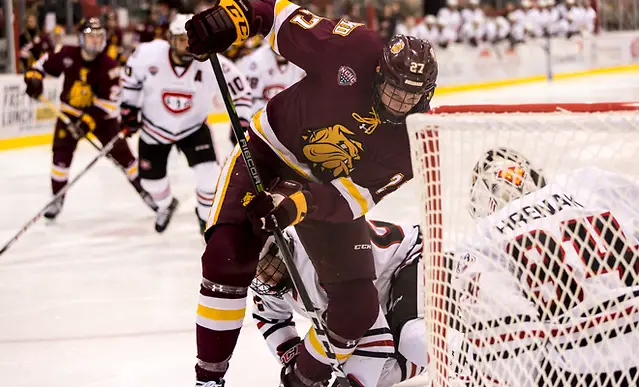 Minnesota Duluth coach Scott Sandelin has a three-word explanation for the fact that, for the third consecutive week, there's a new No. 1 new team in the country.
"Because it's October."
His Bulldogs, listed first in USCHO's preseason poll released Sept. 24, are back in the top spot after sweeping Notre Dame on the road last weekend. The Fighting Irish were No. 1 for just a week, with Ohio State holding that spot down in the Oct. 8 and Oct. 15 polls.
UMD was third for three consecutive weeks after opening the season with a home-and-home split against Minnesota. The Bulldogs stayed in third despite back-to-back sweeps at Michigan Tech and home to Maine.
The Bulldogs have won their last six games since falling 7-4 in Minneapolis on Oct. 7. Minnesota jumped out to a 3-0 first-period lead that night before UMD played the Golden Gophers even over the last 40 minutes, but Sandelin was less pleased with his team's performance in a 1-1 tie the night before in Duluth.
"We gave up seven goals (in Minneapolis), and obviously you never want to do that, but they capitalized on their opportunities and it was kind of a weird game in that respect," Sandelin said. "I didn't expect to go in there and outshoot them 2-1 and really outchance them, but they capitalized on theirs and they're a good team, but I was more disappointed with the first night.
"I thought we gave up a lot of outnumbered rushes and we weren't very good defensively, and that kind of carried over into the (Michigan) Tech series, but I think we've tightened up a little bit defensively and we've given up 10 goals in our last six games. That's got to be a staple for us because we aren't going to be this high-scoring team and we've got to play well defensively."
Teams often struggle to score in bunches, but Sandelin is happy with his team's recent offensive output. UMD has scored 24 goals during its current winning streak, netting at least three in each of the Bulldogs' last five games and catching fire Oct. 19 in an 8-2 over Maine.
"We aren't where we started, I can tell you that," Sandelin said. "I think we're getting closer and I think guys are getting more comfortable with the things that we need to do, and that includes older guys. Sometimes you take for granted that they'll just know and everything's like it used to be, and there's no way anybody's going to be where they were at the end last year.
"There's constant reminders and trying to get guys to buy into that stuff. The way we started the year certainly does grab their attention, but it takes time. I like the direction we've gone, especially defensively, and we're getting different scoring from different guys, which is kind of our make-up. We're going in the right direction, but like I told our guys, it's only one month. There's still six more months to go."
UMD (6-1-1) is idle this week ahead of a home series Nov. 9-10 against Colorado College. The Tigers (4-1-1) have had their own solid start to the season but will face their toughest test to date this weekend against second-ranked at home against St. Cloud State (5-1).
"We'll use this week to regroup a little bit, and these are always hard weeks, I always find, from a player's focus standpoint because you're not playing, but you keep them on the ice, keep them moving, let some guys heal up some bumps and bruises, and come next Monday we'll get the focus really back," Sandelin said.
"I think (CC is) a real good hockey team and they've done a really good job of putting together that team. They've got some high-end guys and certainly their top line is very good, so we'll watch tape this week, see how they play against St. Cloud and prepare our team as best we can, just like we do for every team."
Holding onto the No. 1 ranking, if UMD is still there this time next week, would be a bonus in a time when no team has held that spot for long.
"Everyone's finding their identity and what kind of team they're going to be, and they've got young players who are learning every week, all those things that go into early-season stuff," Sandelin said.
"I like the fact that we've played eight games, and we've learned more about our team through the month, which everybody does when you start playing games, and we've had some real good opponents and have played on the road for half and been at home for half, so it's good, but I think that first month, you know what, there's a lot of ups and downs and inconsistencies to everybody's game, but as the year goes on, things sort themselves out."