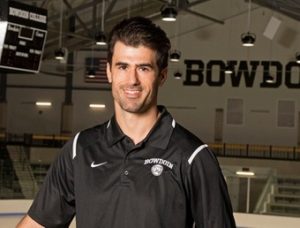 Bowdoin has announced the hiring of Derek Whitmore as an assistant coach of the women's program.
A 2008 graduate of Bowling Green, Whitmore will be breaking into the collegiate coaching ranks after a decade-long professional career in the United States, Canada and Europe.
His playing career included five years in the AHL and a two-game stint in the NHL with the Buffalo Sabres in 2011-12. He was a team captain at Bowling Green and received numerous team awards during his career, including being named both the Portland Pirates' and Rochester Americans' AHL Man of the Year.
Whitmore has worked in youth coaching over the last eight years, serving as a strength and conditioning coach and on-ice instructor for Stride Envy Hockey since 2010. He has also spent the last two years working as a personal trainer for collegiate and professional athletes at Beyond Strength.
Whitmore graduated from BGSU with a degree in Exercise Science.
In 143 games with the Falcons, Whitmore recorded 70 goals and 32 assists for 102 points.