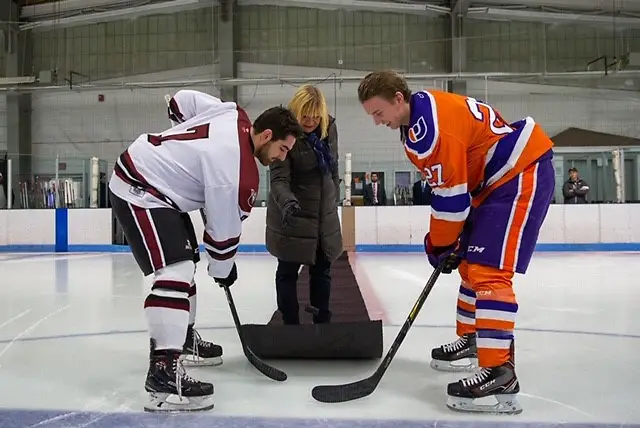 For Anna Maria coach Dave McCauley, taking the job and starting a new D-III program had to come with certain commitments and expectations starting with the college's administration. The biggest of those was a commitment to establishing a winning program at the small college located in Paxton, Massachusetts, just outside of Worcester.
"I wasn't really looking for the position," said McCauley. "They asked me to come up and discuss the opportunity, and when I saw the campus and heard the commitment from the president of the college on down, I knew this was going to be a good situation. They originally wanted to start with a club team, but when we discussed my plan to recruit competitive student-athletes for the NCAA level and get a schedule for the 2018-19 season, they assured me that with a full schedule, we would be a varsity sport with full support. The school has been great, and we have brought in players that will help us compete in our first season with a competitive 25-game schedule."
McCauley comes to Anna Maria with a strong background, including many years as the general manager and head coach with the BayState Breakers junior hockey program. The need to be involved with everything around the logistics and day-to-day activities of a program is certainly not new for McCauley, but the accelerated time period with which it has had to happen has been a challenging and exciting opportunity.
"With the Breakers, I knew I was the guy that needed to order uniforms, pucks, sticks, schedule buses and road trips, and do it all for five teams in the program. This is certainly easier in terms of doing it for just one team, but making it all happen since November of last year has been interesting and probably would have been more challenging if I didn't have great financial support from the school."
Uniforms are in, a healthy budget has been allotted for key equipment like sticks, and investment has been made in making Horgan Arena in nearby Auburn, Massachusetts, look and feel like the Amcats' home arena. The players are excited with all the visible parts of the program, and now McCauley and his coaching staff are looking to help that translate into a successful product on the ice.
"We were very focused in our recruiting process since we had a small window to get our players through the recruiting and admissions process. We really focused on some junior kids and didn't spend a lot of time with prep or transfer options. We ended up with a solid group of players that are excited to be here and help establish a good foundation for the program. They, like the coaches, want to win, and I think we will win some games this season."
After competitive scrimmages against Worcester State and Becker where McCauley saw some good things from his team, the Amcats opened the season last Saturday night against Post. The home opener is one of only eight home games on the road-heavy schedule that also includes successful programs like Amherst, Fitchburg State, Brockport, Neumann, New England College, and Manhattanville. The schedule will be a tough one for the first-year program, but one the coach feels will help his team understand what it takes to compete at the D-III level.
"Getting a full 24-25 game schedule was definitely not easy," noted McCauley. "It meant we were going to have to be on the road a lot in this first year, but it is a good building block for our program. We are playing a lot of quality teams and even have a spot in the Castleton tournament over Thanksgiving weekend where we open with Brockport from the SUNYAC. It is early, but I like our size and compete level and look for our team to work hard every day to be better as a program and win some games in our first season."
After the season-opener with Post, Anna Maria doesn't return to play on home ice again until a Sunday matinee with Connecticut College from NESCAC on November 25. The Sunday game means a three-game weekend, including the Castleton tournament.
"Obviously three games in three days is going to tough, but that is a good example of what we had to do to get a full schedule based other teams' availability. I am excited about everything in front of us this season. While I already know that it gets much better next season from a schedule perspective, right now we are excited to play a real game on Saturday against Post with our president dropping the ceremonial opening face-off."
The Amcats dropped a close one in the opener to Post by a 4-3 score, as the visitors rallied with two third-period goals to overcome a one-goal deficit and earn the win in a hard-fought game by both teams. On Tuesday, in their first road game, Anna Maria lost to Franklin Pierce, 5-2, despite outshooting the Ravens. The Amcats now have 10 days to regroup in search of their first win at Fitchburg State on November 10.