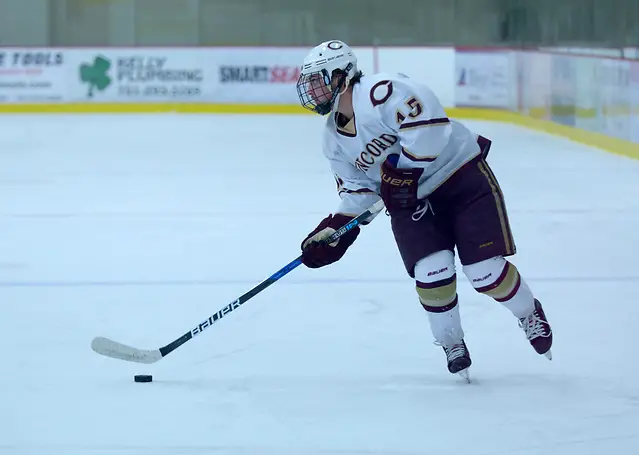 Two goals one night. A hat trick the next. Not a bad way for Concordia's Mario Bianchi to start his senior season.
Bianchi scored twice in a win over Saint Mary's in the Cobbers' opening game of the MIAC Showcase. He finished off his weekend with three goals in a 3-0 shutout win over Gustavus.
"I give all the credit to my linemates. They found a way to find me in scoring spots on all of those goals," Bianchi said. It's fun to play with guys who are skilled and can make a lot of plays. Fortunately, the shots I took went in."
The performance by Bianchi was extra special considering where he was a year ago when a lower leg injury cut his junior campaign short.
"More than anything it made me appreciate being able to play at this level and play for the school," Bianchi said. "It felt great to get back and be on the ice with my teammates again. I'm thankful for that."
The road back for Bianchi wasn't easy. He spent eight months rehabbing after surgery.
"It was really disappointing when I went down," Bianchi said. "You never want to miss any games and to watch our season end in the (MIAC) playoffs, it was tough. Getting back to where I am now was a long process."
He had a lot of support along the way.
"A lot of people in the program supported me," Bianchi said. "My coaches and teammates were supportive, and the athletic training staff worked with me every day to get me to where I am now."
Bianchi's hat trick Sunday marked the second one of his career, helping the Cobbers to sweep their two games in the showcase for the fourth time in program history. Concordia last did it during the 2016-17 season.
"It's a good feeling to start the year with a couple of wins," Bianchi said. "It gives you a chance to get into a rhythm and work on our systems. It's an ongoing process, but a good start to the year."
Bianchi has 31 goals in his career and has dished out 32 assists as well for the Cobbers, who are hoping to improve on last season's 10-13-3 record.
With five goals over the weekend, Bianchi is already within two goals of tying his total from last season. It also marked the first time in his career that he has scored multiple goals in back-to-back games.
"I want to be a player who tries to feed off teammates, to get in the right spots in the offensive zone and be an option to get the puck to," Bianchi said. "I also want to grow in the defensive zone and be a better player there. I have to be able to do my part on defense."
The Cobbers fell in the quarterfinal round of the conference tournament last season. In a league where every game matters and the separation between the top and bottom is slim, Bianchi expects he and his teammates to be ready for the challenges ahead.
"Our league is always tight, and we have to keep a sense of urgency and take one game at a time," Bianchi said. "We have to be ready to go every night and put our best foot forward. We want to win as many games as we can."
Big Game for York
Troy York punched in a pair of goals for Wisconsin-Superior in its 4-3 win over Concordia (Wisc.) Saturday to win its first game of the season. The Yellowjackets bounced back after a 4-3 loss to Lake Forest the night before. Chad Lopez and Bruno Birzitis also scored goals in the win.
York is a sophomore and coming off an opening weekend where he finished with three goals and an assist in two games. He was named the WIAC Athlete of the Week.
York transferred in back in January and finished with eight goals and four assists in 12 games. He's poised to have his best season yet. He began his career at Division I Rensselaer Polytechnic Institute.
First time for everything
Anthony Tzveyn and Dylan Rauh scored the first goals of their college careers in Aurora's 5-2 win over Wisconsin-Stout Saturday. Tzveyn graduated from high school three years ago and played for the Jersey Hitmen of the USPHL before coming to Aurora. Rauh played for the Springfield Jr. Blues of the NAHL before joining the Spartans. He has been out of high school since 2015 as well.