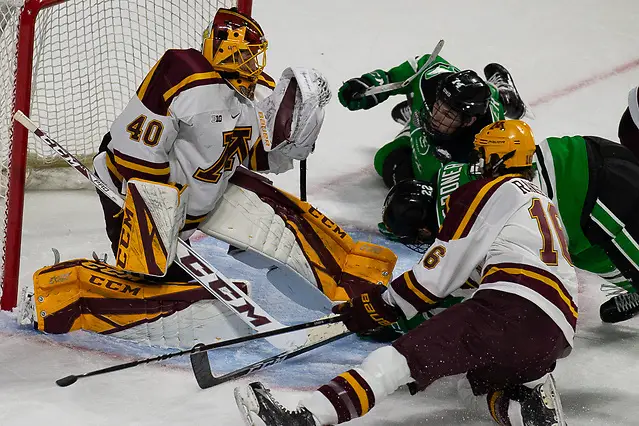 Each week, USCHO.com columnists will pick the winners of the upcoming games in their respective conferences.
Atlantic Hockey
Friday-Saturday
Air Force at Army West Point
These games are always circled on everyone's calendar. Army West Point swept Air Force last season in Colorado Springs, but the Falcons got even, winning a best-of-three quarterfinal series at Tate Rink on their way to another playoff title.
The Black Knights are off to a great start at 3-0-1 in league play so far, while the Falcons have split both of their conference series so far. I think we're looking at another split here.
Sacred Heart at Bentley
These are the first conference games for Sacred Heart, which is looking for its first win of the season (0-2-1). I don't think the Pioneers will find it here. Bentley sweeps.
American International at Canisius
This is a rematch of last season's great quarterfinal series, won by the Golden Griffins in three games. I think they'll prevail this time as well. Canisius sweeps.
RIT at Mercyhurst
The Lakers are coming off a sweep at the hands of Army West Point last weekend, while the Tigers split their opening league series with Robert Morris. These teams tend to play well in each other barns, but I think Mercyhurst rebounds for at least one win. I'm picking a split.
Niagara at Robert Morris
The Colonials are 2-0-1 in the first game of a series, and 0-3 in the second game. The Purple Eagles are also 0-3 in Game 2s. So it's a given that I'm picking a tie on Saturday. I'll go with Robert Morris taking three points.
Saturday
Providence at Holy Cross
Atlantic Hockey teams are just 5-21-2 (.214) in nonconference play so far, and this is a tough draw for the Crusaders against the No. 3 Friars. Providence wins.
— Chris Lerch
Big Ten
Friday-Saturday
Minnesota vs./at Minnesota State
Both teams will have to take advantage of their home arenas in this series. The larger ice sheet at Mariucci can give opponents fits and Mankato is great at feeding off of a sold-out crowd, which will be present Saturday night. Mavericks sweep with a close win in Minneapolis and a more comfortable victory on Saturday.
Ohio State at Notre Dame
Both of these teams will want to put last weekend in the rear-view mirror. If Ohio State can get its defense back in order I like them to pick up a win this weekend in South Bend. I'll pick a split.
Ferris State at/vs. Michigan State
Michigan State impressed last weekend with a road sweep of Cornell. I think it's going to be a split this weekend with each team winning at home.
Wisconsin at North Dakota
North Dakota is a tough place for a young team to go and get a result. If the Badgers can stay out of the box they can steal one, but I think North Dakota sweeps.
Arizona State at Penn State
The Sun Devils are off to a decent start this season, but I like Penn State at home to sweep.
Michigan at Lake Superior State
The Lakers are off to a 4-0 start, but I'm not sure their close wins against Merrimack and Alabama-Huntsville do too much for me. Michigan sweeps on the road.
— Drew Claussen
ECAC Hockey
Friday
Brown at Colgate
The Raiders have hit a little bit of a rut, allowing 14 goals over a three-game losing streak. Still, I'm just not sure if the Bears have enough offense to come away with a win. Colgate wins.
Yale at Cornell
Cornell is coming off an uncharacteristically poor showing at home, giving up a combined nine goals in two losses to Michigan State. I think the Big Red get back to their ways against a Yale team that should put up a good fight. Cornell wins.
Princeton at Dartmouth
There should be plenty of offense in this one, but I think the Tigers have a little more firepower in their lineup. Princeton wins.
Quinnipiac at Harvard
The Bobcats have beaten teams in a variety of ways en route to a 5-0 start, crushing American International 9-2 last Saturday after a pair of close wins in the previous two games. Quinnipiac is only giving up an average of 20 shots per game, and it might be hard for the Crimson to generate much offense if that continues. Quinnipiac wins.
Clarkson at Rensselaer
RPI is coming off an impressive home-and-home sweep of Union last weekend, but I think the Golden Knights have more depth throughout the lineup and is better in goal. Clarkson wins.
St. Lawrence at Union
The Dutchmen lost their first two games off the season last weekend, but they should be able rebound against a St. Lawrence team that has struggled so far this year. Union wins.
Saturday
Yale at Colgate
Joe Snively gets a lot of well-deserved attention for the Bulldogs, but Yale should have some other scorers step up this year. I think that scoring depth gives them an edge over the Raiders. Yale wins.
Brown at Cornell
Despite Cornell's rough opening weekend, I don't see the Bears coming away with a win, especially at Lynah Rink. Cornell wins.
Quinnipiac at Dartmouth
The Bobcats are bound to lose at some point this year and I think it's going to happen against the Big Green, as Dartmouth should have the firepower to finish its chances against Quinnipiac. Dartmouth wins.
Princeton at Harvard
The Tigers can score, and Harvard's defense looked suspect in a 7-6 loss to Dartmouth last Saturday. That's a bad combination for the Crimson. Princeton wins.
St. Lawrence at Rensselaer
It hasn't been a great start for either team, but I'm going with the home team in this matchup. RPI wins.
Clarkson at Union
This might be one of the better games of the weekend. Clarkson has won three in a row, while Union lost its first two games last weekend. I'm taking the hotter hand in the Golden Knights. Clarkson wins.
— Nate Owen
Hockey East
Thursday
Boston University at Northeastern
It's difficult to imagine another loss to start the season for BU, and though Northeastern won twice last week, I believe the BU losing streak comes to an end. BU wins.
Friday
Boston College at Merrimack
Could the two biggest attention-grabbing losing streaks come to an end this quick? Yes, I think so. BC wins.
UMass Lowell at Maine
Both teams have had their ups and down, and while home ice should prevail, I feel like Lowell is a decent road team. Lowell wins.
Connecticut at Vermont
Neither team has stood out to me at this point, though UConn was pretty strong last weekend. That said, a two-game series, I'll go with the host to start. Vermont wins.
Saturday
Merrimack at Boston College
After an 0-4 start, look for BC to sweep back in the comforts of Hockey East. BC wins.
Northeastern at Boston University
Not typically do I call a reverse split, but I think NU finds a way on the road to split this one. Northeastern wins.
UMass Lowell at Maine
Aside from last weekend, Saturday hasn't been Lowell night and Maine has been stronger on each Saturday. Maine wins.
Massachusetts at New Hampshire
I think the Minutemen keep rolling here and improve to 6-1-0. UMass wins.
Connecticut at Vermont
This feels like a split from the gate. UConn wins.
Providence at Holy Cross
I'd like to think that former Friars associate coach Dave Berard and his Crusaders can keep this close, but it's not likely. Providence wins.
— Jim Connelly
NCHC
Friday-Saturday
St. Cloud State at Colorado College
The first weekend we see conference action this season has two exciting matchups here in Colorado. St. Cloud showed some vulnerability with its loss to Northeastern last week, and I still think Colorado College is being underrated this year. I like a split. St. Cloud State 4-2, Colorado College 3-2
Western Michigan at Denver
Western Michigan tends to give Denver fits. Last year Denver traveled to Lawson as the No. 1 team and promptly got swept by the Broncos when they were unable to hold leads. The games will be fast-paced and physical. In retrospect, Western's two losses to Bowling Green don't look bad. This is likely a split, but I'm wondering if the high altitude gives Denver a slight edge. The last time the Broncos came to Denver they got swept, though that was admittedly in Denver's national championship season. Eh, have to go with a split. Denver 4-2, Western Michigan 3-1
Miami at Omaha
There's just no other word for it: Omaha has been dreadful so far this season. Poor Red Army (my Twitter nemesis) must be pulling his hair out. On the flip side, I've been very impressed by what I've seen of the RedHawks so far this season. They are balancing an explosive offense with a very stingy defense. Omaha may not get a win until its rematch with Arizona State over Thanksgiving. Miami 4-1, 4-2
Wisconsin at North Dakota
North Dakota gets another crack at a former rival and current Big Ten school. Will they repeat their success of last weekend? I still don't have a complete handle on North Dakota as a team, and something tells me coach Brad Berry doesn't either. In retrospect, Wisconsin's sweep of Boston College on opening weekend doesn't look very impressive since the Eagles are terrible right now. Besides that series, the Badgers have been a splitsville team this season. The Ralph will be loud and proud, but as much as it pains me to pick a "little seven" team to beat an NCHC squad, I think this series will be a split. Prove me wrong, Hawks. North Dakota 4-1, Wisconsin 4-3
— Candace Horgan
WCHA
Friday-Saturday
Ferris State at/vs. Michigan State
Although the Bulldogs are finally picking up steam, winners of three of their last four games, I like each home team to pick up a close win in this home-and-home series. Ferris always plays the Spartans tough, though.
Minnesota State at/vs. Minnesota
In possibly the best matchup in college hockey this weekend, the Mavs could really make a statement by knocking off rival Minnesota twice. So I like Mankato to sweep the Gophers in two close games.
Northern Michigan at Bowling Green
For as much as I like the talent on NMU's team this year, you can't possibly overlook how well the Falcons are playing. Coming off an 8-2 beatdown of Ohio State, give me Bowling Green in both matchups this weekend.
Michigan Tech at Alabama Huntsville
The Huskies had an incredibly tough schedule to open the season. First, they took on defending champs, Minnesota Duluth. Then they faced Wisconsin. They're battle-tested already, so that's why I like them to go on the road and sweep Alabama Huntsville without an issue.
Bemidji State at Alaska Anchorage
It's never easy traveling out west to Alaska. That's why I like the Seawolves to upset the Beavers on Friday night, but BSU to win the final game of the weekend big.
Michigan at Lake Superior State
The Wolverines are ranked high, but I don't like the way they've looked in some of their games this season. Although LSSU has had a light start to the season (scheduling Nipissing University, really?), I think the Lakers could make a statement by stealing one from U-M, probably Saturday night. A win like that could really give Damon Whitten's boys a shot in the arm entering WCHA play.
— Brandon Folsom