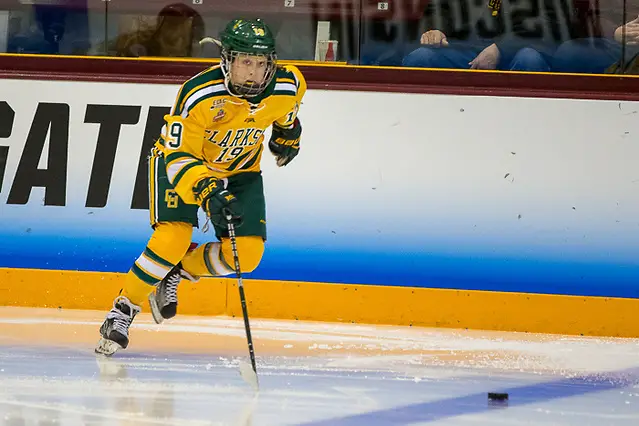 Clarkson senior forward Loren Gabel has been named the Women's Hockey Commissioners Association National Division I Player of the Month for October.
The Kitchener, Ont., native scored a point in all six games last month, including four multi-point games and three games with three or more points.
Gabel registered an NCAA Division I-high 16 points on six goals and 10 assists. Those six goals increased her career total to 83, which places her at the top of the Golden Knights all-time goal scoring list.
That was not the only record she broke during the month of October as she also set a new Clarkson record for assists when she tallied five on Oct. 26 during a 6-2 win at Syracuse. Gabel netted the only goal that she did not assist on in that game as well, tying her own record for points in a game (six).
The No. 3 ranked Golden Knights skated to a 5-1-0 record during October, and Gabel scored or assisted on 16 of the team's 25 goals. She also posted a plus-10 rating, managed 50 shots on goal, and scored both a power-play goal and a game-winning goal.