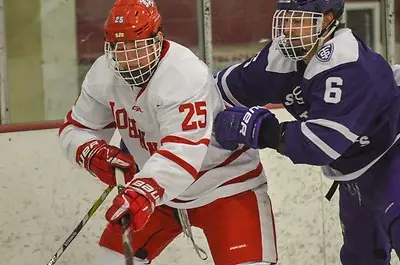 Game of the Week: Marian at Adrian, Saturday, Nov. 3
Adrian is looking to remain unbeaten when it battles Marian in a pivotal NCHA game. It will be a chance for the Sabres to make a huge early-season statement against a title contender. Balanced as usual, Adrian has come through with six goals off 11 assists. Jared Domin has racked up two goals to go along with an assist. Dino Balsamo leads the team in assists with three, and Kyle Entmaa is once again impressive in goal, allowing just three goals while making 50 saves.
Marian is playing its first game of the year. The Sabres are picked to finish third in the league and are coming off a banner year in which they made the NCAA tournament for the first time in program history. Hunter Vorva returns in goal and won 20 games last season. Both teams will come ready to play, and the winner gets an early shot of confidence in the quest to be the best in the conference. Adrian 5-4.
Friday, Nov. 2
Wisconsin-River Falls at Saint John's
The Falcons have scored six goals and have allowed just three. Cayden Cahill has dished out three assists, and Eddie Matsushima is off to a great start as well, scoring two goals. Zach Quinn has started the first two games at goalie. The Johnnies have a chance to pick up a nonconference win. Brady Heppner and Joe Chitwood are both of to stellar starts, scoring two goals apiece. Each player has an assist as well. Andrew Lindgren and Mac Berglove are both capable of starting in goal. Saint John's 3-2
Saint Mary's at Saint Thomas
These two MIAC foes will square off in a key game. Tommy Stang has played a pivotal role early for the Cardinals, punching in a pair of goals. Kyle Meeh has come through with a goal and an assist. The Tommies are always tough at home and have great balance offensively. Defense could be the difference in what should be a close game. St. Thomas 4-3
Wisconsin-Stevens Point at Hamline
The Pointers are led by Luke McElhenie, who has scored a pair of goals. Three others have scored for the Pointers, with Logan Fredericks, Kelly O'Brien, and Zach Zech each tallying a goal and an assist. Wis.-Stevens Point is looking to bounce back after a surprising tie against Trine. The Pipers have a challenging task ahead against one of the nation's best. Five different players have scored goals. Mitch Benfield has come through with a pair of assists. Tightening up on defense will be key. The Pipers allowed eight goals in their first two games. Wis.-Stevens Point 4-2
St. Norbert at Concordia
The reigning national champions hit the road for a league game against the Falcons. Five different players have scored goals already for a balanced Green Knights' attack. Peter Bates leads the team in assists with two, and T.J. Black anchors the defense, racking up 14 saves. Concordia needs to be able to get its offense going if its going to have a shot against St. Norbert. The Falcons have scored just three goals and are seeking their first win. It won't be easy against the No. 1 team in the nation. St. Norbert 5-2
Saturday, Nov. 3
St. Thomas at Saint Mary's
The Cardinals play host to the Tommies and need to be at their best on defense to limit opportunities for a solid Tommies offense. Nick Nast and Al Rogers have each started a game between the pipes and have combined to give up six goals. Eight different players have scored goals for the Tommies, who have one of the more balanced teams in the nation. Jake Ahlgren has helped pave the way offensively, scoring a goal and dishing out a pair of assists. Gavin Payne has been a big-time playmaker, dishing out three assists in the first two games. St. Thomas 5-3
Lawrence at Trine
The Vikings are playing their first games of the year this weekend. They defeated Trine, 6-2, in their only meeting last season. Josh Koepplinger is the leading offensive threat for the Vikings, scoring 17 goals and dishing out 13 assists last season. The Thunder will try to build off an impressive tie against Wis.-Stevens Point and nail down their first win of the season. Brett Young has started both games in goal and is playing with confidence. He has made 77 saves on the year. Lawrence 3-2