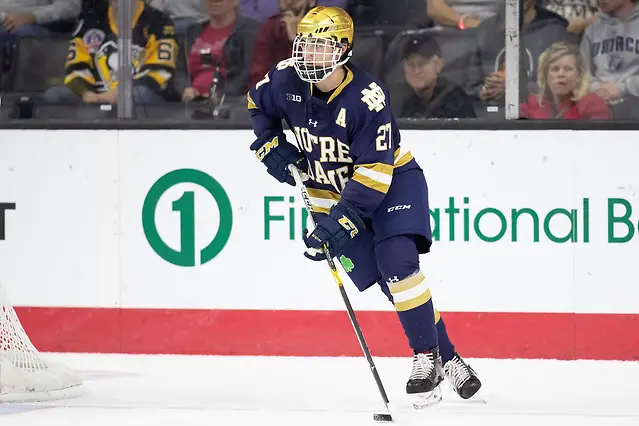 SOUTH BEND, Ind. — Bobby Nardella flashed equal parts talent and teachings last Saturday at Compton Family Ice Arena.
Early in the third period of an eventual 3-1 loss to Minnesota Duluth, Notre Dame was keen to rally. The puck found Nardella, a senior defenseman and one of the Irish's top playmakers.
It didn't stay on his stick for long.
Nardella kept it simple. He fired the puck on goal. It made its way through traffic for Nardella's fourth goal of the season.
"Instead of holding onto it or trying to make a move around the guy, I just fired it through and hoped it went in," Nardella said. "Luckily enough, it did."
Luck probably didn't have much to do with it.
Nardella burst onto the scene for Notre Dame as a freshman during the 2015-16 season. He played in 35 games with 24 points (four goals, 20 assists) en route to being named to the Hockey East All-Rookie Team and Notre Dame Rookie of the Year.
"He's always had those offensive instincts," Irish coach Jeff Jackson said.
But he also needed more refinement.
Listen to "Ep. 4: Ohio State's Steve Rohlik previews series at Notre Dame" on Spreaker.
Jackson set out to combine Nardella's playmaking ability with attention to detail on defense.
Jackson knew what most coaches do: Eventually, Nardella would be counted on against an opponent's top couple lines. He'd also be asked to contribute on the penalty kill. Nardella might not do much of that as a freshman, but the time would come.
Another thing Jackson knew: Stout play in the defensive zone can often turn into offense. In the parlance of the Notre Dame hockey program, it's called "playing the right way."
"He's approached it the right way," Jackson said. "He hasn't made it about himself. I think points will come just by the way he plays. He plays more of an assertive game offensively. I think now he's defending better so he can actually use those skills and ability on offense."
Nardella didn't just learn via coaching. He watched predecessors.
Notre Dame's recent string of scoring defensemen includes Jordan Gross, who's now in the professional ranks. Gross finished his Irish career last season with 121 points (36 goals, 85 assists) in 159 games. That ranks him third all-time at Notre Dame in scoring among defensemen.
Gross and Nardella were paired together for most of the second half of the 2015-16 season. More than that, the similarities in the way they play meant Nardella could watch Gross develop and follow the same path.
"He made a lot of strides defensively throughout his career," Nardella said. "Just watching what he did and how he played, learning and trying to do the same sort of thing. Take care of my zone first, take care of my own end first before I take risks."
Early-season returns show Nardella learned plenty. His seven assists lead No. 5 Notre Dame (3-2-1) heading into a weekend two-game matchup with No. 7 Ohio State (also 3-2-1).
Nardella's 1.83 points per game average is tied for the lead nationally among defensemen that have played more than one game this season. He's played six. Add all that scoring to an increased defensive presence, and Jackson has been able to lean on Nardella when needed so far.
"I've had a good start in a new role this year," Nardella said. "I'm playing against other team's top lines and finding ways to contribute offensively, being smart about picking and choosing when I want to join off the rush and create offense but being responsible in my own zone."
Jackson is also counting on his veteran defenseman's steady leadership.
Nardella is the only senior on Notre Dame's blue line. Tory Dello and Andrew Peeke are juniors. The remaining five defensemen are either sophomores or freshmen. Rather than shirk the responsibility, Nardella has stepped into the leadership void with purpose.
So far, so good.
"To a large degree, that's maturity," Jackson said. "Bob came in and he learned from some really good guys above him. Now he's gotta pass on the torch. He's grown a lot as a person. He's learned how to be better in his professionalism of being a hockey player and being an athlete, whether it's nutrition, whether it's rest, the academic side of things. All that stuff comes into play.
"He's grown. He's accepted it and he's taken it on. I think this year he's taken it as a challenge. He wants that responsibility."