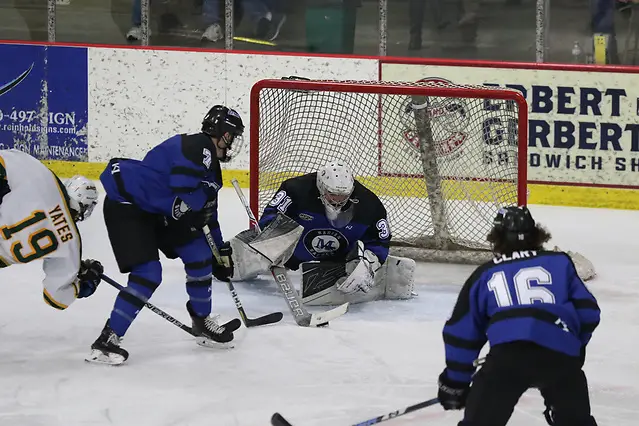 Adam Ostrowski was as clutch as it gets Saturday, scoring a game-winning goal in overtime to lift the Milwaukee School of Engineering to a 3-2 win at home over reigning national champion St. Norbert.
Ostrowski scored nearly three minutes into the extra session as the Raiders handed the top-ranked Green Knights their first loss for the second consecutive season.
MSOE trailed 2-0 after two periods but refused to give in. MSOE gave first-year head coach Graham Johnson his first win at the school a week after it lost, 5-0, to St. Norbert.
Garrett Gintoli and Kevin Shand both scored power-play goals to tie the game at 2-2.
Rock Boynton was phenomenal in goal when it mattered most. He made 35 saves while MSOE killed off a power-play opportunity for the Green Knights in the closing minutes of regulation.
MSOE needed the win badly after dropping its first three games. The Raiders had managed only four goals in their first three outings.
Roman Uchyn and Dominic Sacco both scored for the Green Knights, who had their 14-game winning streak come to an end.
Sabres shock Bulldogs
Marian earned its first signature win of the year, knocking off No. 2 Adrian, 4-1, Saturday in a huge early-season NCHA showdown. Clay Cross scored twice and Anthony Orubur punched in his first career goal.
Hunter Vorva was unreal between the pipes, stopping 46 shots. He forced the Bulldogs to come up empty on six power-play opportunities.
Marian defeated Trine Friday and came out of the weekend with a pair of wins for the first time since the 2010-11 season.
Falcons stun Auggies
Wisconsin-River Falls pulled off a huge upset, stunning nationally ranked Augsburg on the road Saturday night. The Falcons rode the impressive performance of Eddie Matsushima to their second of the year.
Matsushima scored four goals, including one off the power play, and Zach Quinn made 28 saves as Wis.-River Falls handed the Auggies their first loss.
Aussie Miller, Mike Sauer and Cayden Cahill also scored for the Falcons, who won despite being outshot, 31-27.
The Falcons dominated out of the gate, jumping in front 3-0 after one period of play.
Blugolds Still Perfect
Wisconsin-Eau Claire kept its perfect record intact with a 7-0 win over Bethel Friday and a 5-2 victory over Hamline Saturday.
On Saturday, Lucas Kohls scored his team-best third goal of the year and Andrew McGlynn, who is only a freshman, dished out three assists.
Kyle Froese contributed offensively, striking for two goals, and Jon Richards punched in the first goal of his college career.
Jack Murphy scored twice on Friday to pace the Blugolds in the win over the Pipers.
Johnnies keep streak going
Saint John's pushed its win streak in the series against Wisconsin-Stout to seven games with a 4-3 win over the Blue Devils Saturday. The Johnnies scored twice in the third to pull away for the win. They are 2-1-1 on the season.
Tanner Dufault scored his second career goal, and Brady Heppner punched in his third goal of the year. Evan Okeley scored his second goal in as many games, and Davis Kirkendall scored the first goal of his career in the win.
Mac Berglove continued his success, racking up 32 saves to improve to 2-0 on the year. He has won seven games in his career.
Tommies prevail against Cardinals
After a shootout win over Saint Mary's Friday, St. Thomas skated to a 5-3 win over the Cardinals Saturday to close out a big MIAC weekend. Brett Gravelle scored two goals in the final few minutes of regulation to seal the deal on the win. He finished with three goals in all.
Gravelle's goal on Friday lifted the Tommies to the shootout win.
Luke Radetic scored with 31 seconds left on Saturday to put St. Thomas ahead for good, 4-3. The Tommies improved to 3-0-1 overall and are 1-0-1 in league play.
Trine Time
Trine scored four third-period goals to pull away for a 5-1 win over Lawrence. The win is the first of the year for the Thunder. William Casey, Brandon Krumpschmid, Alex Johanson, and Blake Robertson all scored for Trine in the final period.
Brett Young started in goal and made 13 saves.