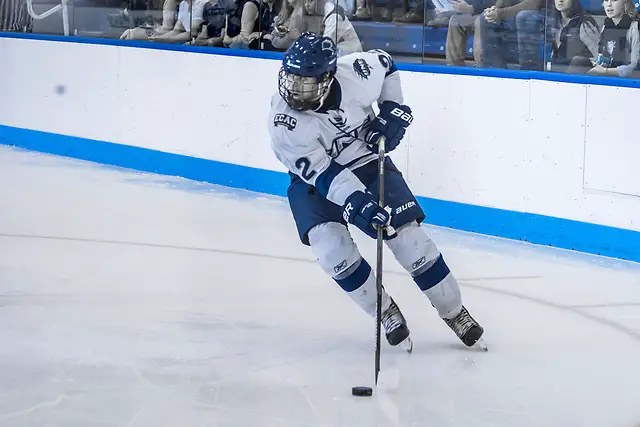 Nothing like starting the season in the deep end of the pool. Conference play is just starting, and we are already seeing great matchups like Hobart versus Norwich, University of New England versus Salve Regina, and St. Anselm versus St. Michael's, just to name three games featuring preseason favorites in their leagues. The action has been great, and there have already been some overtime games and some surprises. Better buckle up.
CCC
In the battle between the preseason picks by the coaches to be at the top of CCC play, the University of New England and Salve Regina renewed acquaintances in a weekend home-and-home series where each team earned a split by winning on the opponent's home ice. Friday night saw Brady Fleurent, Ryan Bloom, and Tyler Seltenreich provide the offense while Ben Churchfield stopped all 20 Seahawks shots in a 3-0 Nor'easter win. On Saturday night, it was the Seahawks' turn as they surrendered Andrew Slotnick's short-handed goal in the first before scoring three in the second period off the sticks of Evan Schmidbauer, Nick Cyr, and Paul Boutoussov. Blake Wojtala made 34 saves to pick up his first win of the season.
Independents
Bryn Athyn hosted Southern New Hampshire on Friday night and the Penmen got out to a fast start with goals by Cole Stewart and Kyle Galloway for a 2-0 lead midway through the opening period. The Lions came back on the strength of their power play. Two man-up goals by Vojtech Luza leveled the score before defenseman Devon Becker won the game in overtime with a third power-play goal for the home team. Goaltender McKenzie Chalmers made 37 saves for his first win of the season.
MASCAC
If there is an early choice for surprise team in the conference, it might be the Owls from Westfield State. They are 2-0-1 to start the season and following a 3-3 tie with Johnson & Wales early in the week, won a big conference game on the road against Salem State on Thursday. Jake Ratcliffe got the Owls on the board less than a minute into the game, and that momentum led to a 5-1 lead after Samuel Gagnon scored his second of the game late in the middle stanza. The Vikings would not go quietly, as Connor Irving made it 5-2 before the end of the period and Brooks Mitzel and Parker Wood both scored power-play goals to close the gap to one. However, that is all that Plymouth State transfer Thierry Messervier would surrender in the 5-4 win for Westfield State.
NE-10
Franklin Pierce went 2-0-0 in nonconference action after downing Anna Maria, 5-2, and winning an overtime thriller over Worcester State by a 2-1 margin on Friday night. Sean Crowley with an assist from Chris Stevenson, tied the game at 1-1 in the third period before Crowley helped out Stevenson with the game-winner in overtime. Goaltender Ian Wallace made 34 saves, including 15 in the first period, to earn the win.
Conference preseason favorites faced-off in Vermont as St. Michael's hosted St. Anselm on Friday night. After a scoreless first period, the hosts got on the board on a goal by Paul McAuliffe, but then the Hawks reeled off four straight for a 4-1 lead. Brandon Mitchell scored a pair of goals early in the third period to get the Purple Knights close, and teammate Thomas Flack tied the game for the home team. In overtime, it was the Hawks who struck for the game-winner off the stick of Shawn Moors just over two minutes into the extra session.
NEHC
Look out for the Cadets, as Norwich took home a pair of wins in tight battles this weekend against Skidmore and Hobart. On Friday night, Norwich needed Scott Swanson's overtime goal to overcome Brandon Kasel's 36 saves for the Thoroughbreds. On Saturday night, Norwich did something they could not do in three attempts last season — they beat Hobart at Kreitzberg Arena. Coby Downs, Dave Robertson, and Noah Williams gave the Cadets a 3-0 lead before Matt Pizzo scored an extra-attacker goal with just a tick more than 30 seconds in regulation to spoil Tom Aubrun's shutout bid.
SUNYAC
Oswego opened their season at home against Cortland and came out with a 4-2 win to open SUNYAC play. Travis Broughman and Tanner Spink got the Lakers out to a 2-0 first-period lead. Broughman with his second and Travis Brown, both on the power play, gave the Lakers a 4-0 lead before Cortland came back with two man-up goals of their own by Mike Crowley and Alex Storjohann for the 4-2 final. David Richer made 16 saves to pick up his first win of the season.
Elsewhere Plattsburgh also kicked off their season with a pair of wins over Morrisville. After winning, 5-1, at home on Friday night, the Cardinals saw goals from Tom Bowe, Rich McCartney, and Cole Stallard to support goaltender Jimmy Poreda's 21 saves in a 3-0 road win on Saturday.
UCHC
Despite outshooting Chatham, 46-21, the Stevenson Mustangs had to rally from 3-0 and 4-3 deficits and a hat trick from Daniel Cangelosi to force overtime on a late goal by Bruce Stachitas. Stachitas also helped out in overtime, earning an assist on the game-winner from Carl Lyden, who scored a pair in the 5-4 overtime thriller.
Three Biscuits
Michael Snow, Curry: Snow recorded a five-point game in the Colonels' 9-3 win over Becker. Snow scored four goals, including two on the power play, and added an assist to lead the offensive showcase for Curry.
Joseph Slovak, Endicott: Slovak scored a natural hat trick across the second period and into the third period in the Gulls' 8-1 win over Western New England. Slovak's three goals came at even-strength, short-handed, and on a power play to complete his hat trick.
Matt Volonnino, Plymouth State: Volonnino posted a four-point night on a goal and three assists in the Panthers' 5-3 win over Stonehill. Volonnino opened the scoring with the only goal of the first period before adding three assists to help lead Plymouth State to a 3-0-0 start to the season.
It was a dive into the deep end with conference play, showcasing some great early season matchups. The competitive juices are clearly flowing, and the battles in each conference will surely be entertaining right to the end of the regular season.