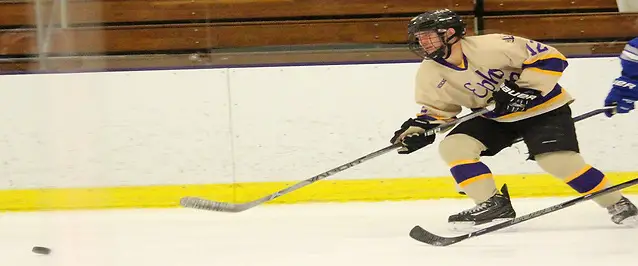 The season is now officially open for all conferences in the East. NESCAC opened this weekend, and Trinity, Williams, and Wesleyan got out of the gates fast. Babson and Massachusetts-Boston continued their hot play, and Anna Maria scored its first-ever win as an NCAA program. Lots of prolific goal scoring and some exceptional goaltending as well throughout the different leagues.
CCC
Preseason contenders Salve Regina and Endicott played a two-game series this past weekend with the Seahawks continuing their strong play on the road in a 6-3 win on Friday night. Paul Boutoussov recorded a hat trick, including a power-play goal, an even-strength goal, and a short-handed goal in the win. On Saturday night, the Seahawks did something they hadn't done yet this season: they won at home. The 5-1 win was spearheaded by great special teams and terrific goaltending from Blake Wojtala, who stopped 31-of-32 shots in picking up the weekend sweep.
Independents
Coaches love to talk about the 60-minute game, and Anna Maria played just that in picking up their first ever NCAA program win, downing St. Michael's, 4-1, on Saturday night. Jack Sitzman and Nick Kukuris each recorded a goal and an assist, while Patrick McGuane stopped 34 of 35 shots to earn win number one. The Amcats broke open a 1-1 game with three unanswered goals in the third period for the win.
MASCAC
Plymouth State continued to roll with an 8-1 win over Salem State on Thursday night. The Panthers were led by senior Mike Volonnino's four points that included a hat trick. J.R. Barone also picked up a pair of goals, while goalie Evan Morelli remained unbeaten, making 34 saves in the win that moves the Panthers to 6-0-1 on the season.
NE-10
Southern New Hampshire and Assumption played a key weekend series, and it was a great series with each team picking up a win. On Friday night, J.T. Kossakowski's 47 saves helped the Penmen rally from a two-goal deficit for the 3-2 win. Jake Cox, Charlie Davis, and Brett Strawn scored in the first half of the second period to give SNHU a lead that Kossakowski made stand up for the win. On Saturday, momentum may have helped the Penmen, who raced to a 4-0 lead, only to see the Greyhounds storm back with five unanswered goals for the 5-4 win. Robert Roache scored the game-winner with less than two minutes remaining in regulation.
NEHC
Skidmore finally got some results from playing some good hockey with a weekend sweep of New England College and Southern Maine. Matt Muzyka scored a pair of goals to set the Thoroughbreds on their way in a 5-2 win over NEC, while Adam Moodie scored a pair to pace the offense in a 4-1 win over the Huskies on Saturday. Goaltender Brandon Kasel made 49 saves in the two games to pick up both wins and move the Thoroughbreds to 2-1-1 in conference play.
Both Massachusetts-Boston and Babson earned sweeps over Suffolk and Johnson & Wales, who are both looking for their first wins in conference play since joining the NEHC this season.
NESCAC
It was the opening weekend of play for all 10 teams, and several started strong with a pair of wins in conference play. Trinity and Wesleyan both earned sweeps over Connecticut College and Tufts. Friday night's game between the Cardinals and the Camels was a see-saw affair, with Wesleyan scoring late in the third period to earn a 5-4. The Cardinals went 3-for-8 on the power play and scored five goals on just 19 shots. Things were a little tighter in a 1-0 win over Tufts with Spencer Fox getting the lone goal in support of a shutout from Tim Sestak in goal. The Bantams didn't surrender a goal with 3-0 and 4-0 wins over the Jumbos and Camels. Goalie Tedy Loughborough picked up a pair of shutouts and both wins for Trinity. Williams swept Bowdoin and Colby, with senior Marcus Mollica picking up a hat trick in the 4-1 over Bowdoin on Friday night and adding two more goals in Saturday's 4-3 at Colby.
SUNYAC
Fredonia enjoyed a four-point weekend that included an upset of previously unbeaten Oswego on Friday night. The Blue Devils downed the Lakers, 3-2, with Ethan Kirbis breaking a 2-2 tie early in the third period on a power play for the game-winning goal. On Saturday night, Fredonia built a 5-2 lead over Cortland, with Kirbis again scoring the decisive goal before the Red Dragons rallied to within one goal in the 5-4 decision.
Brockport moved to 5-1-1 on the season with a big nonconference win over Hamilton on Saturday night. Doc Gentzler, Jordan Renaud, and Kyle Collette helped build a 3-0 lead for the home team that Jake Moore made stand up by stopping 33-of-34 shots from the Continentals.
UCHC
Lots of mixed results across the conference, but few as mercurial as Lebanon Valley's weekend split with Nazareth and Utica. On Friday night, the Flying Dutchmen were shutout by Nazareth, 4-0, behind Sean Kuhn's 34 saves. On Sunday, Brian Hovanec's hat trick and 42 saves from goalie Tyler Perhac led to a 6-1 win over the Pioneers, who outshot LVC by a 43-18 margin and finished 0-for-11 on the power play.
Three Biscuits
Marcus Mollica, Williams: Mollica started the season fast with five goals in the Ephs' two road wins at Bowdoin and Colby. The senior forward posted a hat trick on Friday night and added two more goals in Saturday's win at Colby.
Mike Volonnino, Plymouth State: Volonnino recorded a hat trick and added an assist for a four-point night in the Panthers' 8-1 conference win over Salem State.
Sean Kuhn, Nazareth: Kuhn made 34 saves to earn the shutout win in Nazareth's 4-0 victory over Lebanon Valley on Friday night.
More great action is coming up this weekend as the holiday tournament season begins with some great regional and national matchups.