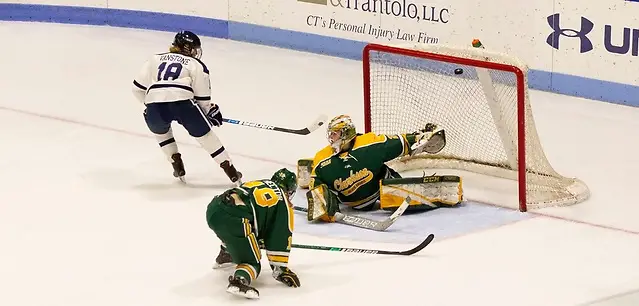 Nicole: I feel like a broken record at this point, but every time I feel like I've got a handle on things this season, there's a result or two that has me scratching my head. Every team in the county has had games that have ended up closer than I expected, and Wisconsin is about the only top team left that doesn't have an unexpected loss, tie, or near-miss overtime win marring their schedule.
This week's big surprise came in New Haven, as Yale took down No.3 Clarkson, 5-1, on Saturday. Redshirt senior transfer goalie Kassidy Sauvé didn't play in the game, and it was a rough outing split between the other two goalies on the roster. Marie-Pier Coulombe was pulled with five seconds left in the first after giving up three goals on nine shots. Kia Castonguay took over and gave up two more goals on 11 shots. Castonguay earned her first career victory Friday night with a 9-1 win over Brown.
Saturday's outing and loss really underlines how important it was for Clarkson to pick up Sauvé as a transfer.
With a pair of games against teams at the bottom of the standings, it would make sense if Clarkson coach Matt Desrosiers wanted to get his two younger goalies some ice time. However, when Sauvé didn't enter the game when Pier-Coulombe was pulled, I had to start thinking that Sauvé may be injured.
How worried should Clarkson be if Sauvé is off the ice for any extended amount of time? This is a team that was noted for its staunch defense in the past, but maybe hasn't had to worry about that too much recently. With Sauvé in back and a prolific offense, I wonder if the focus came off the D?
Arlan: Yale came into Saturday's game with an offense that was scoring twice a game on average, so allowing more than twice that average has to be of concern to everyone in the Clarkson camp. There was some talk that Sauvé was injured in practice this week and was unavailable. I haven't seen the goals the Bulldogs scored, so it is unfair of me to lay blame for them specifically on the goalies who replaced her or the Golden Knights skaters. Either way, it is a Clarkson team problem, no matter where the fault lies.
If Sauvé remains sidelined, yes, I would think that is a worry. However, a year ago, there weren't any plans for Sauvé to be in Clarkson's net this season, so I'd have to imagine that Desrosiers has confidence in his other two goalies. One of the causes of their struggles on Saturday may have been a lack of playing time. Coulombe and Castonguay came into the weekend with one career start combined. It is reasonable to expect that if they had been playing all along, or if Sauvé remains out and the duo needs to take over in goal and will be seeing the minutes for some period of time, then they will be better prepared for what happens going forward than was the case at Yale.
On the other hand, if Sauvé returns sooner rather than later, does that mean that the Yale loss can be forgotten entirely? Not necessarily. Her statistics, such as a goals-against average of 2.0 and a mid-to-lower save percentage of .918, are more OK than great. No matter where we choose to point the finger, it looks like Clarkson's defense is not yet at the championship level that we've come to expect. To be fair, it isn't yet March, so it hasn't needed to be.
Of course, that's only one end of the ice. There wasn't anything stopping Clarkson's top-ranked offense from lighting up the scoreboard and winning a 6-5 game, instead of waiting until they were down by five to finally find the net. That isn't entirely true — Tera Hofmann did plenty to shut down the Golden Knights to the tune of 39 saves, and one can assume that she got a lot of help from the team in front of her.
Maybe we just congratulate Joakim Flygh and his players on a great effort. Yale was the better team on Saturday. The Bulldogs were in Friday's 3-1 loss to St. Lawrence right up until a late empty-net goal by Justine Reyes, as Hofmann made another 34 saves. Maybe Yale had a strong weekend, and we can expect more going forward? So a salute to Emma Vlasic, who scored twice, including the all-important first goal against Clarkson, and her teammates. Now let's see how they back up that performance when they host Providence on Friday in the Nutmeg Classic.
You mentioned Wisconsin being the only team that looks consistent game after game. We've come to expect that from the Badgers in recent years and have to go back to 2012-13 to find a season where they'd lost more than twice by Christmas. What have you seen from Mark Johnson's club that convinces you that this promising start will have a different conclusion once the postseason has played out?
Nicole: I'd assume that's the million dollar question in Madison. If I had the answer, I'd have a much cushier job than this! As you said, on paper, most everything has looked and gone right for the Badgers over the past few years, but they've been unable to finish the deal when it comes to the end of the season.
Two of the last three years they were eliminated from the Frozen Four by losing a semifinal in overtime. We've talked over the years about the Badgers' tendency to go through scoring droughts, where they take all the shots but can't find the back of the net. That affliction struck two years ago in St. Louis, when a Wisconsin squad that averaged nearly four goals per game all season managed just one goal in the two games of the Frozen Four — and the lone goal was scored by a defender.
One of the things I've seen this year that I'd think will serve them well down the stretch is the play of the third and fourth lines. Together, those players have 40 points through the first 14 games. When Wisconsin won on Friday, it was on the strength of goals from three freshmen, and no one from their top forward line tallied a point. Especially considering what we've seen from other top teams this year, that's just going to be so hard to keep up with and defend.
It's no secret I'm a big Annie Pankowski fan — I'm not sure how anyone who gets to watch her on a regular basis isn't, honestly. She's always been really fun and fascinating to watch, but there's a determination to her this year that's just really evident in her play. It's totally understandable after the year she's had, but it's interesting to see it manifest on the ice. She's such a dynamic player — even if you're not paying attention, you know when she's on the ice because of the plays she's making. She has a look to her this year like she's personally not going to let the team fail. She feels like she has something to prove, and she's got the talent to back it up.
There was a stretch in Friday's game where she moved the puck, took a shot, gathered her own deflection behind the net, cycled around, held possession, took another shot, and then was able to prevent Bemidji from leaving the zone. In the end, the whole thing might register as a shot or two on goal on the score sheet, but it was incredible to watch. Another time she shook off a defender who was all but hanging off her back, was moving across the ice, and placed a perfect pass to a teammate waiting at the far post. There's just a laser focus to her right now that's mesmerizing to watch.
I suppose there's probably a long psychological treatise to be written about the Badgers' inability to close it out in recent years. Do you have any thoughts on why the title has been elusive? And is there any one player you've enjoyed watching thus far?
Arlan: After Wisconsin's last NCAA Championship in 2011, its next four tournament defeats came at the hands of Minnesota. That has been a very cyclical rivalry over the years, with each team dominating for a six-year block. Last year started a new six-year era, and the Badgers were the team that took the national tournament game. So that problem appears to be solved for UW, at least for five more years.
However, in the meantime, the ECAC has caught up to the WCHA, in that the best team from the East has been able to knock off the best from the West. In Wisconsin's losses to Clarkson in 2017 and Colgate last year, maybe the Badgers would have come out on top in a multi-game series. Clarkson is a deceptive team in that no matter how many times they win, we are left feeling that it may have been some kind of trick.
I don't think that last year was; I think the Golden Knights were the best team. In my opinion, only in 2017 were the Badgers the clear top team, so maybe the simplest answer to why the title has been elusive is that other teams are good, too. Losing to Colgate was an upset, but would the Badgers have been able to get by Clarkson had they reached the final? I guess we'll never know, and the Golden Knights don't really care, as they beat the team that showed up that day.
On one hand, one could conclude that things will be different this year. Both Wisconsin and Minnesota have teams with rosters that are ridiculously deep, and they can skate four lines that are legitimate lines on contending teams. Both have had four lines at other times in their histories, but I don't believe they've been of this caliber.
On Saturday at St. Cloud State, Minnesota was trailing by a goal with less than 10 minutes to go. The difference this time is that Brad Frost continued to skate four lines, and the fourth line and Abigail Boreen scored her first career goal to tie it up. Once the game reached overtime, Frost started to resort to past tendencies when his lines to start OT were first, second, first, but then he sent out his young third line, and Taylor Heise buried the winning goal.
However, with all that depth, I can still envision the Badgers or Gophers losing in the NCAAs, and not just to each other or another power team like Boston College or Clarkson. Neither Wisconsin nor Minnesota has a goaltender that is proven on the Frozen Four stage, and there are enough teams with strong goaltending and opportunistic attackers that could take advantage.
Give me a minute to consider your question about who I enjoy watching. While I think that over, how do you currently see the ECAC shaping up? Clarkson still looks like the team to beat, but others have shown that they can be beaten. Colgate is headed in the wrong direction, Cornell has had to deal with personnel coming and going, and both Princeton and St. Lawrence have been stronger than I expected before the season.
Nicole: I really have been surprised by Colgate's season thus far. I wasn't sure how they'd fare, but they came out pretty strong and thus set up their own expectations. I feel like based on their graduation losses, had they returned this year as a better than average, but not top-tier team, I'd not have been surprised. That's probably where they sit now. So maybe I should cut them some slack, but man those wins over Ohio State and Northeastern led me to believe things could be better for them.
This is probably the most vulnerable Clarkson team we've seen in awhile. For a few years, it's definitely been them and then everyone else, and there really was no considering that they'd end up anywhere but first. For me, the team with the highest ceiling this year is Cornell. They're a team with so much potential, and I think that if things come together for them down the stretch, they're the team everyone should be afraid of.
I've gotten to see quite a few top teams in Madison so far this year, and the one that impressed me most was Princeton. It can be so easy to get weighed down by the Badgers and playing at LaBahn, and the Tigers were having their first series thanks to the late-starting Ivy League season. However, they were quick and impressive, and they've been doing it without goalie Steph Neatby, who's really been the bedrock for them the past few years. I'm not sure if the Tigers can make it all come together this year yet — they might be a year out from it yet, but they've got a ton of potential.
I'm excited to see so much turmoil in the ECAC, honestly. It's no fun when one team is sitting at the top and everyone else is fighting for spots below. It feels really wide open right now and like the conference title is up for grabs. Clarkson won't give it up easily, but the door is open much wider than it's been in years past. It really feels like one period, much less one game, could be a difference-maker here, which means the second half is going to be a lot of fun to watch.
In the CHA, it has seemed like there was a widening gap between Mercyhurst and Robert Morris, but the standings are closer than I think the Lakers would like. It's probably still their conference to lose, but CHA games right now feel like coin flips. I don't feel like I have any idea who will win or lose any series. How do you see the CHA playing out?
Arlan: I'd agree that the CHA appears quite even right now. It's playing a little like Hockey East was last year after you got beyond BC. I'm not sure that any CHA team is as strong as Robert Morris was last year, and RIT looks to have moved up. If you look at overall goals scored versus goals against, the Colonials are best at plus-4, while Lindenwood is the lowest of the four teams that have been outscored with a minus-12. Thus, there isn't a ton of separation between these teams, once you account for some having played tougher schedules than others.
If the overall teams are fairly close, so are some measures of the talent around the league. RMU's Jaycee Gebhard, Natalie Heising of Penn State, and the Lakers' Emma Nuutinen are the only players who average at least a point per game. The goals-against averages for the teams' primary goaltenders range from 1.84 for Jenna Brenneman at Penn State to 3.09 for Maddi Welch at Syracuse. Even the range for success of the special teams is within 10 percent from top to bottom, and interestingly, Syracuse is the best at both, despite bringing up the rear in goaltending for save percentage as well as the previously mentioned goals-against.
At this point, everyone in the CHA has a chance, and all the teams have some vulnerability. The conclusion? Yes, keep your CHA coin handy for all of those flips. Eventually, one team will string together a couple of wins in March better than the rest, and it will be rewarded with an NCAA berth. We could conceivably even see a repeat of RIT's worst-to-first run of a few years back.
If you're asking me to pick a team, the percentage move is always to choose Mercyhurst, and you'll end up ahead in the long term, so I'll say "Lakers" with all of the confidence that strategy deserves.
While we're talking about teams in the CHA, let's switch to one that dipped its toe into that league's pool for a minute or two many years back before having second thoughts: Ohio State.
What do we conclude about the Buckeyes, who followed up getting swept by previously winless Bemidji State with a fairly emphatic sweep of Minnesota Duluth? OSU will get its first week off since opening its season in September. Did that allow coach Nadine Muzerall to empty her team's emotional tank a bit more than usual for that series? Should we look on the other bench and conclude that the Bulldogs were a bit flat after not playing an NCAA game since back in October, or is it simply a measure of the comparative strength of these two teams, and the Buckeyes are simply better?
Nicole: Here's me calling everyone out this week, because one of the things I think we learned is that Duluth isn't as good as we thought they were. I'll come back to the Buckeyes question, but I think we probably need to address this, as well. The Bulldogs have played the toughest schedule in the country, but at this point the first-weekend wins against Boston College are the only quality wins on their schedule. They followed that with a loss and then a shootout win against Minnesota, and it's not been great since then, including the loss to St. Cloud State two weeks ago.
I think we all had huge expectations for Boston College and when UMD came out and swept, we all put a lot of weight on that and it raised the Bulldogs' profile. Add to that the legend of Maddie Rooney and it's easy to see why there was a possibly mistaken idea that UMD was more than they initially seemed. They're giving up more goals than they're scoring, which is always a hard way to win. They're 24th in the country, scoring just 2.25 goals per game, nearly a full goal per game behind teams ranked in the top 10 right now. Their power play is quite proficient, but their penalty kill is ranked 35th, killing the player advantage a meager 77 percent of the time.
In the end, they're a team of 17 underclassmen who have plenty of room to grow, but the national rankings may have been a bit premature and reactionary to that first weekend and our outsized expectation of Boston College.
You asked about the Buckeyes. One thing they've shown through the past season and a half is fabulous resiliency. They've stumbled and made mistakes at times, but they bounce back incredibly well and usually with a dominating performance that makes you want to forget about the close calls and questionable losses. Though Bemidji State was winless before sweeping Ohio State two weeks ago, that's not an accurate measure of the talent of that squad. BSU has also had an incredibly tough schedule to start the season, and I think it just took them a little time to find their rhythm and get to playing their game. So while the losses were surprising for Ohio State, I don't think they were shocking.
One day someone will fund my investigative series into what it is about Bemidji and their style of play that so trips up teams that, on paper at least, seem to have the advantage over them. No other team in recent memory seems to have the ability to trip up squads the way the Beavers do. It would be fascinating to spend a bunch of time in Bemidji and with coach Jim Scanlan to try to figure out some of what makes the team tick and why they're able to match up so well with teams with more depth.
Regardless, you know the sweep at the hands of Bemidji was not something Nadine or the Buckeyes took lightly, and I'm guessing they had this weekend with UMD circled for awhile. The Buckeyes have proven they can beat both Wisconsin and Minnesota and belong in any conversation about talented WCHA teams, but they also probably have a few years to go before they reach the sort of respected, elite status those two teams carry. What they can do this year, though, is set themselves up as the clear third team in the conference, and they made a pretty emphatic statement about that this weekend. The teams came in tied in the national rankings, and by the time Monday rolled around, Ohio State had moved up a spot and Minnesota Duluth had dropped out of the top 10.
Growth is almost never a linear progression, and Ohio State has shown there are some potholes to be found along the way, but I feel like this weekend sweep was a really important and emphatic step in the process for them.
I mentioned our early-season expectations for Boston College, who came into the season with a lot of elite pieces that haven't necessarily all fit together yet. Were we premature in looking at that roster and having very high hopes? Where do you think the Eagles fit in the national picture right now?
Arlan: I expect that one of two things will happen with the Eagles. Either they will roll over everyone in Hockey East, and we'll have another BC season like we've come to expect where they show up at the NCAA tournament with five or fewer losses as a seeded team, or Providence or Northeastern will shock everyone and emerge on top of the league. I'm 90 percent sure that it will be the first of those two scenarios, but before the season started, I'd have gone with a number more in the neighborhood of 99 percent.
Evaluating those top teams in Hockey East is tough for me. I feel like I'm always waiting for them to play that measuring stick type of opponent. Providence played one game at Northeastern so far, outshot the Huskies by five shots, but couldn't get anything past Aerin Frankel and lost, 2-0. The Friars also had the 4-2 upset of a BC team depleted by the Four Nations camp. That's a hard game to quantify for either team. Whatever decision I reach regarding it, I doubt it deserves a ton of weight. The only other result of note is a split versus an up-and-down Penn State team.
Now we wait until late January until Providence encounters Boston College again, and a few weeks beyond that for a couple of meetings with Northeastern.
What about Northeastern? It plays the Eagles for the first time next week. Early on, it had a split versus Colgate that looked to be a good result; now I'm not as sure. The Huskies are definitely better than New Hampshire, but they've had unexpected ties at Boston University and Maine. Northeastern is putting up numbers and outscoring its opponents at an impressive 49-19 clip, but it really doesn't have any signature wins, other than the shutout of Providence.
Neither does BC. The sweep of SLU with two overtime wins was likely the high point of the season, but that felt more like escaping than delivering any kind of message. The Eagles have more talent than anyone else in the league; unless injuries mount or chaos breaks out in the ranks, they'll win. It seems pretty obvious. The offense isn't yet the gaudy highlight reel that we've come to expect, but that didn't pay off in March, so it may be for the best. BC might have the most elite talent in its top half a dozen players, but it drops off after that.
I think when the Eagles do battle in the elimination games that await in March, those stars are going to have to win the game, because as we've said, other squads are deeper. Ironically, the more BC is challenged by Providence and Northeastern, the more likely that it will be able to prosper in the NCAA tournament.
Do you agree that Hockey East is at most a three-team race, or could someone like Merrimack or Maine still shift the balance of power?
Nicole: No, you're probably right about it being a three-team race, though I do think you're undervaluing Maine a bit. You hit it right on the head when you said you're waiting for an emphatic win. It's all been a bit wishy-washy, and that makes it rather hard to really get a grasp on how this conference will shake out. All the uninspiring matchups make it hard to garner much when watching streams of these games, but one thing I'll mention is how thoroughly unassuming BC games are. You don't feel like you're seeing dynamic play, and no one really stands out right now. There's an argument that even play is what you want, but as you mentioned, they have some of the best elite talent in the world playing for them, and it's always a bit odd to me when I can watch one of their games and never really even know when those players on the ice. I'm not sure that it's a knock, but right now I pretty much forget about BC the second I stop watching them play, if that makes sense. It's not great, it's not awful. It's just steadily good and for most teams, that would be fine. But with the talent on the Eagles squad, it's very odd to get such a blase and unremarkable feeling while watching them.
For my money, I'd rather watch Northeastern than anyone else in the league right now, and maybe anyone in the country. Chloé Aurard and Alina Mueller are two of the most interesting players in the country right now, and they're finding a lot of magic together. Seeing how they grow and mature in the game should be incredibly fun. That they're this good right off the bat should give everyone else a bit of pause about how they'll be in the future.
You brought up an interesting point about improvement from NU and PC ultimately being good for BC, which too often has coasted through Hockey East only to be a bit shell-shocked by things when they reach the national tournament. The Eagles have to face better talent to be prepared to do well in the postseason.
I'm going to ask again, since you said you wanted time to think. Which players, if any, have really stood out to you so far?
Arlan: The first time, you phrased it as who do I enjoy watching, so I think I'll answer that instead. I'm kind of at a disadvantage in terms of which players stand out, because I've seen so few of them thus far.
This is an area where beauty is truly in the eye of the beholder. Much as you're a fan of Pankowski, I've always admired the 200-foot game of Emily Clark. A team can never have enough players who are willing to expend as much energy keeping the puck out of their net as they do trying to put it into the one in the offensive zone. Of course, the Badgers are more than a two-woman show, and I'm looking forward to seeing Sophie Shirley in a college game for the first time, Abby Roque can take over a game at any time, and Maddie Rolfes is a big reason why her goalies always have such stellar statistics.
For BC, Daryl Watts and Megan Keller generate most of the buzz, but if we had an expansion draft and I could pick two Eagles, I don't think that I could pass on either Caitrin Lonergan or Cayla Barnes. Lonergan's speed causes fits for opposing defenses, and Barnes' has always played far beyond her years whenever I've seen her in action.
I was so impressed with the NCAA tournament that Elizabeth Giguère put together last year. It is a special gift to be able to play your best hockey when the lights shine brightest and the pressure mounts. I think that the sky is the limit for her in her college career.
What about Minnesota, the team that I see most? Grace Zumwinkle possesses a lot of talents that could allow her to be a difference-maker at the next level: speed, strength to drive to the net, and a lot of finish, including one of the heaviest shots in the women's game. If you just want fun to watch, Amy Potomak is one of the most creative players I've seen when it comes to a bag of tricks to win a puck battle or get around a defender.
What stands out most to me in terms of entertaining players is how many of them are around. You can watch any random two teams and see talent, unlike 15 or 20 years ago, when some games just weren't watchable. There was justification in those days for the only people in the stands being parents. Now? Find a game somewhere, and you'll soon see what I mean.