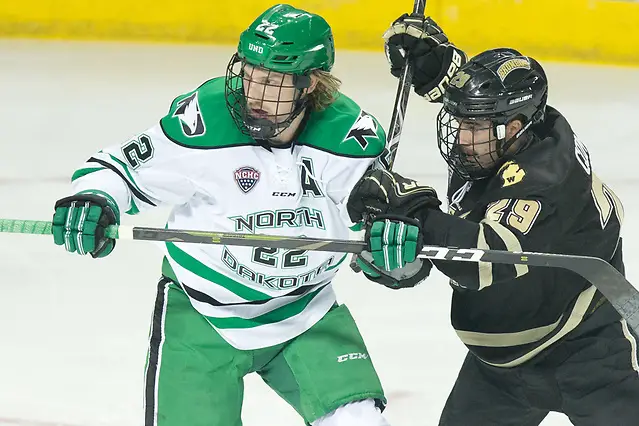 As we go into the Thanksgiving holiday, the top two teams in the country are from the NCHC, the conference that has produced the last three NCAA champions.
Three of the conference's eight teams are in the top 10, five are ranked in the top 20, and another, Western Michigan, has received votes in the latest poll.
Currently, the NCHC has the best out-of-conference winning percentage, hovering at nearly .700. The NCHC is the only one of the six conferences that has a winning record against every other conference. The Big Ten is the only other conference that is above .500 in out-of-conference winning percentage, and most of its wins have come against Atlantic Hockey and the ECAC.
As all the coaches and players sit down for their turkey dinners, it's time once again to look at what each head coach in the NCHC has to be thankful for during this thankful holiday.
We'll go in overall winning percentage order.
St. Cloud State
New coach Brett Larson inherited a very full locker room when he took over as coach of the Huskies, and his team is off to a hot start, going 11-1. St. Cloud's overall depth shows in its team statistics nationally. The Huskies are third in offense (4.25 goals per game), third in defense (1.83 goals allowed per game), 10th in power play (24.49 percent), and first in penalty kill (89.58 percent success rate). To add to that, the Huskies are also second in the PairWise.
When Larson looks at his roster and its statistics, what he has to be most thankful for is depth. More than perhaps any other team, St. Cloud has a ton of ways to hurt opponents. The Huskies have six players averaging a point a game or greater, and three more just under that mark. Overall, St. Cloud has 11 players with at least half a point per game or greater in scoring, with nine averaging better than .750 points per game or greater.
Larson recently talked about his team being able to come in waves, and it is certainly borne out. In addition to having four forwards, averaging a point a game or greater, senior captain and defenseman Jimmy Schuldt and junior defenseman Jack Ahcan are both over a point per game.
Additionally, St. Cloud has proven resilient. The Huskies were able to rally from two goals down in each game against Denver, rallied from two down against Colorado College in one game, and rallied from a goal down against CC in the other game of a weekend series.
St. Cloud is off for Thanksgiving, so the coach and players will look forward to a restful weekend before getting ready to travel to face Miami.
Minnesota Duluth
The defending national champions came into the season with an enviable defense, returning the entire defense and starting goaltender from the championship-winning team. That defense has been a big part of Minnesota Duluth's early success. The team is eighth nationally, giving up two goals per game, and third on the penalty kill, clicking at an 88.37 percent success rate. While the team defense is right in line with where it was a year ago, the PK is significantly improved from last season's 82 percent success rate.
Coach Scott Sandelin is thankful for a few things. For one, his team has proved itself despite a tough schedule that has seen them play four weekends against ranked teams, including a sweep of then No. 1 Notre Dame and a split with No. 7 Denver, the latter of which Sandelin is also thankful for, as the Bulldogs broke a seven-game losing streak to the Pioneers.
Sandelin is also thankful for the improved scoring that doesn't make his team rely quite so much on its smothering defense. Two players score at a point a game or greater, and two more are just under that mark. Last year's top scorer was rookie defenseman Scott Perunovich, who averaged .85 points per game; the next-best was at .68 points per game. Perunovich is showing no signs of a sophomore slump, again leading the team in scoring with 1.33 points per game, but the overall better offensive production may mean less stress for Sandelin and the Bulldogs down the road.
Minnesota Duluth is also off this weekend before resuming against No. 17 North Dakota the following weekend. The Bulldogs are currently fourth in the PairWise.
Denver
Coming into the season, the Denver Pioneers were a dramatically different team. Not only had coach Jim Montgomery departed for the NHL to coach the Dallas Stars, but the team's triumvirate of ridiculously talented forwards had also left for the NHL, as had another forward and a defenseman. Denver also had the unenviable task of replacing Mike Richter Award-winning goalie Tanner Jaillet.
Right before the season started, Denver's expected starting goalie, Filip Larsson, got hurt, and new coach David Carle turned to Devin Cooley, a sophomore who had seen limited playing time his first year. Cooley has put up very respectable numbers, with a .928 save percentage and 2.19 goals-against. He has been so solid that even with Larsson back in the lineup against Minnesota Duluth last weekend, Cooley played both games.
In addition to being thankful for Cooley's play, Carle is thankful for a solid offense. That was the biggest question mark for Denver to start the season, but so far, its offense has been aces. It is led by senior Jarid Lukosevicius, who averages 1.3 points per game. Denver has six players at a point a game or greater, including three freshmen, Emilio Pettersen, Cole Guttman, and Brett Stapley. That offense is one reason Denver is 6-3-1 to start the year, despite the second-hardest strength of schedule in the country.
While Carle is thankful for the offense, he is probably hoping the youth of the team gets better at the back end. In both games against St. Cloud, Denver blew two-goal leads and lost, and Saturday against Minnesota Duluth, the Pioneers blew a three-goal lead in the third period and lost in OT. While the defense is 14th overall, giving up 2.20 goals per game, if the Pioneers are to have success against better teams, it needs to improve. It won't get easier for Denver either, as they host No. 9 Providence this weekend. Denver is currently 10th in the PairWise.
Miami
Entering the season, Miami was picked last in the preseason poll, but so far the RedHawks have been outperforming those expectations, going 9-5 to start the year. What coach Enrico Blasi has to be thankful for most in his 20th year as coach of the RedHawks is a dramatically improved defense. The RedHawks are fifth nationally, giving up only 1.86 goals per game. The penalty kill is solid as well, ranked 17th and clicking 84.48 percent of the time.
Blasi is also thankful for the much-improved play of goalie Ryan Larkin, currently sporting career bests in save percentage (.941) and goals-against average (1.67). Last season, Larkin was at only a .886 save percentage. Larkin has started 12 of Miami's 14 games, with an 8-4 record.
Lastly, Blasi is thankful for the play of seniors Josh Melnick and Grant Hutton, who spurned pro offers in the off season to return and try to build Miami's fortunes back. Melnick, a forward, leads the team in scoring with .92 points per game, while Hutton, a defenseman, is fourth with .71 points per game.
The RedHawks are on the road this weekend at New Hampshire.
Western Michigan
As his Broncos go into an off weekend, coach Andy Murray might prefer to keep playing. After all, they are coming off a road sweep of North Dakota, a notoriously difficult venue to play in. That sweep brought the Broncos back to .500 and made their previously terrible road record a little less terrible, standing now at 3-4.
As he sits down to the table, Murray is thankful for having a strong offense, one currently ranked ninth in the country with 3.67 goals per game. He is probably most thankful to have had Wade Allison back in the lineup. The talented junior forward has been hurt for much of the year, but when he plays, he scores. He played only his second game of the year on Saturday against North Dakota, and had two points. Perhaps the bye weekend will enable Allison to finally get healthy, because a healthy Allison makes Western Michigan all the more dangerous. Allison got hurt in January and missed the second half of the season, and Western Michigan faded dramatically down the stretch as a result.
Murray is also thankful for the play of senior Trevor Gorsuch in net, as he sports a .922 save percentage and a respectable 2.24 goals-against.
Western Michigan resumes play Nov. 30 against Niagara at home, and closes the first half with a home series with Minnesota Duluth.
North Dakota
It's been a two steps forward, two steps back first half for North Dakota, which currently sits at a surprising 5-5-1. The overall team stats reflect that as well, as the Fighting Hawks are 38th in team offense (2.55 points per game), 20th in team defense (2.55 goals allowed per game), 44th in power play (16 percent), and 49th in penalty kill (76.32) percent.
Coach Brad Berry may be most thankful that his team is still at .500 and has some potential to play their way into contention. The Fighting Hawks are currently 28th in the PairWise, yet the upcoming schedule has some upside. This weekend, North Dakota hosts Alaska Anchorage, a team with only one win so far. They face Minnesota Duluth and Denver to close the first half, but open the second half with three consecutive weekends against teams with losing records, so Berry is probably hoping his team can build some momentum from that schedule.
If they do not, it could be back-to-back years that North Dakota fails to qualify for the NCAA tournament, something that hasn't happened since 1995-96, when North Dakota finished a six-year stretch of not making the tournament.
Colorado College
Unfortunately for coach Mike Haviland and his CC Tigers, they aren't going to take teams by surprise anymore. Opponents know coming into a weekend with the Tigers that they have a potent group of upperclassmen forwards and a solid goaltender.
After starting the season 4-1-1, CC has run a conference gauntlet that includes St. Cloud, Minnesota Duluth, and Miami, a stretch where the Tigers have gone 1-5. On the plus side, CC led in both games against St. Cloud. On the minus, they couldn't hold those leads, and then were blown out by Minnesota Duluth.
The stats show CC is about where they should be, with the 24th-best team offense (three goals per game) and 23rd team defense (2.67 goals allowed per game), as well as a power play ranked 38 (16.92 percent) and penalty kill ranked 49 (76.32 percent).
Given that, Haviland is thankful firstly for the play of goalie Alex Leclerc, who has kept the Tigers close in some games with a .918 save percentage and 2.49 GAA. He is also thankful for the potential offensive upside, as Nick Halloran and Mason Bergh are both underperforming compared to last year.
The Tigers are off this week before resuming play on the road against Omaha. After that, the Tigers have three weekends of out-of-conference series that, judging by previous play, may allow them to build up their record again.
Omaha
It's been a tough start to the season for Omaha and coach Mike Gabinet, who went 0-6-1 before winning their first game, against Miami. The weekend after that, the Mavericks split with Western Michigan, so there is some sign they are going in the right direction ahead of this weekend's series with No. 16 Arizona State. The Mavericks are itching for some payback against the Sun Devils after getting swept in Arizona at the end of October.
Offense has always been a hallmark of Omaha teams, and while the depth isn't quite what it has been in previous years, Gabinet is thankful for the play of Fredrik Olofsson and Zach Jordan, who average 1.1 and a point per game, respectively. Dean Stewart and Mason Morelli are just under that.
Gabinet is also thankful for a strong power play, one that clicks 23.33 percent of the time (13th nationally). Unfortunately, the penalty kill is terrible, succeeding only 73.58 percent of the time (55th). That stat is a problem for the Mavericks, as they are also the fourth most-penalized team in the country.
Gabinet is thankful for his offense, and for the potential to improve in the back end and hopefully go on a second-half run.