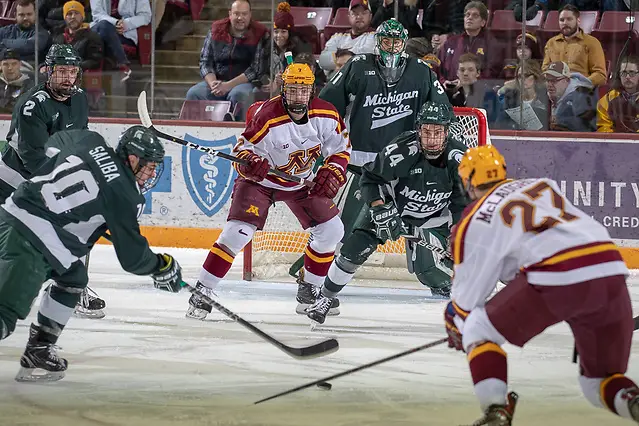 Each week during the season, we look at the big events and big games around Division I men's college hockey in Tuesday Morning Quarterback.
Paula: Well, Jimmy, with Thanksgiving weekend now behind us, we're staring at the end of the first half of the season with a better idea of where things may be headed for several teams.
A lot of what we've talked about so far this season – scoring and a lack thereof, parity in D-I and within specific conferences, the emergence of Massachusetts, the strengthening of the WCHA – are all part of this week's conversation, but I really want to start with the fourth straight Friendship Four.
Kudos to Union for capturing the tournament with a 2-1 win over Boston University after advancing to the title game via shootout against Yale. Darion Hanson made 70 saves in the tournament, including 39 in the 2-1 win. As we know, this kind of hardware close to midseason can help propel a team through its second half, and the Dutchmen have had a strong first half so far as it is.
But the tournament itself is really something. Over 23,000 fans attended the four games, and the coverage by local news outlets was outstanding. Adam McKendry provided comprehensive coverage for the Belfast Telegraph, Belfast Live had an excellent photo spread of the tournament today and I saw stories on the BBC feed. The Belfast Giants, the local team that plays in the highest professional hockey league in the U.K., had a great write-up on their page, too.
I know you love this tournament, Jim, and it appears to be growing and I think it's great PR for the sport we love, but why do you think the Friendship Four is important to college hockey? What are your thoughts about this year's tourney?
Jim: Well, I think the reason it is important to college hockey is the ability to make this entire event more than just hockey games.
Any team that heads to Belfast won't just play in a hockey tournament. They will immerse themselves in a different culture that is so steeped in history. It seems that every team that goes there now learns a lot from previous teams. When I went to the inaugural tournament to call the games for UMass Lowell, we spent five whole days there. Now that number is up to six or seven and teams spend time not just in Belfast, but also Dublin, a very different cultural experience.
As for Belfast itself, the fans there embrace the event. They pack great crowds into SSE Arena and create an atmosphere that most of these players won't see again.
This year, the on-ice product didn't disappoint. Union advanced to the title game in a shootout over Yale. And then beat Boston University to claim the Belpot. Their defense – and as you mentioned, the goaltender – was dialed in. Union won a title by scoring just three goals in two games. That's not something you're going to see too often.
I am glad to hear there will at least be a Year 5 for this event and possibly an already-planned sixth. It's a special event for teams in Hockey East and the ECAC and certainly a special event for Belfast.
Paula: Closer to home, two teams whose conference schedules start late picked up their first league wins of the season.
Harvard beat Cornell 4-1 at Madison Square Garden, and the Crimson continue to average nearly four goals per game through eight played. Michigan State then snapped a six-game losing streak with a 4-2 road win over Minnesota – both the Spartans and the Gophers are struggling this season.
In a conference upset, Bemidji split with Minnesota State by taking Saturday's game 4-2. The Beavers are strong defensively and allowed four goals against the Mavericks in the series. And Bentley beat Boston College 4-2 at Kelley Rink.
So much of what transpired otherwise felt like what might be business as usual for this season. In the Big Ten, two teams with top offenses, Penn State and Ohio State, split a pair of games in Columbus while two teams that are still defining themselves, Wisconsin and Michigan, played two tied games in Ann Arbor.
Massachusetts extended its win streak to eight games with an overtime win against Princeton, Denver defeated and tied Providence, and Quinnipiac and Northeastern have now won four in a row.
No one else in D-I hockey has more than two consecutive wins.
Am I wrong in thinking that we're beginning to see a pattern to the season, with top teams defining themselves as such and so many other teams playing good but equally matched hockey?
Jim: When I look at the top 10 of last week's poll, I agree that many teams seemed strong in their performances and thus further defined themselves as the top teams.
But the bottom was a mess.
Teams that stood out (Quinnipiac and Michigan and add in ranked Clarkson) saw the benefits in the poll. But otherwise, there weren't many dominating performances from the middle to bottom of the top 20.
I guess that makes me wonder if this will be a year of the haves and have-nots or will it simply be a wide-open year. I feel like the top teams feel head and shoulders above many and those teams, particularly St. Cloud State, Minnesota Duluth and UMass, are just a little better than many others.
Do you agree?
Paula: Yes, I do – and you articulated it far better than I did, because that's exactly the dynamic I was trying to define.
I know that we have the whole second half to play, but it seems as though we're seeing a few top programs solidifying their claim to the top of the poll while everyone else is going to struggle.
I guess the second part of that picture, though, is that the mess at the bottom isn't necessarily because there's bad hockey being played, but because there may be more really solid teams playing a lot of other teams that are really solid. We saw this at the start of Atlantic Hockey and WCHA play, and now I think it's what may be shaking out as the season progresses.
Then there's just a lack of consistency in places that boggles the mind. Look at North Dakota's wild game against Alaska Anchorage. Trailing 3-1 going into the third, the Fighting Hawks scored three goals within a span of 1:24 midway through the period to take a 4-3 lead and win the game. This was after the Fighting Hawks accidentally put the first two Anchorage goals into the UND net. North Dakota's two wins over Anchorage snapped a three-game losing streak for the Fighting Hawks.
I think that North Dakota is one of those middling teams that is too talented to stay down for long, and maybe that kind of engineered reversal of fortune – all within one game – can help the Fighting Hawks create a little luck for the second half. Maybe.
Jim: I think trying to prognosticate has gotten much more difficult in college hockey.
Trends aren't trending.
Streaks are streaky.
But back to the original point, I do think that we have three very good, maybe even say special, teams at the top of the poll. Minnesota Duluth and St. Cloud State have a big-time stranglehold on the NCHC and UMass is playing the best hockey in Hockey East.
Does this mean the dominance will simply remain the whole season? History says no.
But that said, fans of all three programs should block out NCAA regional weekend as it feels almost certain those teams will be playing.