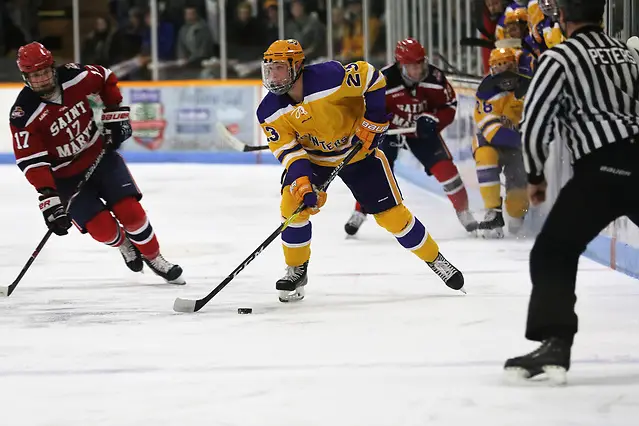 T.J. Roo is asked about the competitiveness between he and his brother Carter, particularly on the ice as teammates at Wisconsin-Stevens Point. He is quick and to the point with his answer.
"I win all of the time," T.J. said with a laugh. "But no, it's competitive. You don't want to lose to anyone, and you really don't want to lose to your brother. Every time he gets the best of you, the next time you go 20 times harder."
Carter agrees.
"We do a lot of five-on-five stuff in practice, and with us both being centers, we take draws against each other, and a lot of times it's more intense than the games. We hate losing, especially against each other."
But they couldn't have asked for a better situation to be in this season.
T.J. is a senior transfer from Bemidji State and in his first season with the Pointers. Carter is a sophomore and was with the Pointers a year ago during their run to the Frozen Four. They haven't been on the same team since high school.
"We played together for a couple of years, and that was a lot of fun," Carter said. "Being on the same team again brings back a lot of memories. It's fun to see how he's developed and for him to see how much I've developed as a player. We work really well together."
T.J. said the primary reason he transferred to Wis.-Stevens Point was to play with his brother.
"It was one more chance to play with Carter; that was my main reason for coming over here," T.J. said. "I wouldn't want it any other way than playing with my younger brother."
Natives of Minnesota, the two grew up playing hockey. They learned a great deal from their father, who played at Bemidji State and helped lead the Beavers to a pair of national titles. Their father was a defenseman and helped T.J. and Carter become the players they are today.
"I would say my hockey sense is the thing I learned from him,"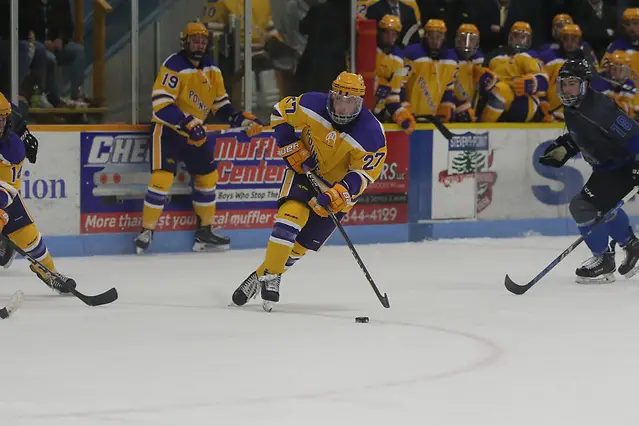 Carter said. "My dad taught me how to read plays and make plays."
T.J. feels the same way.
"He taught us how to beat defensemen; he taught us to outsmart and outwit the opponent," T.J. said.
The brothers have been key contributors for a Pointers team that is 8-0-2 and ranked No. 1 in the nation. Carter is tied for second on the team in points. He leads the Pointers in goals with five and has also dished out three assists.
T.J. has punched in three goals and has come through with two assists as well. They are part of a team that features 17 players who have racked up three or more points.
"It's nice not having to count on just one line. We know others are going to step up," T.J. said.
This is a Wis.-Stevens Point team that gets every opponent's best shot. It comes with the territory of being one of the nation's best teams. Carter welcomes the challenge.
"It means we have to come out every night and play our best. We can't take anyone lightly," Carter said. "With us getting everyone's best, it tests us, and being in those situations pays off at the end of the year. It helps us play our best hockey at the end of the season."
T.J. loves having the opportunity to play on the top-ranked team in the country and knows the Pointers have what it takes to go the distance.
"We just have to keep playing as a team," T.J. said. "We have a lot of talent and have confidence, and if we play together, we know we can conquer any task."
Carter is hoping he and his brother get to experience winning a championship together.
"Even though we are only on this team together for a year, it makes it special," Carter said. "And winning a national championship with him is on the top of my list. Hopefully, we can do it."
On a roll
The Concordia Cobbers are unbeaten in their last three games, including a shutout win of Bethel Saturday night in MIAC play.
Jacob Stephan has gotten the job done between the Pipes for the Cobbers. His performance against the Royals marked the second time this season he has recorded a shutout. He owns a goals-against average of 1.98 and sports a 3-1-1 record. His save percentage of 93.8 ranks third in the MIAC, as does his GAA.
Offensively, Mario Bianchi leads the way. He has scored a goal in all eight games this season and leads the league in points with 15. The Cobbers are 4-2-2 on the year.
Green Knights back on track
St. Norbert has won its last two games and is now 6-2-1 on the season.
Ryan Bontorin started his first ever game in goal at the college level in Saturday's 4-1 win over Neumann and stopped 27 shots. Bontorin gives the Green Knights depth at goal. T.J. Black has played in eight games and has given up just 11 goals while making 175 saves.
The Green Knights remain balanced as usual. Peter Bates leads the way with three goals and six assists. The Green Knights have scored 27 goals in all while allowing only 12.
In the Poll
Three of the top five teams in the country still hail from the west region. In addition to Wis.-Stevens Point at No. 1, St. Norbert and Adrian are third and fourth, respectively. Wisconsin-Eau Claire is seventh, Augsburg is 11th and Marian is 14th this week.