Northeastern head coach Jim Madigan has agreed to a multi-year contract extension that will keep him at the school through the 2022-23 season.
In addition, Northeastern associate head coach Jerry Keefe also reached an agreement through the 2022-23 season.
"Coach Madigan has guided our men's hockey program to new heights during his eight seasons," Northeastern athletic director Jeff Konya said in a statement. "Under his leadership, along with Coach Keefe and the rest of the coaching staff, Northeastern is known as one of the top men's hockey programs in the NCAA and one built for a national title run."
"Moreover, their student-athletes' performance in the classroom and presence in the community is something we are extremely proud of," added Tim Duncan, deputy athletic director for external affairs and the men's hockey sport supervisor. "We're ecstatic to have Coach Madigan and Coach Keefe part of the Northeastern family moving forward."
Madigan is in his eighth season as head coach.
During his tenure, Madigan has led Northeastern to its first Hockey East championship and Beanpot championship since 1988, two NCAA appearances, the first Hobey Baker Award winner in program history (Adam Gaudette in 2018), and seen 13 of his players drafted by NHL teams. Madigan also played a key role in establishing the first endowed head coaching fund in university history with the creation of the Fernie Flaman Endowed Men's Hockey Coach Fund in 2017.
"I've been privileged to work at my alma mater in various capacities over the years, but nothing has brought me more pride in my professional career than serving as the Fernie Flaman men's hockey coach," Madigan said. "We're incredibly proud of the culture we've established within our program and what we've accomplished in recent years, but there is still a lot of work to be done. I'd like to thank President Aoun, Provost Bean, Madeleine Estabrook, Jeff Konya and Tim Duncan for providing our team with the resources to succeed and represent our prestigious institution at the highest levels."
Madigan played for the Huskies from 1981 to 1985 and was an assistant coach at the university from 1986 to 1993.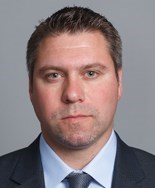 Keefe also is in his eighth season on Huntington Avenue, and fifth as the associate head coach. In that time, he has established himself as one of the top assistant coaches in the nation, and was recently named as an assistant coach for the United States National Junior Team that will take part in the 2019 IIHF World Junior Championship in Canada next month.
"Over the last eight years, Northeastern has become my home," Keefe said. "I'm very grateful for the opportunity to continue building on the strong foundation that we've established for our program as we continue to work towards our goals. I'm very excited to work alongside Coach Madigan, the coaching and support staff, and our dedicated student-athletes well into the future."