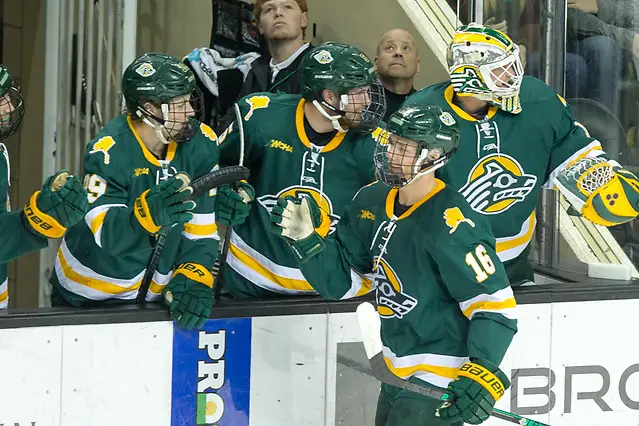 The college hockey world is small, and updates of games in-progress usually make the rounds on social media pretty quickly, especially if they're as shocking as one score in particular from Saturday night's action: Alaska Anchorage led North Dakota 3-1 after two periods in Grand Forks.
The Seawolves, winless in their last nine games, were leading the Fighting Hawks in possibly the toughest arena in the country and, at times, were absolutely taking it to the home team. The scoreline turned some heads, but ultimately it wasn't to be — North Dakota scored three third-period goals en route to a 4-3 series sweep. The Seawolves extended their winless streak to 10.
Although a loss is still a loss, first-year Alaska Anchorage coach Matt Curley still saw the weekend series as a net positive for the rebuilding Seawolves — especially for a team for which wins and losses aren't necessarily the main goals.
"We have a few goals outlined this year heading into the season, none of which included wins and losses," Curley said Tuesday afternoon from Anchorage, where the Seawolves returned after spending 13 days on the road in Marquette, Mich., and Grand Forks. "One of the big ones for us was just to continue to get better. I firmly believe that we're a better hockey team now than we were when we first took the ice back in September. That's a good thing. That tells me we're on the right track."
The Seawolves, 1-10-1 overall and 0-7-1 in the WCHA, lost to UND 5-2 the night before and were coming off a weekend against Northern Michigan in Marquette in which they lost 3-0 and 2-1. The five goals they scored in the series against North Dakota were the most they'd put in the back of the net since the opening weekend of the season when they split with Colorado College at home by scores of 10-2 (a loss) and 4-3 (their lone win).
"It was nice to get on the scoreboard," said Curley. "A few of those goals were fortuitous bounces, certainly, but we've said to our guys that good things will come if you continue to do the right things. We were rewarded with our efforts on those goals."
Three of those goals this past weekend came from Nicolas Erb-Ekholm, who doubled his points tally on the weekend to become UAA's leading scorer with four goals and two assists. Eric Sinclair and Nils Rygaard also scored for the Seawolves, who have scored 15 times in 12 games.
"We have struggled to score, and it's something every team wants to work on. It was nice to see us get a few and hopefully we can build on that in the coming weeks," Curley added.
But how does a coach get his players motivated to play well for a long-term rebuild? The Seawolves haven't had a winning season since 2013-14 and haven't made a WCHA playoff appearance since then either. They are coming off a four-win campaign in 2017-18.
Curley says having leaders like Erb-Ekholm and Rygaard helps the younger players buy in to what the new coaching staff is trying to do. He said all the players on the roster know "it's a time of change," as Curley put it, and he wants players who are going to commit even though they might not necessarily see the fruits of their sacrifices.
"We're very open and honest with them," Curley said. "We've talked very candidly about it. I'll use Nils and an example. Unfortunately for him, he's not going to be able to see the benefits of what he's doing first hand, but he can take solace and pride that when he looks back on this program three, four years down the road, hopefully we've turned a corner and are headed in a positive direction.
"And the younger guys, it's to build for themselves. It's not always easy losing, but we do the best to find small victories in our defeats. We've been able to find lots of them despite our wins and losses."
One potential "win" for the Seawolves this season is that they have had an opportunity give playing time to all three of the goaltenders on their roster. With Olivier Mantha graduating last season, UAA had lots of inexperience between the pipes. Brody Clayes, Kristian Stead and Kris Carlson are all sophomores and had a grand total of seven collegiate games between them coming into the season. All three have had playing time so far this year.
"It's a blessing in regards to having a hard decision to make every night in terms of who gets to play and who doesn't — all three are capable of being starters in our league, I believe," Curley said. "We have a long ways to go, not just this year but in the years ahead, so it's giving them a chance to show what they can do and a chance for us to evaluate what they can do.
"They've allowed us to stay competitive despite our lack of scoring, lack of shots, offensive production. Having a rotation of three is unique, but we're just going to let them play it out."
Even though the Seawolves are struggling right now, Curley thinks some of what they're doing now will pay off down the road — hopefully even this season. The team has this upcoming weekend off before embarking on another 12-day trip, this time to Minnesota State and Bemidji State. After that, they have another road series (at Omaha) before they finally return home in early January. They'll have 10 home games in the new year — something Curley hopes will translate to more wins, too.
"You know what, there's still a lot of league games left," said Curley. "It would be nice to be able to pick up a few more points here with a few more home games and get more even with the teams in the rest of our league. We know we're capable of it, it's just a matter of being able to string together a few good efforts and give ourselves a chance."