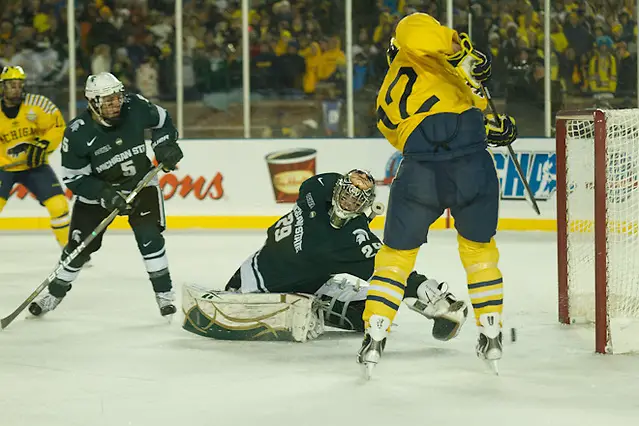 As the crow flies, 50 miles separate Munn Ice Arena in East Lansing, Mich., and Yost Ice Arena in Ann Arbor.
It's about a 70-mile drive. For the unique perspective of the teams that call each of those rinks home, the geographic proximity creates an incalculable virtual distance.
When the Spartans and Wolverines take the ice in their home-and-home series this weekend, the teams will be meeting for the 320th and 321st times.
Or maybe it's the 315th and 316th times. There's no way to be sure.
The historical friction between Michigan State and Michigan is so acute that the two programs can't agree on the number of times they've played each other. According to Michigan State records, the teams first met Jan. 11, 1922. The Wolverines say otherwise, pinning their first match to Jan. 24, 1925.
According to the Spartans, Michigan leads this series 163-134-22, but the Wolverines say their record against Michigan State is 159-133-22.
If you really want to understand the how these two programs feel about each other, said Michigan coach Mel Pearson, look no further than the game the teams played Feb. 16, 1991, at Joe Louis Arena.
"It was a bench-clearing brawl," said Pearson. "It's not pretty, but I think it speaks to the intensity of the rivalry. Remember, Red and Ron got suspended for that game."
Red and Ron, of course, are legends of college hockey, former Michigan coach Red Berenson (1984-2017) and former Michigan State coach Ron Mason (1979-2002), men whom both Pearson and his Michigan State counterpart, Danton Cole, referenced when discussing this series.
"There's that competition between the schools," said Cole. "And I think that's natural, but Coach Mason and Coach Berenson had two real good programs for a long time here and I think that escalated the rivalry."
Escalated and sustained, including that bench-clearing brawl that earned each coach a suspension from the CCHA, the league to which each team belonged in 1991. Then there was the Cold War game inside Spartan Stadium in 2001 and the Big Chill at the Big House in Ann Arbor in 2010, both of which set world records at the time for attendance at hockey games.
And there were consecutive years when the teams swapped CCHA playoff championships in games against each other, with Michigan State winning in 2001 and the Wolverines returning the favor the following season.
"I was here when Michigan State and Michigan were both tournament teams, really good teams, when Ron was coaching and Red and I thought it was great," said Pearson, who spent 22 years alongside Berenson on the Michigan bench, first as an assistant and then as associate head coach. "I thought the rivalry was healthy. If you want a good, healthy rivalry, we need to both be good teams, so that's a good thing. It's a great rivalry, regardless, but I think when we're both better teams, then there's more at stake, more on the line, and that just adds to the intensity of the rivalry."
In his first year as Michigan's head coach last season, Pearson coached the Wolverines to a 22-15-3 record and their first Frozen Four appearance since 2011. It was the reboot that Michigan fans had been craving. Everyone in Ann Arbor hoped that the Wolverines would keep rolling this season, but this year's Michigan team is young and learning. The Wolverines head into the weekend with a record of 6-5-2.
"Inconsistent is the best word," said Pearson. "We're young and inconsistent. We've got one senior up front. We're the fourth-youngest team in college hockey. We just seem to never grow old."
Pearson then laughed – "I wish that happened to me."
"I'm just waiting for the day when we have six seniors up front and three on the blue line and one in net or something," added Pearson.
Aside from the wins and losses, on paper the Wolverines' stats look much the same as they did last season, with a slight increase in goals allowed. Pearson said they're still figuring a few things out. Last weekend, Michigan tied Wisconsin at home twice. The week before that, they split a two-game road series with Penn State and before that, split two games at home with Notre Dame.
"At Penn State, we had two real good games there," said Pearson. "We beat Notre Dame in a real good game there, played a great first period against them the second night and then everything went south."
Through 13 games, the Wolverines are doing everything by committee. Sophomore forward Josh Norris leads the team with eight goals and 16 different players have scored at least a goal. In net, junior Hayden Lavigne and freshman Strauss Mann have logged similar minutes, but they're not being rotated consistently. Neither has established himself as the starter yet.
"I think we've shown flashes of being a real good team," said Pearson. "I think we've shown flashes of being a real average team and the inconsistency you get with five, six freshmen in the lineup and a ton of sophomores."
Down the road, the Spartans are likewise looking for consistency, having won their first Big Ten game of the season in last weekend's road split with Minnesota.
"We've got to be ready, we've got to be focused and committed," said Cole. "Last Friday night, we were pretty average and we paid the price, and Saturday, we were very focused and we reaped the rewards. Again, that's how this league is going to be. If we play hard and play the way we're supposed to, then we've got a chance."
Cole, in his second season as head coach at Michigan State, inherited a slightly different situation than the one Pearson found in Ann Arbor. The Spartans were 7-24-4 with three Big Ten wins in 2016-17, the year before Cole was hired. Last season, Michigan State went 12-22-2 overall with six wins in conference play, and the Spartans are 5-7-0 entering the weekend against the Wolverines.
"We're obviously in a building situation and we've got to amp up for every game, every weekend, but I think with the Michigan series, there's a little bit more to it," said Cole. "Every team has their own challenges, but I think the guys are tired of hearing me say, 'Hey, this is a pretty good hockey team we're playing,' and Michigan is. We've seen that they can win some two-one games and when it gets into a higher-scoring game, they can as well. There's dangerous guys up and down their lineup."
Even though the Spartans are only scoring 2.83 goals per game, Michigan State has a line that any team in Division I hockey would covet.
Juniors Taro Hirose and Patrick Khodorenko and sophomore Mitchell Lewandowski have accounted for 49 percent of Michigan State's points this season, with the trio combining for 19 of the Spartans' 34 total goals. Khodorenko leads all Spartans with nine goals, five of them on the power play.
The Wolverines were 3-1-1 against the Spartans last season. The teams exchanged shutout wins in early December, each winning at home, followed by 6-4 Michigan win at the Great Lakes Invitational, a 1-1 tie at Munn Feb. 9, and a 3-2 Michigan win the following night in front of over 19,000 fans at Little Caesars Arena in Detroit.
"Danton's done a good job there," said Pearson. "I think they had some good players there already, and he's just come in and put his own stamp on the program and they're going to continue to get better. It takes time, and it might even take more time now just because the way the recruiting is to get your program up and running. I don't think there's any quick overnight fix and I think they're going about it the way they need to and want to. They can beat anybody on any given night."
Cole has a player's perspective on this rivalry. He was raised in Lansing, Mich., and played for Michigan State from 1985 to 1989.
"I've been pretty lucky that I've gotten to do a lot of things that I dreamed about doing," said Cole. "One of those things was to play in those games, to battle with them, and to represent Michigan State. For me, it was pretty high on the list that I was fortunate to do.
"You hope that through the series, the players get that feeling. That's really what college sports is about, about games like this and it's about the guys in the room and banding together and trying to accomplish something great as a group. This is a big part of it."
The Wolverines and Spartans renew their rivalry Friday at Munn Ice Arena at 7:05 p.m. Saturday's rematch at Yost Ice Arena begins at 7:35 p.m.