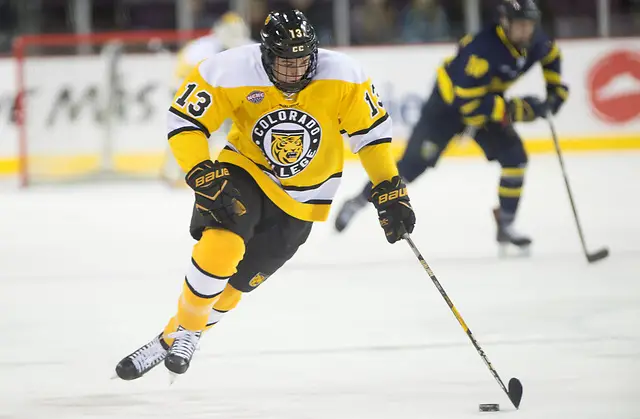 The first half of the season has been one of contrasts for Colorado College.
After starting 4-1-1, the Tigers entered a brutal conference stretch that included series against St. Cloud State and Minnesota Duluth, the top teams in the NCHC. They followed that with a series against resurgent Miami. In those six games, the Tigers went 1-5.
CC was off over Thanksgiving, and that break may have allowed them to refocus, as they tied and beat Omaha last weekend and looked more like they did back in October.
"We talked a lot about believing in ourselves and playing with that confidence and getting a little bit of that swagger back we had in the beginning of the year," said Tigers coach Mike Haviland. "We had leads against St. Cloud and we gave them up, and then we had to battle back against Miami. We felt we were close, we were just not consistent for the 60 minutes as we need to be in this conference."
Against Omaha Friday, CC rallied from a two-goal deficit, eventually taking a 3-2 lead in the third on a goal by Troy Conzo before giving up the tying goal at 17:40. Neither team scored in OT, and Omaha got the extra point in the shootout. Saturday, CC came out with much more focus, jumping all over Omaha early and building a 4-0 lead by the end of the first period, eventually winning 6-3.
"It was a huge weekend for us," said Haviland. "We felt we played pretty well on Friday night, well enough to win. Saturday I thought we just continued right with where we left off and played a very good road game. We put two good weekends against conference teams back-to-back. It's a huge confidence boost I think for this team."
One thing that jumps out about the Tigers this season is that they are getting balanced scoring. The team ranks 18th nationally in team offense, averaging 3.21 goals per game, but top players like Nick Halloran and Mason Bergh are down in production from last year, both hovering around .750 points per game.
Haviland knows that his teams needs more production from that top line, but is happy with the secondary scoring.
"I think that line was so good last year, and I think you've got to remember everybody knows who they are and I think people check them," said Haviland. "I think people are matching 'D' against them on the road as they can when we're at home, and I think at home they're really making sure they get the right people out against them, so they're going to have to fight through some things and it's not going to just be easy for them. I like the way they're playing lately. They're getting chances, and we need them to produce obviously, but I really like the way our secondary scoring with (Alex) Berardinelli and (Trevor) Gooch and (Christiano) Versich is starting to come now.
"I think we're showing some more of our depth that we do have on the team, and maybe we didn't have that last year. I think if Nick and those guys can keep elevating their game, and we have the secondary part of it, I think it's a remedy for success."
One area CC can stand for improvement on is the special teams. The Tigers are 36th on the power play, clicking at only 17.33 percent, and 54th on the penalty kill, succeeding less than 75 percent of the time.
"It's something that we work on every day not only on the ice, but with video," explained Haviland. "We feel we have the talent on the power play to be at a higher percentage, and it could be a difference in games. I think if you look at the losses we've had, we get a power play late against Miami and we don't we don't execute, and they get a power play and they score in overtime and we lose. So I mean that's how fine a line it is, and teams can win or lose games. We've got to keep working at it. We're trying some different looks, different personnel. We started off great, both of them, and again they go in ups and downs throughout the course of the year, but it's something that's going to win and lose games, especially in the second half in this conference when things tighten up."
On the plus side, CC is one of the least penalized teams in the country, averaging only eight minutes per game, and Haviland credits his players with making an effort to stay disciplined.
"We thought we took too many penalties the last couple of years," Haviland said. "We talked about undisciplined penalties being selfish. It hurt us over the years. We were in games and all of a sudden we take a retaliatory penalty, so we've tried to address that. I think the guys have done a great job with that. The other thing I think is our speed, it's just better. I think years past, again not to knock anybody, but I think we didn't have the speed in this conference and we were hooking and slashing and tripping guys when trying to catch guys, and now we can skate with guys and our guys have done a good job of keeping sticks down and just moving their feet to try to get above guys and be in the right position."
After four weekends of NCHC action, CC now has three of nonconference play that could be a big difference in getting into position for the NCAA tournament. This week, CC is at home against Vermont, then the Tigers close the first half on the road against Arizona State. They open the second half on the road at Maine and Merrimack.
Haviland feels this is a key stretch for his players.
I think it's crucial, these six games for us," said Haviland. "We're at home against Vermont, a very good hockey team, but you're at home, and you've got to take advantage of being at home. You look at what we did in Omaha, we've got to keep building off of that and carry that into this weekend. Going into Arizona, tough building, they're playing extremely well this year. You have to have the mindset everybody does in college hockey, is your nonconference games you've got to play well because of the PairWise. You're looking at tough buildings on the road in Maine and Merrimack and then Arizona.
"Right now, we're going to worry about Vermont, who's a very good hockey team with a couple of wins against some big programs on the road, but I think if we take care of our own business and play the way we know we can play, I think it will help."