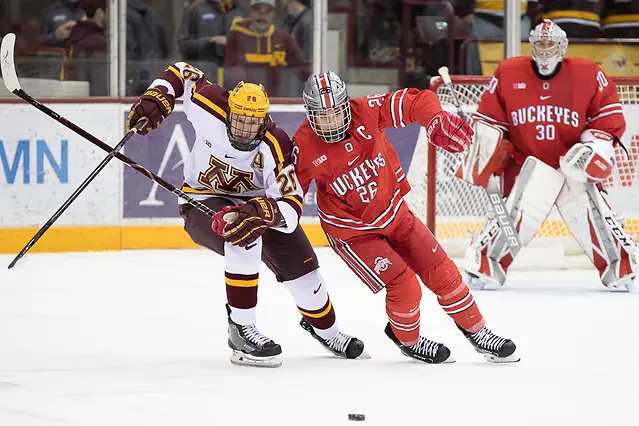 When the Big Ten announced its changes to overtime hockey at the start of the season, there was no way to tell that fans would be treated to so much three-on-three play before the end of the first half.
Every Big Ten team that played a conference game last weekend earned at least one tie, and the only B1G team that hasn't played to a draw in league action is Notre Dame.
Given the way this season is going, it's likely that all B1G teams will see games that are tied at the end of 65 minutes and in which extra points are decided in three-on-three play or a sudden-death shootout. So far, six games have outlasted 60 minutes of regulation and the five minutes of five-on-five, sudden-death OT that follows.
By comparison, nine conference games made it to the shootout stage of overtime in 2017-18.
"To me it just speaks volumes for our league," said Ohio State coach Steve Rohlik, whose Buckeyes tied Minnesota twice on the road last weekend and picked up the extra point each night in the three-on-three session. "I think that our league's off the charts. I think any of the seven teams can win on any given night, and I think it's so close. That's what it's saying. That's exactly what this weekend's telling you, how good our league is and how close everybody is."
The changes to the OT rules are not drastic, and NHL fans are already familiar with the format. If a game is tied after 60 minutes of regulation play, a five-minute, five-on-five period of sudden-death overtime ensues. If a team scores during that five minutes, it wins the game and earns three conference points.
When the game is still tied after those first five minutes of bonus hockey, the game is on the books officially as a tie in NCAA play, with each team guaranteed one point in conference standings. Then the teams play five minutes of three-on-three sudden death. The team that scores during that frame earns an extra point, or two total points for the contest.
If five minutes of three-on-three hockey result in no extra point, then the game goes to a sudden-death shootout, with the first team that scores earning the extra point and two total points for the contest. The shootout goes as many rounds as it takes for someone to get that extra point.
The Buckeyes earned four of six possible conference points in Minnesota last weekend, but they were oh-so-close to winning outright Friday night. Leading 2-1 with just over two minutes to go in regulation, Ohio State found itself down a man and at 19:19, Rem Pitlick scored for Minnesota to send the game into OT. Matt Miller found the net in three-on-three play Friday.
"Obviously disappointing for us to give up the goal in the last minute of the game to tie it, but you know, certainly with the players and on the ice, it feels like a win," said Rohlik. "Any time – I don't care if it goes five-on-five or three-on-three or whatnot – we score, they didn't, it feels like a win."
A tie that feels like a win. That can do a lot for a team.
"I think that's important for our guys," said Rohlik. "That's what you play for. At the end of the night, we're playing the game for a winner and that's what it feels like to our guys. Everybody understands that it goes down as a tie, and it's important in our league for extra points."
Michigan has played three games that have gone beyond the five-minute, five-on-five sudden death, two of which were decided by shootout. The Wolverines tied Wisconsin twice at home Thanksgiving weekend, scoring in the three-on-three for the extra point Friday and settling for one point in Saturday's match when Wisconsin scored in the shootout. Last Saturday, the Wolverines tied Michigan State, with Brennan Sanford getting the extra point for the Spartans in the shootout.
"I like the format, I really do," said Michigan coach Mel Pearson. "It's a lot of hockey, to go from five minutes of overtime to five minutes of three-on-three to the shootout, so it's a lot of hockey. It's exciting. I think the fans were entertained, especially on the three-on-three."
"We all enjoyed it," said Michigan State coach Danton Cole. "It's funny, you get to the shootout and it's a point in the Big Ten standings, but you feel a lot better afterwards winning the shootout, even though it doesn't make a huge difference nationally."
Both Rohlik and Cole said that their teams weren't sure what to expect in the new OT format, especially in three-on-three play.
"It just happened to be our first three-on-three on the biggest rink we play on [in Minnesota], so you didn't know going in what was going to happen," said Rohlik. "As a coach, you kind of have an idea of who you want to use. Going into it, I just told our guys that we really just had to worry about puck possession, especially on the big sheet and just wait for our chance. We just didn't want to get beat by making a bad turnover or bad line changes."
"It was interesting," said Cole. "The five-on-five was good. It was up and down. Both teams played real well. There were some exciting moments. The three-on-three, I think both teams' guys were zapped. You saw a couple guys on both teams that are really, really good skaters and they were lugging up and down the ice and you knew they were tired.
"The three-on-three is exciting. Everybody likes it and that's why the NHL does it. I enjoyed it. I had fun. Guys were up on the bench. I liked the way they were hanging together and I liked their confidence."
Rohlik said that the allure of the new format is twofold. "We're trying to follow what the NHL does. It's certainly entertaining and doing what the best league in the world does is important. I think our guys were kind of excited about it."
Pearson said that Michigan having played three of its last four games past 65 minutes is indicative of a very competitive conference. "Our team's playing in close games. The Big Ten is going to be close every night, and you have to make sure that you have opportunities to score."