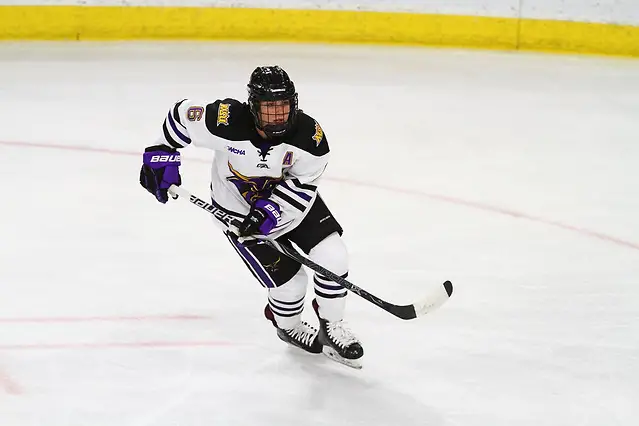 It takes success to build success. It takes success to build confidence. It takes success to recruit players. In his fourth year of coaching at Minnesota State Mankato, John Harrington and his squad have started to find success, and they've found just how lucrative that can be.
"You're trying to be successful and trying to instruct people in what it takes to be successful. Your players have to learn that's possible. That they know what kind of effort it takes to be successful, what kind of consistent effort," said Harrington.
Whereas in past seasons his team may be been content with a win or hopefully for a win or some other positive outcome, success has bred a new attitude around the program.
"Now there's a demand. There's a demand in the locker room that says this is the way we need to play if we want to be successful. I think that's a learned thing. Our team is learning from that," he said.
The women who are seniors on this year's Mavericks squad are a diverse bunch. Harrington calls team points leader Corbin Boyd a complete, 200-foot player who leads by example. Jordan McLaughlin is a team captain this season and is second on the team in points. She joined the Mavericks as a walk-on her freshman year, and while Harrington said her contributions are showing up on the score sheet, she provides much more to the team that will never be tallied. Rebekah Kolstad is a Mankato native that transferred to her hometown school when North Dakota shuttered their program; she leads the team in goals.
They all came onto a team that had won three games the season before they came on campus and won just three more their freshman year. It's been a steep climb, but Harrington credits the leadership of the seniors for the improvements he sees in his players both on and off the ice.
"Our veteran players, our players that we look to for leadership, since the end of last year, did a great job of directing our team and bringing our team together," he said. "They were so receptive of our new group of freshmen, which we think is a very outstanding class. Those things together have really made a difference. They've had a confidence about themselves that we could start making some progress as a hockey team and as program, and it's certainly shown up this year."
Many of them started their career on campus the same time that Harrington did. They weren't recruited by him and didn't know him, and he said when he first met with his new squad he told them he had as much to learn from them as they had to learn from him. Other than a short bit of volunteer work, Harrington had not coached women. It's been a learning process for him and his team, but they've managed the steep learning curve together and come out stronger in the end.
"They've come a long way, and that's what you ask for as a coach," said Harrington. "You want to see them develop. That's what I feel my job is. They've done a great job of working at their game and developing their game and becoming leaders for us. You hope you have players like that, that are continually trying to improve themselves as players and as people."
Though Harrington and his staff are on the recruiting trail, it's the Mavericks players themselves that sell the program to potential new players. The current team's ability to see the potential is what has excited recruits and helped MSU land recruiting classes for this year and next year that look to be immediately impactful.
It's difficult to garner the interest of the sort of high-end talent that can help reshape a program without previously having had success. It takes a specific type of player that can look at lagging program and see an opportunity, and those are the players Harrington has been looking to bring to Mankato.
"You get a chance when you have players that are committed to being better and want to make a difference," he said. "Those are the people we're looking for. When you have some of those and you have a little bit of success, that makes others interested."
There is no secret for how the Mavericks have won games this year, especially against top teams, said Harrington. It's just that his team has the confidence that they've pushed a team like Ohio State in the past, and they know when they step on the ice now that they can compete. It's all in the attitude that Minnesota State has when they take the ice now.
"Our expectations of what we accomplish in a game and if we're successful in a game have been raised," said Harrington. "With what we've accomplished, things are changing a little bit, and I think our team gets that. They understand that and are striving to be a better team."
Winning games and hanging competitively with some of the top teams in the nation have done wonders for what this team believes it can do, but they aren't the only confidence boost responsible for their improved play. The play of freshman goalie Abigail Levy, who won the starting spot over more experienced players, has had a huge impact on the Mavericks' season. Her 1.36 goals-against average is good for fifth in the country. Her .956 save percentage is third in the nation. Her five shutouts are the most in the country. The Mavericks are allowing just 1.38 goals per game this season, making them the third-toughest team defense in the land. Compare that with last season, when Minnesota State finished 36th of 40 teams, allowing 3.63 goals per game.
At 6-foot-1, Levy is a solid presence in the net who Harrington said sees and thinks the game extremely well. A graduate of the venerable Shattuck-St. Mary's, Harrington admitted he wasn't entirely sure how much of Levy's stats were padded by the quality of shots she was seeing or the defense in front of her, but she's made the transition to the college game incredibly well, even if Harrington joked that she saw more shots in preseason that she probably saw all year at prep school, but she's been more than up to the challenge, and knowing that they can be more aggressive and less focused on the blue line has made a difference in what Minnesota State can do on the ice this year.
"She covers a lot of net. She can see over people. She can cover a lot of ground moving laterally across the net, too," said Harrington. "She's been a tremendous addition to our team. Watching her in practice, her game has gotten sharper. It's a crisper game than it was. Her play has given our group a lot of confidence that we can be successful as a team."
In a lot of ways, there's nowhere to go but up for MSU, but it's a steep hill to climb in the WCHA, where four different teams have been nationally ranked and the top two teams in the country have been holding court since many of these players first put on skates. The Mavericks have made the first steps, but further success and mobility up the conference standings is not going to be easy. Being so close to such venerable and successful programs just gives Minnesota State something to aspire to, said Harrington. That programs like Wisconsin and Minnesota have been so consistently good is motivation to get to that same point. It's a challenge, but one he and his players are ready to take on.