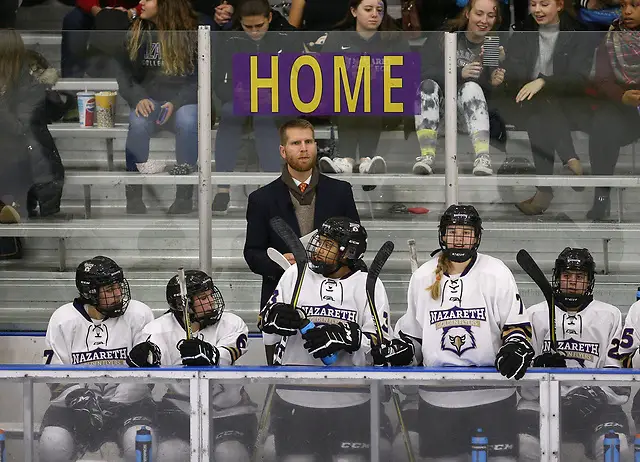 In their inaugural season, the women at Nazareth College are having quite the year. Leading the country in offense, the Golden Eagles have scored 73 goals in 10 games for a goals-per-game average of 7.3. The team has yet to lose a game, having a record of 10-0. One would think that with such a hot start to the season the women would have an end goal such as conference champions or reach the NCAA tournament. However, coach Chris Baudo said such an overall goal is not the main driver for this team's success.
"The team created their own set of goals, but at the core, we want to focus on strengthening the family culture within our locker room/program, and we want to know that we improved just a little bit every day," said Baudo. "We focus on process-oriented goals, rather than outcome-oriented objectives."
When asked about the success of the team and their potent offense, Baudo said the women love playing for each other and creating an atmosphere where players love to work hard.
"The girls are committed to the ideal of a family culture and playing for one another. They compete hard in all three zones and push each other to be their best daily. We simply want to play fast and aggressive while remaining responsible. We want our players to be creative and have fun when they possess the puck. Without the puck, we want to compete hard within our structure to create turnovers and get back on the offense."
The attitude and effort every member of the team brings daily is shaping the program for success in the near and distant future. Baudo elaborates further on the team's attitude
"We sincerely attempt to arrive at the rink ready to work hard and have fun. We want hard work to be fun within our culture. We are focused and diligent in our preparation, but we also balance our intensity (to be our best selves) with an environment where laughter and enjoying each other proves equally important. We, players/coaches/training staff, love what we do and who we work with every day. We are passionate about excellence, but more so we agree that its (excellence) definition is rooted in how we approach each day, rather than any result."
Hailey Redders, Keely Rose, and Emily Kromer are stand out players on the stat sheet for Nazareth. Redders currently leads the team with 19 points. Not far behind, Rose and Kromer have 18 and 17 points respectively. Although these players have found great success early in the year, Baudo made it clear that these women put team first.
"Each of the girls you mention are incredibly humble and team driven," said Baudo. "They never focus on stats, but instead take more pride in their own work ethic — willingness to recover above the puck, block a shot, win a battle on the wall. Their efforts have been rewarded on the score sheet, but they always see themselves as a small part to the greater good. This approach certainly can be infectious and has helped our team even more than the point production.
"It sounds cliché, but it truly is and will always be a team effort. We want to achieve excellence and find success as a collective. Each of our players impacts the team in their own way — practice habits, culture setting, locker room leadership, within the school community. We believe that balance is part of this recipe for success, and it takes many different personalities to create one's culture. We love the kids we are fortunate to have, we appreciate and acknowledge their efforts, and we, as coaches, simply want to do everything we can to create a great experience that provides them the best chance to be rewarded for their hard work."
Nazareth College is set to play ranked opponent Elmira College Friday and Saturday, Dec. 14-15. Baudo is assured that the status of success Elmira carries will not impact his team, and the attitude of the Golden Eagles will not waiver.
"We approach every game the same. We focus on preparing to the best of our ability and approach each game confident in that knowledge. We always will believe in ourselves and each other, and that approach will not change, regardless of our opponent."
It will be interesting to see how this upstart team performs against a high-caliber team such as Elmira.