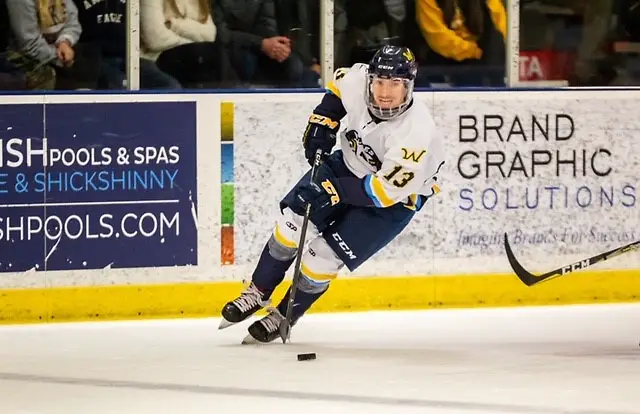 A close look at the UCHC standings sees the usual logjam at the top where five teams are separated by just a single point. Sitting at the top with a game in hand over several key competitors is the surprising first-year team from Wilkes University, which continues to demonstrate their ability to play quality hockey against some of the best teams in D-III. Heading into this weekend with key games against Utica and Nazareth at home, coach Brett Riley has his team focused on the here and now and likes the growing maturity of his young roster.
"We have 30 guys on the roster who came here to build something special," stated Riley. "Everyone wants to be part of building a successful program, and all of the players have taken the responsibility of working hard every day and holding each other accountable to be the best we can be. It is remarkable that a team that plays all but three freshmen every night has started to mature so quickly since our opening weekend back on October 26th against Canton."
After opening the season at 1-2-0 in three road games with a split against Canton and loss at Elmira, the Colonels are 5-1-0 in their last six games, with their only loss coming in overtime against Hamilton. Wilkes is also 5-1-0 in conference play, including last weekend's sweep of Manhattanville and Neumann on the road by scores of 5-3 and 5-4 in overtime, respectively.
"Last weekend was a big one for us," noted Riley. "We beat a good Manhattanville team as well as a Neumann squad that is a much better team than their record may show. I told the team that entering December we had a four-game season in the league. Last week, we did what we needed to do and now have new challenges this weekend starting with Utica on Friday night."
A quick look at the Wilkes roster and stat sheets show a lot of the young players contributing early in their careers to the success of the team. Freshman Donald Flynn leads the team in points with 16 in their first nine games, while classmate Tyler Barrow leads the team in goals with eight and power-play goals with five.
"I think I would say that I am most impressed with our depth and balance so far this season," said Riley. "We have four guys already with double-digit points and 13 different guys who have goals, including nine with at least two scores. Tyler has really settled in on the power play unit, and overall our top six guys have found some good chemistry on the ice early. We have a sign in the locker room that talks about our approach being a "wave after wave" style of play with everyone playing and contributing to the results on the ice. I am really happy with how we are playing for the full 60 minutes or more when needed, and we are outscoring our opponents in that important third period of games so far this season."
While the results have been very positive so far, Riley continues to focus on the maturation process for his young team, which has shown healthy signs of learning from their experiences early from just a handful of games this season.
"I think early on our guys ran the emotional gamut a little too much," stated Riley. "Going back to the games at Canton, we could see the body language on players that bowed their heads after we would give up a goal or maybe celebrate a bit excessively after we scored a goal. I think now it has become obvious on the ice and the bench that goal against or goal for, we just get back to work with a better focus and discipline and not so much on the emotional side. I am really pleased to see that transformation happening so quickly and expect that we will continue to evolve and grow each practice and game throughout the season."
Riley, a Hobart player and graduate, has great familiarity with many of the programs in the UCHC going back to his not-so-distant playing days in the former ECAC West. The young coach thinks that has helped with his preparation for games and the focus of his team in facing familiar foes and their styles of play.
"It definitely helps to know the teams and their facilities as we go through our schedule," noted Riley. "I know that Utica is bringing a highly skilled team that will pressure us in all three zones this Friday night. It will be great to play them in front of our very supportive fans and will certainly be a benchmark game for our program based on their most recent success in the league. We took care of business last weekend, and right now we are just focused on having another good practice tomorrow before we play them on Friday night."
The "wave after wave" approach will see its newest challenge on home ice this weekend before a break and finishing the semester with a home game against independent Bryn Athyn. After starting the season with seven of their first nine games on the road, the Colonels finish with three home games before the break and six of their next eight in front of a friendly and excited home crowd. Nothing excites the crowd like a winning hockey team, and coach Riley, his staff, and players are looking to continue to on their winning ways.