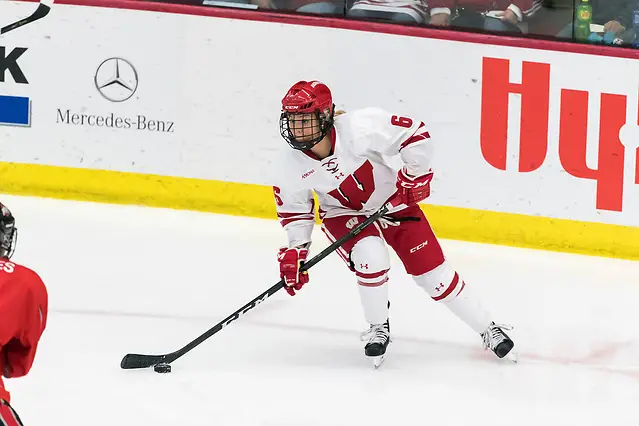 No. 1 Wisconsin at St. Cloud State
On Friday, Presley Norby and Annie Pankowski each had two goals, and Maddie Rolfes added a goal and two assists as the Badgers rolled to an 8-2 win. Hallie Theodosopoulos and Laura Kluge were the goal scorers for St. Cloud State. On Saturday, Britta Curl had the Badgers up 1-0 after the first period, but Janna Haeg tied it up for the Huskies on a power play in the second. The Badgers pulled away in the third thanks to goals from Mekenzie Steffen and Pankowski to earn the 3-1 win and weekend sweep.
Robert Morris at No. 2 Minnesota
On Friday, the Gophers were paced by Grace Zumwinkle and Taylor Wente, who had a goal and two assists each as they beat Robert Morris, 6-1. Six different Gophers scored the goals. Jaycee Gebhard was the goal scorer for the Colonials in the loss. On Saturday, Taylor Heise had two goals and Amy Potomak and Emily Brown each had two assists to lead the Gophers to a 5-0 win and weekend sweep.
No. 5 Clarkson versus St. Lawrence
On Friday, a three-goal second period helped power the Golden Knights to a 4-0 win over the Saints. Elizabeth Giguère, Cassidy Vinkle, Kristy Pidgeon, and Tia Stoddard all scored for Clarkson. On Saturday, St. Lawrence got on the board first with a goal from Rachael Smith six minutes into the game, but the Golden Knights shut them down from there. Giguère had a goal and an assist and Loren Gabel had two assists as Clarkson won, 3-1.
No. 6 Princeton versus Rensselaer
Shannon Griffin and Sarah Verbeek scored in the first to put the Tigers up 2-0. Rensselaer responded with a goal from Sabrina Repaci, but the Tigers came roaring back. Sharon Frankel scored before the end of the second to make it 3-1, and Carly Bullock's goal midway through the third put the game out of reach. Mikayla Capelle recorded a power-play tally to cut the lead to 4-2, but Mariah Koepple shut the door with a late goal to give Princeton the 5-3 lead.
No. 6 Princeton versus Union
Sarah Fillier and Carly Bullock each notched a goal and an assist and Maggie Connors added two assists to lead the Tigers to a 4-0 win.
Holy Cross at No. 8 Providence
Meaghan Rickard led the Friars to a 5-1 win with a goal and three assists as Maureen Murphy lit the lamp twice and added an assist. Rickard and Christina Putigna had Providence up 2-0 after the first period. Maeve Reilly scored midway through the second to cut the lead in half, but Murphy quickly responded for Providence to put the game out of reach. Kate Friesen made it 4-1, and Murphy iced the win 15 seconds later.
Merrimack versus No. 9 Boston College
On Friday, Merrimack's Léa-Kristine Demers tallied a career-high 45 saves and put on a bit of a show as BC outshot the Warriors, 49-23, but her heroics were not enough as Boston College won 4-3 in overtime thanks to a goal from Megan Keller. It was a quick start to this game, as Keller opened the scoring and Caitrin Lonergan added a short-handed goal just five minutes in. Paige Voight scored for Merrimack on that power play to make it 2-1 BC with fewer than six minutes off the clock. Dominique Kramer tied it up for the Warriors early in the second, but Lonergan responded just a few minutes later to put the Eagles up again. Keisha DeCaire tied the game late in the second and the two teams were not able to decide this one in regulation. Keller's shot from distance gave BC the win. In game two, Merrimack went with senior goalie Samantha Ridgewell, who had a career-high 51 saves as the Warriors earned their first win against a ranked opponent this season. Boston College also made a change in net, as freshman Kelly Pickreign made her first collegiate appearance. After all the early scoring on Friday, Saturday's game was decided by a single goal. Paige Sorensen scored on a power play for Merrimack late in the second period to earn the 1-0 win.
Syracuse at No. 10 Colgate
In game one, Shelby Calof put Syracuse up first with a long distance slap shot through traffic, but Colgate responded quickly with a goal from Delani Mackay just more than a minute later. Nemo Neubauerova scored twice in a matter of a minute late in the third to help the Raiders pull away and take a 3-1 lead into the break. Lauren Bellafontaine scored early in the second to cut the lead to 3-2, but that would be it from Syracuse. Jessie Eldridge scored twice in the third to close out the 5-3 win on Thursday. On Saturday, Kelli Rowswell scored a short-handed goal with 59 seconds left in the first to put Syracuse up 1-0, but Malia Schneider responded eight seconds later on that power play to knot the game at one heading into the first intermission. Schneider struck again on a power play in the second to give Colgate the 2-1 lead, and Eldridge's short-handed goal early in the third proved to be the game-winner. Anonda Hoppner pulled Syracuse within one midway through the third, but Bailey Larson's late goal iced the 4-2 win and gave Colgate the weekend sweep.