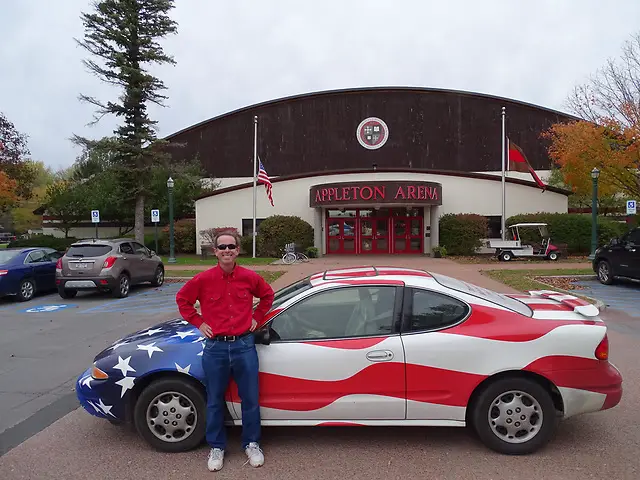 I'm close to achieving my goal of enjoying a men's game at every NCAA Division I hockey school by the time I'm 50 years old.
In fact, by the end of the 2018-19 season, I may only have two left: Alaska and Alaska Anchorage. But as I've learned from 20 years of sports travel, soak in every minute you're on the road because stuff (PG-version word choice) happens and Mother Nature is always in charge, so we'll see what happens!
To that point, starting on Feb. 5, 2018 – the day after the Philadelphia Eagles won the Super Bowl – I've managed to dodge snow outs and blowouts of my tires (thrice!) to catch a sporting event every day, including the college pucks, all while driving my own car. Can you believe it? I still can't – and I've been doing it in quite a unique way. I converted my formally ordinary gray-colored 2004 Oldsmobile Alero into the inspiring image of the our American flag, with a simple message on the back window: "Thanked a Veteran, Service Member, First Responder or their families today?"
(Check out the picture of my sweet ride above!)
I'm a freelance writer based in San Diego, yet I've also been a self-employed career coach, helping job seekers improve their careers. I've invested my income in multiple rental properties – and being single and with no children – I've been living the dream, with tenants paying for this journey more or less! Only in America! In 2017, as I was planning my 2018 travels, I got reflective. It's been nearly 20 years since my father died, who was my guiding light to sports – and life. He also coached me in youth hockey growing up in Connecticut. My Dad also served his country in the U.S. Air Force. So thinking about father had a lot to with the concept for this idea, plus knowing the 2018 would mark my 20th year of sports travel since my first "road trip" (baseball) back in 1998.
While I've worked my fanny off to be in a position to sports travel, I've always been grateful for those who have served and often wondered what it would have been like had I enlisted in the service, or chosen a profession as noble as a police officer, fireman or emergency medical technician. So I guess you could say this is my very small way of saying "thanks" to those that, in my opinion, don't get nearly enough recognition for their commitment to caring beyond self and sacrifice.
Thus far, my car, my health and my finances have held up and who knows when my consecutive days of seeing a different sporting every day streak will end? Right now, the sporting Gods must be with me! So I'm going to let it ride as long as I can – why not? Please continue to accommodate, Mother Nature! Now, let's get inside the rinks…
It all started in 1980
As a child, one of my fondest early memories of the great game of hockey was the 1980 Winter Olympics. I wasn't even eight years old, yet remember being glued to the television watching alongside my Dad as we witnessed history. Of course, my Dad was my hero and I vividly recall him explaining to me just how monumental an historical event we were watching live on TV as the U.S. defeated the former Soviet Union and later Finland to win the Gold Medal in Lake Placid, New York, known as the "Miracle on Ice." It's certainly a moment I'll never forget. Neither will I forget finally catching a game in person at the same rink in late November 2018 when upstate New York rivals, Clarkson and St. Lawrence squared off.
Built for the Olympics, the arena was justifiably renamed for '80 Coach Herb Brooks on the 25th anniversary of his teams' achievement (although why they waited 25 years is beyond me).
As you walk up the stairway from the street-level box office, history smacks you in the face – in a glorious way – with multiple murals of players from the '80 team celebrating. Inside the seating bowl, the names of each player on the '80 Olympic team is also etched along the walls. But the 1980 Herb Brooks Arena also recognizes the history of the ECAC. Banners from each of the schools in the conference don the rafters across one side of the area, including noting the year in which a school has won the conference tournament.
On this night, Clarkson outplayed St. Lawrence to win 6-2 before 4,333 fans at the 7,700-capacity arena although it was a little bit larger of a crowd than normal for the rivalry. And it sure was festive and fun, especially for Golden Knights fans!
Speaking of the ECAC
A month earlier, I had made the pilgrimage to the home arenas of both Clarkson and St. Lawrence.
Separated by less than 11 miles, these two small schools basically breath hockey – and hate each other. Clarkson's Cheel Arena is modern, well-lit and jumping, with the band and student section chanting what seems like constantly. Appleton Arena, on the other hand, is old-school – and I love it. Opening in 1951, it's what you remember about old-time hockey arenas that are few and far between these days. Dark brown wooden, church-pew like seats encircle the arena and the joint is dimmer and not as well-lit – so it's got old-time charm and character, complete with a vaulted roof! Modern renovations will be coming to the arena in the future – but hopefully it won't change the overall feel of this special place. This was my second visit to Appleton but my first to Cheel, and I've only got Colgate's new rink left to see in the ECAC, which I'm hoping to hit in mid-January 2019.
Staying in the Empire State
The early part of this season has also seen me knock out visits to RIT, Canisius and Niagara off my to-do list, with RIT being my clear favorite of the three.
Canisius' home ice is unique in that it's located on the seventh floor in downtown Buffalo. As I walked off the elevator for an afternoon game, my first glimpse was looking down at the Niagara River and across into Canada on a bright sunny day. The 1,800-seat main rink is an ideal size for the Golden Griffins and there's not a bad seat in the house. Likewise for Niagara, although seating is limited to one main side of its on-campus arena.
What impressed me most about RIT was not so much the Gene Polisseni Center itself – it's fine as far as new arenas go, but didn't blow me away either. Yet what I was most fascinated is just how far this program has come and how it boasts some of the most loyal and vocal college hockey fans in the land.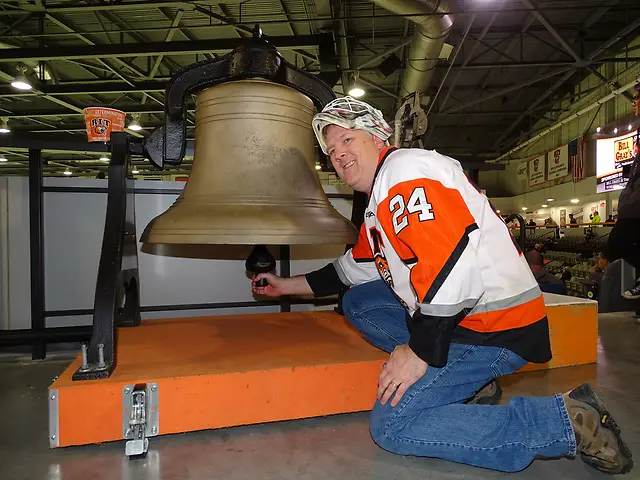 I first experienced the Tiger fan phenomenon years ago when they poured into Mercyhurst for an away game, some 155 miles away. The Tigers have only been Division I since the 2005-2006 season, yet have compiled quite the resume, making the postseason three times, including a Frozen Four appearance. I got a chance to cut it up with 6-foot 5 super fan David Faas, who attended RIT and has literally seen the program grow as he's been part of what's known as "The Corner Crew" for nearly 30 years! Faas has also earned the nickname, "Big Goon," not only for his imposing size and shirt with nickname on the back – but also for his exceptional heckling skills!
RIT a blueprint for others to follow?
As noted earlier in this column, my journey actually began toward the end of the 2017-18 season, with stops at North Dakota and Nebraska-Omaha. I'd been to North Dakota before and anyone that's been to Grand Forks knows what a truly special place Ralph Engelstad Arena is. This was first visit to the Mavericks' Baxter Arena and it's amazing to remember that UNO hasn't even been Division I for 20 years – and yet they have a sparkling new arena! Might the success of RIT and UNO be a blueprint for Illinois to follow as it hopes to secure funding for a new arena and earn a Division I invitation? I would think so – and can testify to the fact that the Fighting Iliini can support a team.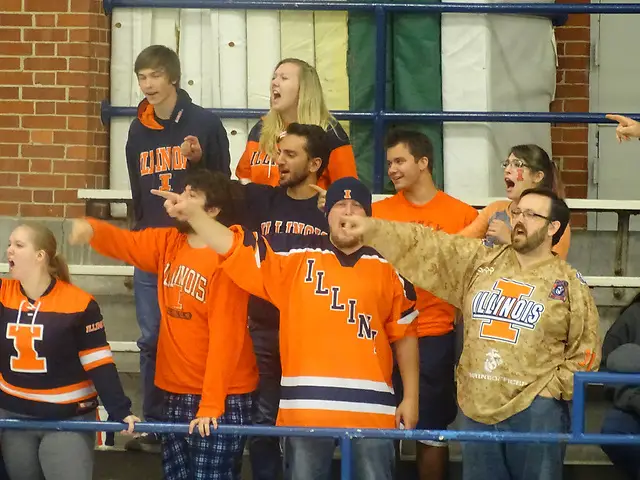 I took in a game at the University of Illinois Ice Arena in late September 2018 and the facility would be a fine temporary home for Division I pucks while a new arena is being constructed. Built in 1931, it boasts seating on two sides and there was a solid crowd for the very, very early season tilt I witnessed.
Up Next
As the end of 2018 closes in and 2019 approaches, I've got more college puck visits on my holiday and New Year's list, with planned stops in the Upper Peninsula to Michigan Tech and Northern Michigan, as well as hopefully taking in games at Princeton, Yale, Providence, Bentley, Vermont, Maine, Harvard, Colgate, Sacred Heart, UConn, AIC, Penn State – and who knows? – possibly more.
Pinch me.
Actually, don't.
Until next column, let the journey continue!