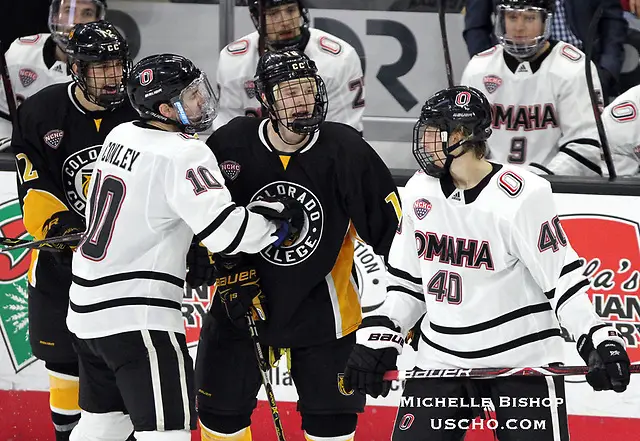 Each week during the season, we look at the big events and big games around Division I men's college hockey in Tuesday Morning Quarterback.
Dan: So we have good news and bad news this week.
The bad news? Jimmy's still out on vacation. The good news? I get to fill in again! I think this is probably better news for me than our readers (wink wink).
Paula, as we kick off this week, I think everyone is still buzzing from the UMass-Quinnipiac series. There's been a lot to unpack, and it was further layered with the release of the weekly poll. UMass slipped to No. 2, and Quinnipiac rose to No. 8. St. Cloud State slid back into the No. 1 spot thanks to its sweep over Omaha.
First off, do you agree with UMass sliding out of the No. 1 spot? They split, but they played a ranked opponent where St. Cloud and Minnesota State, who also swept, didn't.
Paula: Welcome back, Dan, and thanks for filling in so capably for Jimmy! It's all good news.
To answer your question directly, I had St. Cloud State at the top of my ballot this week along with 40 other poll voters, so I'd say that's a pretty resounding endorsement for the Huskies. I can't speak for the other poll voters who agreed with me about voting St. Cloud at No. 1, but I can say that I debated the decision. The poll is also a weekly snapshot of intangible factors, I think. Yes, Quinnipiac is a tough opponent, but that's not to say that Omaha, whom the Huskies beat, is not.
Right off, I'll say that I believe that the Minutemen are for real and will be in the mix at the end of the season. Their undefeated streak was impressive, but if you're looking at strength of opponents, St. Cloud's schedule down the same stretch looks a bit stronger by comparison. And while the Minutemen top the PairWise, both St. Cloud State and Minnesota State have slightly higher win percentages.
The poll isn't arbitrary, but it does serve a very different purpose than the PWR serves, and right now a majority of voters think that maybe Massachusetts should have swept Quinnipiac to remain at the top. We've seen how fickle it can be, though, with voters split among several teams for the top spot. Not this week, though.
Dan: That was my approach to how I voted. I didn't put UMass at the top of the poll this week, but I attributed it more to the second game of the weekend, which is something I talked about at length with Ed Trefzger on this week's USCHO Weekend Review.
The Minutemen earned a split thanks to the third period in the second game, which is impressive, but I felt that a No. 1 team should have put together a stronger overall game. That said, I do think UMass is for real, and I think we will likely see the team back on top of our rankings before the season is over.
You bring up strength of schedule, and that's a great point at this juncture in the season. UMass is currently No. 1 in the PairWise Rankings, but Hockey East only has two other teams inside the PWR bubble, with Providence at No. 11 and Northeastern tied for No. 13. Two teams, Merrimack and Connecticut, are at or below 50, and Vermont is just ahead of them. Compare that to the NCHC, which has three teams in the top 10. From a pure mathematical standpoint, losses in conference play against the wrong team can then be pretty problematic when it comes to statistical seeding, and it helps create that whole strength of schedule dynamic.
It highlights how important out-of-conference games really are to the collective unit. I could talk about that all day, but instead I'll just focus on what's upcoming: holiday break. As we head into those games, I'm going to be really interested how it flushes out. There's some potentially critical games coming up on the horizon.
Paula: Regarding the PWR first, I watched that for a long time in a league like the CCHA, which really was a two-tier league — the haves and have nots.
I'm sure you've seen that often with Atlantic Hockey and the WCHA is no stranger to this. Now Hockey East may be victimized by this as well. Yes, those conference losses to the wrong team can be devastating. I'll be interested to see how all of these conference ties in the Big Ten play out come March, for both conference standings and PWR.
As for the upcoming holidays, just look at the field for the Desert Hockey Classic: Minnesota State playing Minnesota Duluth and Clarkson playing Arizona State on the first day. While everyone is salivating for the opening game – as am I – I'm just as interested in the Sun Devils taking on the Golden Knights. Clarkson is a team that has put together a couple of nice little streaks this season and I'm eager to see whether or not the ECAC is as competitive deep into the conference as I think it is. And it's impossible not to follow Arizona State this season. They're the shiny object in the room.
What are you watching as we wind down the first half?
Dan: I'm getting really excited for the Three Rivers Classic at the beginning of next month. I remember how it packed the Pittsburgh Penguins' arena in 2012 during the NHL Lockout for its first year, and a near-sellout watched one of the best college hockey games I've ever seen. It always has a sneaky good field, with Quinnipiac, Arizona State, Boston College, Clarkson, Western Michigan, Miami and Ohio State all playing in it in its past six years. This year, St. Cloud plays Union in the first round. That's going to be a good test of the ECAC depth and a good challenge for a possible No. 1 team in the nation.
There's also the Boston College-Notre Dame game on Dec. 31. It's going to be an indoor game setting the table for the Winter Classic between the Bruins and Blackhawks, and it's a few days before the Irish play Michigan outdoors at Notre Dame Stadium. Given what we've said about nonleague wins, it's a critical game for Hockey East, especially since BC is tied for first on points with UMass and has two games after that against Arizona State.
But I'll always be partial to Dartmouth's Ledyard Bank Classic. Dartmouth and Brown play Army West Point and Providence in predetermined matchups, and consider the storylines. Army head coach Brian Riley went to Brown, and his father, the legendary Jack Riley, played at Dartmouth. PC and Brown have a good rivalry and will play again two weeks later in the Mayor's Cup. And it's one of my all-time favorite venues. If you've never been to Hanover, it's gorgeous this time of year, albeit cold, and Thompson Arena is almost the perfect arena to watch college hockey.
I know that's got some clear eastern bias so I'll turn to you for the other perspective. How's things looking out west as we get set for 2019?
Paula: Regular readers know that I'm no fan of outdoor games, but any match between Michigan and Notre Dame is bound to be interesting and given the way the Big Ten season is unfolding, I wouldn't be surprised to see that game impact the final standings.
Of course, I'm looking forward to the 2019 Super Saturday in Madison Square Garden at the end of January. Following hoops in the afternoon, the hockey half of that event is Penn State vs. Michigan. MSG is among my favorite hockey venues, and that's a very well-attended event.
Beyond keeping an eye on the always consistently excellent NCHC, I'm pretty excited about the WCHA this season. Minnesota State is threatening to run away with things there, although Michigan Tech has something to say about that, and there are five other teams that are very competitive beyond that. The reemergence of programs like Bowling Green, Lake Superior State and Northern Michigan warms my CCHA heart. The breakup of that conference and the realignment of the WCHA produced conditions that made it very difficult for teams like the Huskies, Lakers, Wildcats and Bulldogs to gain any traction, and the whole league has suffered.
I love that in the WCHA, hockey is prominent on every one the member campuses – the most prominent sport on several of them. It's nice to see most of the teams in that conference playing consistently competitive hockey, and it's nice to see a few WCHA teams making some national noise.