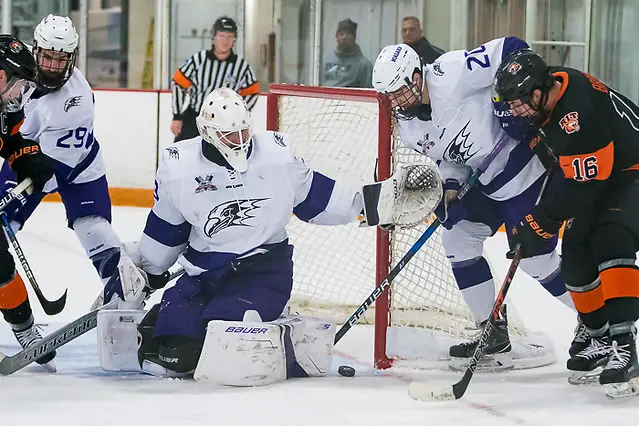 Last year at this time, the Niagara Purple Eagles were flying high.
Jason Lammers' team was 9-5-1, ranked 20th in the nation, at the top of the Atlantic Hockey standings.
But a pair of ugly losses to archival Canisius last Dec. 8-9, was the beginning of a 2-17-2 stretch to end the season, culminating in a ninth place finish and a first round playoff exit.
Niagara currently sits in a similar position at 8-9-1 (7-4-1 Atlantic Hockey), good for a three-way tie for second place. The Purple Eagles have come away with points in each of their six AHA series to date, one of just two teams in the league to accomplish that (Robert Morris is the other).
There are two main reasons for optimism that this season will have a different result than last time.
The first is that Niagara has, with some key exceptions, avoided the injury bug which devastated the Purple Eagles the past two seasons.
The second was a wild sweep of Canisius two weeks ago by scores of 5-2 and 9-6 that provided to be a big confidence boost.
"(Games against Canisius) are important to our community, to our university, to the leadership of our university, and to our players," said Lammers, in his second season behind the Niagara bench. "It's a credit to our upperclassmen that have had a real tough time (against Canisius). That said, I tip my hat to the team south of the bridge. They've done a great job of helping to make these games very important to the Buffalo community and forcing us to be better."
And Lammers added a third reason for optimism: team chemistry.
"We're doing it as a group, as a pack of wolves," he said. "You can't point to someone who's a superstar. It takes buy-in from everyone. I remember seeing a stat a while back where we've got goals from 18 different players (it's now 20). Not many teams can say that."
Leading the way is junior defenseman Noah Delmas, whose seven goals and 17 points are both team highs. Eight of the top 10 point scores are underclassmen, including freshmen Reed Robinson (six goals), Dylan Mills (five goals and 14 points, tops among AHA rookies) and Ludwig Stenlund (five goals).
But Lammers says that class isn't a distinction on his team.
"We don't talk about it as young guys or older guys, or what two initials are next to names on a roster," he said. "We have a willingness to be class free, to get leadership from every player as a member of this group.
"That said, it's a credit to (captain) Nick Farmer and the other guys that wear letters, to help create this group mentality."
The go-to goalie for the Purple Eagles so far has been sophomore Brian Wilson. Through 15 appearances, Wilson has posted a .916 save percentage and a 2.55 GAA, both improvements over his freshman campaign.
"He's got a summer underneath him," Lammers said of Wilson. "He's created his own confidence. He earned the starting job last year, and he's continuing to grow his craft and be a student of the game. All of our goalies are putting the work in."
Niagara's early schedule saw it play 10 of its first 12 games in conference. The Purple Eagles have played the past two weekend series out of league: a pair of losses at No. 17 Western Michigan and a split on home ice against Colgate.
"Those games confirmed how fast we have to be, and how committed," said Lammers. "We succeed when we're all connected and believe in ourselves."
Next up are three straight games against Rochester Institute of Technology, with the semester break in between the first and second matchups. Thanks to scheduling quirks that come with an 11-team conference, the teams will square off in Rochester on Saturday, then play a home and home on Jan. 4-5. The fourth game of their season series will be on Feb. 27, midway through the final week of the regular season.
"Our focus is one game right now," said Lammers. "Our primary focus is on Saturday. We'll kind of scratch the three weeks between and coach those two when we get back from the holidays."