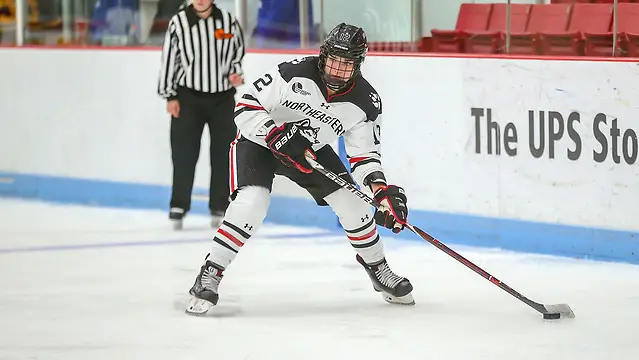 As the first half of the season has wound down, there are just a handful of games on the slate between now and Jan. 11, when most everyone returns for the second semester and final eight weeks of the regular season.
In the interim, the most intriguing set of games come when reigning National Champion Clarkson and reigning Hockey East Champion Northeastern head to Belfast to play the first-ever NCAA Division I women's hockey games outside of North America.
Belfast and their local team, the Giants, have played host to four sets of men's college hockey games in a series known as the Friendship Four. Boston and Belfast are sister cities, and the series has proven extremely successful on the men's side, with reports of 23,000 in attendance over two days at this year's tournament in November.
The women's iteration is being called the Friendship Series, and the games takes place Jan. 5-6. Northeastern and Clarkson will play a pair of games before the two Belfast Giants home games that weekend, and admission to the women's games is free.
The games are being sponsored by Ulster University, and if the series is anything like the men's games, the women will spend quite a bit of time in classrooms and meeting with local children. Field hockey is much more popular than ice hockey in the UK, but this is an opportunity to help grow the game at a grassroots level.
It's a unique opportunity, particularly for the European-born players.
"I am very excited to be a part of this once-in-a-lifetime experience in helping to grow the game of women's hockey in Belfast," said Northeastern freshman Alina Mueller. "Not only will it be awesome to play against a good Clarkson team, but it will also be nice to spend time with our special group in a new place, and take another step forward as a team. Personally, I am very happy that some of my family and friends will be able to come to the games and cheer on the Huskies in Belfast."
Though still not a home country for any NCAA players, the trip to Northern Ireland is still much closer than the USA for families of some European-born players.
Though players from the United States and Canada make up the vast majority of the 875 women on NCAA D-I rosters, there are a growing number of women from non-North American countries. The combined opportunity of a top-level education and high-level competition is a draw for players who may not have the opportunity to play consistently in their home countries. As the women's game is still growing, players are finding they aren't receiving federation support and there aren't leagues in their countries that can provide the kind of development that the NCAA can.
"I think that playing in Europe with my team will be an amazing experience," said Northeastern freshman and France national Chloé Aurard. "It will be a good opportunity for people around the world to come watch NCAA women's hockey and enjoy two top-five teams in Belfast. … This trip also means a lot to me personally as my parents will be able to come to the games and watch my team play in person, because they don't get that chance very often."
In 2018-19, there are 45 women from 13 countries other than the U.S. and Canada on Division I rosters. The vast majority of those women hail from European nations, though there are also players from Japan, New Zealand, and Russia. There are nine women from Finland and Czech Republic, eight from Sweden, four each from Switzerland and Germany, three from Denmark, two from Austria, and one each from France, Hungary, and Latvia.
As I wrote back in October, Maine is a program that has flourished thanks to an infusion of talent from European players. More than a third of their roster is made up of women from Sweden, Denmark, Latvia, Czech Republic, and Russia.
There are a number of reasons Division I schools are looking to Europe and other non-traditional hockey countries to add talent to their roster. In general, many of the women come in at an older age than your typical freshman. They bring international experience at the U-18 and senior level, and some have played in leagues in Sweden or Russia. Without the development steps that other countries may have in place, many of these players have had to leave home to pursue the sport. They bring a maturity and adaptability to the ice and the locker room.
As the women's game has become more competitive and the competition for top recruits gets even more fierce, infusing a roster with overseas talent is one way a team can separate themselves. Though there is much more parity than their used to be in the women's college game, there is still an elite set of programs that most everyone else is trying to emulate. Minnesota Duluth was an early adopter of this philosophy, and North Dakota was very successful at attracting foreign-born players. What used to be the milieu of only a few teams is now something that most every coach and program is open to. The pipeline across the Atlantic is as prolific as ever — 20 of the non-North American players this year are freshmen, and 27 are underclassmen. Mueller and Aurard are leading the youth movement as the top-scoring freshmen in the country, but they're following in the footsteps of players like Maine's Tereza Vanišová, who was Hockey East Rookie of the Year two seasons ago.
The influx of players has been slowly increasing over the past few seasons, but this year's rookie class shows that a whole new recruiting pool as opened up, and NCAA programs are excited to have those players.
It's the first year of this Northern Ireland Friendship Series, but it's unlikely this is the last time we'll see NCAA women's hockey being played in Europe or outside of the United States. Teams like Wisconsin, Northeastern, and Boston University have hit the road over the past few seasons to play games in non-traditional U.S. women's hockey markets like San Jose, Tampa, Washington D.C., and Colorado Springs. It shouldn't surprise anyone if weekends like those become not only more frequent and popular, but start happening outside North America, as well.