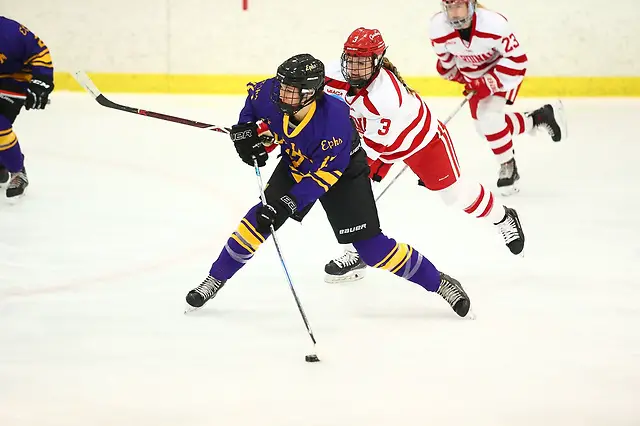 The women playing for Williams College did something only one other team has done so far this season: they defeated powerhouse Elmira College. Elmira, at the time, was ranked third and had only one loss to Plattsburgh, which is currently ranked second.
Usually when a nonranked team upsets a strong program, the box score shows unfavorable numbers for the underdog, which leads some people to believe they just got lucky. This is not the case for Williams, as the Ephs outshot the Soaring Eagles, 26–24. Both teams got two power plays, and they both capitalized on only one.
When asked what she said to the players before and after the big game, coach Meghan Gillis mentioned the desire to play their style, focus on what they can control, and then how proud she was of her players.
"This is a stressful time of year for our athletes academically, so we talked about setting everything aside and just focusing on what we could do down at the rink that day," said Gillis. "We knew that Elmira was talented and had some very crafty goal scorers. I thought our defense stepped up and played well as a unit of seven. After the game, I mentioned how proud I was of what they accomplished and the way they won the game. They did not get rattled when Elmira tied the game halfway through the third, and we stuck to our game plan."
Meghan Halloran was an impactful player her freshman year, and her sophomore year is starting out no different. In the Elmira game, Halloran had two goals and one assist for Williams. Although her second goal was an empty-net goal, it sealed the victory for her and her teammates. Gillis insists that Halloran's effect on the team goes deeper than what she accomplishes on the ice.
"What Meghan accomplishes here at Williams is impressive," said Gillis. "She is a two-sport athlete (lacrosse), and an AHCA All-American Scholar. Her success stems from her strong work ethic, always doing the extras. On top of that, she is a tremendous person and teammate, volunteering at a local school, and (she) consistently helps foster our positive team chemistry."
Meghan and the team did not sit back and enjoy the victory too long. The next day, they faced another strong team this year, Manhattanville. The Valiants, like Elmira, had only one loss on their record and would be extremely tough to beat. Nevertheless, Williams had no reservations playing a high-caliber team and defeated Manhattanville, 3-1. Gillis acknowledged that the two victories show her team's potential.
"We've known that we had potential, but I think winning both games this weekend showed everyone in the room what we are capable of doing this season."
Gillis' team last year ended with a record of 10-8-7; she believes this team is better for various reasons.
"I think we are a deeper and faster team than we were a year ago," Gillis said. "We returned over 75 percent of our offense and were able to keep our top line of Abby Brustad, Annie Rush, and Meghan Halloran together. Defensively, along with depth, first-year goalie Chole Heiting has been tremendous in her first four college starts, going 4-0."
When asked about playing in such a tough conference, the NESCAC, and competing against Middlebury, which is usually in the running for the NESCAC title every year, Gillis didn't seem too concerned and said they focus on what is in their hands.
"The NESCAC is a battle every weekend. In playing the same team back-to-back, it's essential to focus on the small things and try to win every period. Middlebury is always a formidable opponent. As with all our games, we try to focus on controlling what we can control, which is the way we compete each shift at both ends of the rink."
Williams' victories over the weekend did not go unnoticed. In the recent rankings, the women received seven votes to be ranked in the top 10. Although they do not play another ranked team until the end of their schedule, they have the potential to be ranked. Gillis is appreciative of the seven votes, but said the team will continue to play hard and strive toward their goal, whether they are ranked or not.
"While it is nice to get votes, I believe that the team does a great job focusing on us and what we are doing to get better every day," Gillis said.
The women are done with games for the year and will start the New Year with a series against Bowdoin. If the women continue to get better and play strong, the NESCAC playoffs could be one for the record books this season.