I remember, back in the good old days, when Hockey East was the "Beast of the East."
We could thump our chests because our boys did the thumping on the ice.
Go ahead, cue up "Grandpa, Tell Me 'Bout the Good Old Days," and fetch me a rocking chair. I'll take a cold beverage, too.
Back then, Hockey East losses to Atlantic Hockey were about as rare as a lunar eclipse. Fans of the ECAC (aka the Easy AC) gritted their teeth as our teams regularly trounced theirs. The CCHA was top-heavy with schools like Michigan who were perennial national contenders, but after the top three or four there was hay to be made. The WCHA could go toe-to-toe with Hockey East, though. I'll grant you that.
Think I'm exaggerating? Let's go back to a couple old Hockey East media guides. I won't cheat and grab the one for 1999 when three league teams made it to the Frozen Four in Anaheim. (I will admit to being just a tad insufferable that year.)
I've grabbed, at random, the guides for 2001-02 and 2007-08. (The one for 2001-02 wasn't totally random since that was the year I won the Hockey East Media Award. Yes sir, I've got a few extra copies of that year on the shelf for obvious reasons. But I haven't stacked the deck.)
Page 24 from the 2001-02 guide is headlined "Hockey East Teams Dominate Non-Conference Opponents." It notes that in its first 17 years, the league posted a nonconference record of 891-535-68 (a .619 winning percentage), and the year before had gone 55-33-8.
Over the previous nine years, Hockey East had posted a winning record over the EZAC (oops, ECAC) every year but once, and enjoyed a high-water mark of 30-11-2 (.720) in 1993-94. The good guys topped the CCHA every season but twice (high-water mark 13-3-0, .813), and the WCHA all but twice with one tie (top mark, 9-1-1, .864).
Hockey East could claim to be the top conference and that "the proof is in the numbers."
Fast forward to 2007. A look back at the previous 16 years gave the league a 951-506-94 mark, good for a .643 winning percentage. Only three of those 16 years saw the league dip below .600.
Fast forward again to just two years ago. Hockey East had a .500 or better record against every conference and finished 74-53-17 (.573) to continue its streak of clearly winning records with the lone exception of 2010-11 (a game under .500).
Then last year hit.
The league barely finished above .500 (51-48-11, .514), and finished 0-10-1 against the Big Ten, 7-14-1 against the NCHC, and 1-3 against the WCHA. Boston College, which won the regular season title but went 0-6-3 in nonconference play, didn't get selected to the NCAA tournament despite getting to the Hockey East semifinals at the Garden. Providence was the league's top seed in the NCAA tournament at seventh, meaning its teams had a much tougher road to the Frozen Four. None of them got there.
Unfortunately, this year is looking ominously like last season. There will be lots of holiday tournaments and January nonconference play as opportunities to right the ship, but it's been a rocky start. The league needed three wins on Saturday night and another on Tuesday just to get to .500.
"That's not where we expect to be," Hockey East commissioner Joe Bertagna says. "This league has a lot of things going for it, most notably, 11 school athletic departments who give a lot of resources to their programs.
"The numbers are what they are. They speak for themselves. We've got to do better."
Let's acknowledge one fact before moving on. Many big schools out West offer monetary guarantees to schools to travel and play in the big schools' barns, but don't reciprocate. That's why Hockey East teams have played five road games and none at home against the Big Ten, four roads games and two at home with the WCHA, and 10 road games and four at home with the NCHC. (The home/away splits with the ECAC and Atlantic are close to even.)
That can't be dismissed.
But if you're even the ghost of the "Beast of the East" you don't let extra road games turn you into a sub-.500 or barely .500 conference. Heck, last year, Hockey East finished with a 20-23-5 record at home.
Houston, we have a problem.
Has the talent just gone elsewhere? One might reasonably suppose that Atlantic Hockey teams moving to the full 18-scholarship limit in recent years have depleted the depth of Hockey East teams, but one would think the high-end talent remains.
"You look at markers like how many guys are drafted and how many guys are on the world junior team and we're always at the head of the class," Bertagna says. "The talent coming into the league hasn't appeared to wane. But a lot of the talent coming in is talent that doesn't stay."
The tradeoffs between having top tier talents for two years vs. the next tier for four is a topic for another column, as is an examination as to whether Hockey East teams have been hit harder by defections than other conferences.
The fact remains: a four-game win streak just to get to .500?
"I don't think we serve ourselves by trying to put a spin on the fact that, for last year and the start of this year, we've under-achieved," Bertagna says. "You can come up with all sorts of reasons, but I still think there's no excuse for the records we've had.
"I'm not going to mention schools we shouldn't be losing to because that's insulting to the schools, but there are matchups happening within our ranks that we should win more of. And you can't sugar coat that."
******
Here's a great gift idea. Back in the spring, I told you about a compilation of pieces I've written about Travis Roy and quadriplegia. It includes new introductions to each piece, and most significantly, a foreword from Travis himself.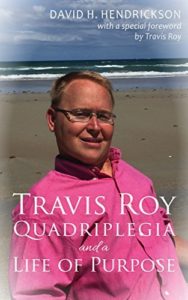 All proceeds go to the Travis Roy foundation, which funds research into a cure for spinal cord injuries and provides individual grants to survivors.
Travis Roy: Quadriplegia and a Life of Purpose is a tiny volume, but it's for a great cause and there's powerful stuff inside that has already touched many readers in significant ways. Here's one of the things Travis says in the foreword:
"I realize how fortunate I was to spend the first half of my life with a passion, thanks to my hockey career. It took me a while to realize it, but now I feel fortunate to have lived the second half of my life with a purpose."
I hope you'll buy a copy either for its content or as a contribution to a great cause. It's available in all major ebook formats for $2.99. Here's a universal link that handles them all.
It's also available in paper from Amazon for $9.99.
Thank you for your support of this important cause.
****
Special thanks to Brian Smith.